Politics
'We are now living in a dystopian nightmare': Mass. elected officials react to overturning of Roe v. Wade
"Forced pregnancy is morally abhorrent, and this decision will set women back decades," Rep. Katherine Clark said.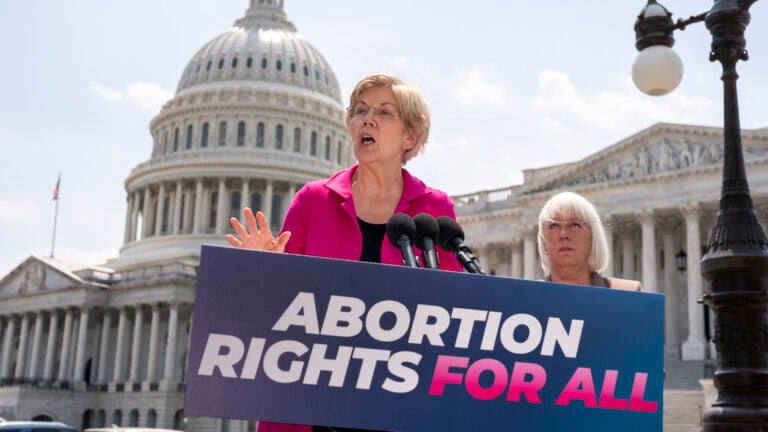 Massachusetts politicians issued pledges on Friday to continue to fight for abortion rights after the Supreme Court overturned Roe v. Wade, ending almost 50 years of constitutional abortion protections.
"These extremists will not have the final word," Sen. Elizabeth Warren said in a statement. "Democrats have tools to fight back, from legislation in Congress to executive orders from the President to initiatives at the state and local level – we just need to use them. We are angry – angry and determined. We will not go back. Not now. Not ever."
Abortion is legal in Massachusetts and will remain so even with the court's decision, but a coalition of advocates has still been preparing for the decision, working to expand access to reproductive health care in the commonwealth.
Below, what state politicians are saying following the ruling:
Sen. Elizabeth Warren
"Six radical Supreme Court Justices have overturned nearly 50 years of precedent, stripping away the constitutional right to an abortion. After decades of scheming, Republican politicians have finally forced their unpopular agenda on the rest of America. They have decided that the government – not the person who is pregnant – should make a private health care decision and deny women the right to control their own bodies and futures. But these extremists will not have the final word. Democrats have tools to fight back, from legislation in Congress to executive orders from the President to initiatives at the state and local level – we just need to use them. We are angry – angry and determined. We will not go back. Not now. Not ever."
Sen. Ed Markey
Rep. Katherine Clark
"Overturning the right to an abortion brings us to the horrifying reality of government-mandated pregnancy – we are now living in a dystopian nightmare. Forced pregnancy is morally abhorrent, and this decision will set women back decades.
"We have known this day was coming since the leaked Supreme Court draft was released early last month – but we have also predicted this outcome after watching the assault on reproductive rights orchestrated by Republicans for decades. This is the culmination of a scorched earth campaign against women's rights, communities of color, and low-income families, and a roadmap of where the GOP is headed next if they gain more power in Congress.
"We are not powerless. It is critical that we protect and grow Democratic majorities in Congress and ensure that reproductive rights champions continue to win elected offices at all levels of government to guarantee that all people have control over their bodies and their futures."
Rep. Lori Trahan
"The consequences of the Supreme Court's decision to overturn Roe are devastating. Millions of women are losing access to safe, legal abortion care immediately because of anti-abortion state laws taking effect now that the opinion is official. Without any other option, many will risk their lives seeking out care through unsafe procedures.
"That's not the America we should want any of our daughters to grow up in, but it's going to get worse if anti-choice extremists have their way. They've been working toward this decision for decades, and they're already plotting to override state laws like the Roe Act so it's illegal for every woman in America to control our own bodies.
"The fight for abortion rights continues, and it's one our daughters can't afford for us to lose."
Rep. Seth Moulton
"The newly-politicized Supreme Court has stolen control of women's bodies and handed it to state politicians–mostly men, mostly white, and too many who are closer to far-right ideologues than the American people. Let's be clear:
The majority Americans are totally opposed to this Supreme Court decision
This takes away an essential right and freedom from Americans everywhere
Women's health care has been made instantaneously worse.
Let's also be clear: Every Supreme Court justice promised to uphold Roe v. Wade in his or her confirmation hearing, so we now have a Supreme Court majority that we can't trust to simply tell the truth. Washington Republicans have simply created the Supreme Court in their own image.
Thankfully, abortion is legal in Massachusetts and we will fight to keep it that way. But make no mistake that this basic right to privacy, to personal freedom, to safety and self-protection will be under assault everywhere in America.
The irony that brave young Americans risk their lives to fight for freedom around the world, while the Supreme Court is risking women's lives by taking away their freedoms at home, should not be lost on anyone.
This is a dark day in American history. We should all pray that Americans come together at the ballot box to turn back the Republicans who believe that they should own our freedoms, own our Congress, and own our Supreme Court for themselves."
Rep. Richard Neal
Rep. Jim McGovern
Rep. Ayanna Pressley
"Today is a dark day in our nation's history and this decision is a devastating confirmation of what Black and brown reproductive justice organizers have been sounding the alarms about for years: this Court will stop at nothing to strip away our reproductive freedom and our fundamental human right to bodily autonomy.
"By obliterating the right to abortion across the nation, this extreme decision will push legal abortion care out of reach for our most vulnerable and exacerbate multiple public health crises, like the Black maternal mortality crisis. Let me be clear: by restricting abortion access, this Court is putting the health of the most vulnerable people at risk and we must use every tool, at every level of government, to protect reproductive rights and save lives.
"President Biden must recognize this as the public health emergency that it is and commit to utilizing every executive authority necessary to protect abortion access, including expanding access to medication abortion and over-the-counter-birth control, and protect the safety of those seeking and providing abortion care. States including Massachusetts have taken steps to become havens for those seeking necessary abortion care and I encourage other states to follow suit.
"Abortion care is still legal in Massachusetts, and I urge residents to continue seeking care if they need it. To the millions of people whose rights have been stolen overnight due to the cruelty and callousness of this extreme Supreme Court, know that this fight is not over. The Senate must abolish the filibuster and pass the Women's Health Protection Act into law. We must expand the court to restore its integrity. I won't stop fighting for policies and budgets that affirm abortion care as the fundamental human right that it is."
Rep. William Keating
Rep. Stephen Lynch
Gov. Charlie Baker
U.S. Attorney Rachael Rollins
Attorney General Maura Healey
State Senate President Karen Spilka
"Today is an extremely dark day for America, as we face what can only be called a 'nightmare scenario' for women and those who can get pregnant across this nation. It is important to stress that abortion remains and will remain legal in Massachusetts. This fundamental right to health care is here to stay in the Commonwealth, and I will fight every day to strengthen and protect it.
"In its Fiscal Year 2023 budget, the Senate included language protecting access to reproductive health care, and today, Governor Baker issued an Executive Order which aligns very closely with this language. There is increased urgency to codify these provisions so that we can ensure the safety and continued protections of our residents. I remain grateful that the Commonwealth stands united to safeguard these protections."
Boston Mayor Michelle Wu
Newsletter Signup
Stay up to date on all the latest news from Boston.com