Politics
Live blog: Updates on the 2022 Mass. elections
Updates on the races for governor, lieutenant governor, attorney general, secretary of state, and state auditor, as well as the ballot questions.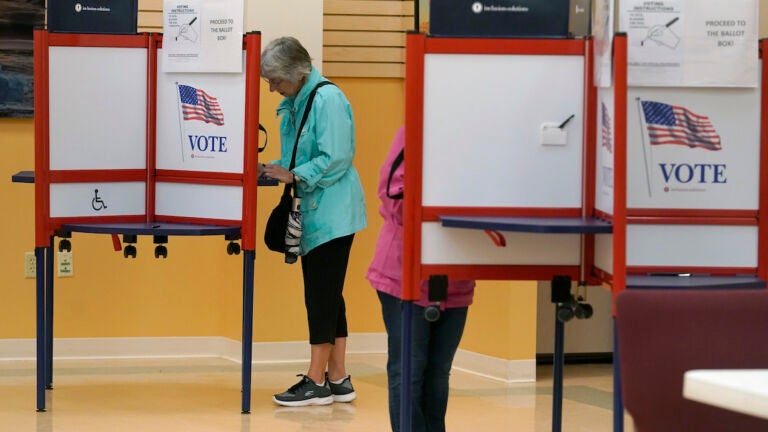 Massachusetts voters will weigh in on several open statewide races this year at the ballot box on Nov. 8, 2022.
Bookmark this page for regular updates on several statewide elections.
Read primary election coverage here.
---
Election day may be over, but Massachusetts is still waiting on results for two of its four ballot questions, which remained too close to call on Wednesday morning.
Question 2, which creates new dental insurance regulations, passed with more than 71% of voters approving the measure. Dental insurers will now be required to spend at least 83% of premiums on patient care.
Voters opted against Question 3, which would have reduced the number of "all-alcohol" licenses a single company can hold but allowed more retail locations to sell carry-out alcohol like beer and wine. By Wednesday morning, when the Associated Press called the outcome, 55% had voted no to keep current laws the same.
Questions 1 and 4 remained close on Wednesday morning.
Question 1, the so-called "millionaires tax," or Fair Share Amendment, would establish an additional 4% tax on income over $1 million, with revenue going toward education and transportation — subject to appropriation by the state Legislature.
By 10:40 a.m., the "Yes on 1" campaign held a slight lead with 51.8% of the votes, though votes were still outstanding in parts of western Massachusetts and some of the suburbs outside of Boston.
"This campaign has been in the works for seven years, and we always knew it would be close," Fair Share for Massachusetts campaign manager Jeron Mariani said in a statement shortly before midnight. "Massachusetts voters support a fairer tax system, and greater, more stable investment in transportation and public education. They've made that clear throughout this campaign."
Mariani added: "We are working to ensure that every single vote is counted, and confident that when they are, Massachusetts voters will have chosen a fairer tax system, and secure funding for our schools, colleges, and transportation infrastructure."
Question 4, which would uphold a new law allowing residents to obtain a driver's license regardless of immigration status, had garnered 53.3% of votes in favor Wednesday morning.
See live ballot question results from Boston.com here.
The Department of Justice announced Monday it plans to monitor compliance with federal voting rights laws on Election Day at 64 jurisdictions across the country, eight of which are in Massachusetts. The monitors will include personnel from the U.S. Attorney's office and the DOJ's Civil Rights Division.
The department said monitors will be maintaining contact with state and local election officials, and, in addition to enforcing the civil provisions of federal law that protect the right to vote, the department will also be ensuring that individuals with disabilities have the full and equal opportunity to vote.
"Complaints related to disruption at a polling place should always be reported immediately to local election officials (including officials in the polling place)," the DOJ said in a statement. "Complaints related to violence, threats of violence or intimidation at a polling place should be reported immediately to local police authorities by calling 911. These complaints should also be reported to the department after local authorities have been contacted."
The following municipalities in Massachusetts are being monitored by the department:
Clinton, Massachusetts
Everett, Massachusetts
Fitchburg, Massachusetts
Leominster, Massachusetts
Malden, Massachusetts
Methuen, Massachusetts
Randolph, Massachusetts
Salem, Massachusetts
The DOJ urged the public to report any possible violations of federal voting rights laws with a complaint through the department's website or by phone at 800-253-3931.
Complaints related to the Americans with Disabilities act can be submitted online or by phone at 800-514-0301 or 833-610-1264.
Meanwhile, officials announced last week that a special election officer had been appointed to oversee election day complaints, threats of violence, and reports of election fraud in Massachusetts during the general election.
Assistant United States Attorney Eugenia Carris will serve as the District Election Officer (DEO) for the District of Massachusetts, United States Attorney Rachael Rollins said in a release.
Secretary of State William F. Galvin, the top election official in Massachusetts, said Monday that he expects voter turnout during this week's midterm elections to be lower than in previous years.
Polls will be open Tuesday across the state from 7 a.m. to 8 p.m. Residents will cast their ballots to decide the next governor of Massachusetts, as well as the next attorney general and auditor. Galvin himself is running for reelection against Republican Rayla Campbell.
Galvin said he expects 2.2 million Massachusetts residents to vote in this election, a number he called "fairly low," according to The Boston Globe. More than 1 million people had already voted as of Monday, Galvin said. The state now allows universal mail-in voting and organized a two-week in-person voting period before election day.
A voter turnout of 2.2 million people would be similar to previous elections where the governor's office was up for grabs, according to data posted by state officials. About 2.19 million people voted in 2014, when Gov. Charlie Baker was first elected. In 2006, when Deval Patrick became governor, 2.24 million people voted.
While a similar number of people are set to cast their ballots this year, the state has more registered voters than ever. About 4.9 million people are currently registered to vote in Massachusetts.
If 2.2 million people vote, that would only account for 45 percent of all registered voters. This would be the lowest turnout percentage since at least 1948, the first year that state officials posted data from. The lowest turnout percentage so far came in 2014, when 50.84 percent of registered voters participated.
Democrats, including gubernatorial hopeful Maura Healey, have led in the polls for months. A mid-October poll found Healey to be leading Republican Geoff Diehl by a margin of 56 percent to 33 percent among likely voters.
More of the attention from residents, Galvin said, seems to be focused on the four ballot questions that voters are faced with this year.
"There seems to be almost an anti-climactic attitude toward this election, and indeed, voters are far more concerned about the ballot questions," Galvin said, according to WGBH. "It almost makes this election more like a midterm exam than a midterm choice, mostly because voters themselves are quite involved in trying to assess the implications of the four ballot questions."
This year's ballot questions revolve around a tax on high-earners, the amount dental insurers are required to spend on patient care, alcohol licensing, and whether or not undocumented immigrants should be able to acquire driver's licenses.
Galvin said most of the voter interest is being directed towards Question 1, which would levy an extra tax on taxable income earned over $1 million for residents. The constitutional amendment behind Question 1 designates the new revenue that would be collected from this tax to be used on public education, the maintenance of roads and bridges, and public transportation.
The airwaves have been full of advertisements regarding Question 1, with competing sides spending almost $32 million in their ad campaigns, according to the Globe.
Aside from these questions and the candidates running for office, Galvin said that the act of simply casting a vote is a powerful way to increase trust in the democratic process.
"If you vote for no other reason [than] just to vote, to prove yourself as a citizen and to affirm your personal confidence in the voting process, that's a good reason," he said.
Gubernatorial candidates Maura Healey and Geoff Diehl made their way to opposite ends of the state the weekend before the election.
On Saturday, Healey, the Democratic candidate and Massachusetts Attorney General, traveled to Springfield to attend a rally held by Hampden County Sheriff Nick Cocchi.
According to Western Mass News, Springfield Mayor Domenic Sarno and Massachusetts 1st Congressional District Rep. Richard Neal were also in attendance.
"We're looking for a relationship and a friendship," Cocchi said of Healey. "A lot can get done through cooperation and partnerships, and that's how my first six years in office have gone with the Baker Administration, and we're looking for a nice transition, the same type of relationship with the Healey Driscoll Administration."
WCVB reported that during the campaign stop, Healey said she was proud of her record as attorney general and that she would bring the same commitment and energy to the role of governor.
Healey also emphasized the ideological differences between her and Diehl, the news station reported.
"It can be a return to taking away abortion rights and other freedoms, or it can be the vision that Kim Driscoll and I are putting forward, which is about optimism," she said.
But at the Haverhill Greek Festival, WCVB reported, Diehl, a former state representative, shifted the focus away from his endorsement by former President Donald Trump, and onto President Joe Biden's time in office.
"The fact of the matter is Trump's not on the ballot," he said. "Of course, Joe Biden and his economy is what I think people are more focused on. Plus, Joe Biden's caused us high gas prices and Maura Healey caused us high heating and electric prices because she blocked two natural gas pipelines that feed manufacturing and electricity production in our state."
Diehl also promised voters he would "bring back some freedoms."
"Your health care freedoms. Anybody who was fired because of the vaccine mandate, I can bring back to work, I want to bring back on day one," he said. "Make sure parents have a choice for their kids' education, so we're going to open up school choice."
On Saturday, Healey continued on to Worcester, and on Sunday made a stop in Arlington with Sen. Elizabeth Warren, state Sen. Cindy Friedman, state Rep. Marjorie Decker, and state Rep. Dave Rogers.
From there, Healey traveled south to Hyde Park, Mattapan, and Dorchester, where she made appearances with state Rep. Rob Consalvo, state Rep. Liz Miranda, Suffolk County Sheriff Steve Tompkins, Boston City Councilor Ruthzee Louijeune, Candidate for state Rep. Chris Worrell.
Vice President Kamala Harris is in Boston Wednesday, hitting the campaign trail for fellow Democrat and gubernatorial frontrunner Maura Healey.
In a statement, Republican Geoff Diehl's campaign suggested Harris' visit is indicative of Democrats being at-risk this cycle.
"If Maura Healey and Kim Driscoll are dragging in Kamala Harris from DC to campaign for them, they must see their campaign in the same way Geoff and Leah see the Healey/Driscoll campaign: with mere days to go before the election, the Democratic ticket is losing," the statement says. "Healey and Driscoll have tried to pretend they are moderates who want to cut taxes, but the people of Massachusetts know better. We know that the Healey/Driscoll ticket just wants to rubberstamp President Biden's failed, woke policies and continue to wage a war on energy that is bankrupting our households."
Although Democrats are facing tough races in several elections around the country, Healey and her running mate, lieutenant governor hopeful Kim Driscoll, have steadily held a hearty lead in several polls leading up to the Nov. 8 Election Day.
A recent poll from UMass Amerhst and WCVB showed voters even believe Healey resembles popular outgoing Republican Gov. Charlie Baker's leadership style and ideology more than Diehl, the GOP's chosen successor to Baker.
Neither one of the two major party candidates for Massachusetts governor will release their tax returns for voters to look over; that is, unless maybe the other one does it first.
Campaigns for both Democrat Maura Healey and Republican Geoff Diehl declined requests from WBUR to provide the public radio station with copies of their candidate's latest tax filings, just about a week out from the Nov. 8 Election Day.
But the two camps each offered a caveat: They may reconsider if their opponent offers their tax filings first.
"As a public official, Maura has filed extensive financial disclosures for the past eight years and her salary is publicly available," campaign spokesperson Karissa Hand told WBUR in a statement.
Indeed there are some indicators of how much each candidate has earned.
According to WBUR, both Healey and Diehl complied with requirements to complete less extensive financial disclosures with the State Ethics Commission.
Healey's documents show her only income last year was her salary from serving as the state's attorney general, which stands at a bit more than $185,000 – a sum in the same ballpark as the governor's salary.
Beyond that, Healey did not report any real estate or business interests in Massachusetts, save for mutual fund investments, WBUR reports.
Diehl's Ethics Commission filing shows he made more than $100,000 at his full-time job as manager for 1A Auto, the Nashua, New Hampshire-based online auto parts supplier. The form, however, did not require him to provide an exact dollar amount.
Diehl also disclosed he is a co-owner of the Hanson dance studio, Boss Academy of Performing Arts, with his wife.
Notably, candidates are not required by law to disclose their tax returns. But the practice has become a staple of sorts for voter transparency in modern American politics.
The City of Boston is closing its voting drop boxes on Monday to prevent any potential Halloween-related vandalism.
The city announced this news in a tweet Sunday. Ballots can still be dropped off Monday at any early voting sites.
The Mass. Elections Twitter account noted that other cities and towns "may use their best judgment" about whether they want to follow Boston's lead and close their drop boxes.
With about a week-and-a-half until Election Day, a new poll shows voters are split on whether to pass Question 3 on the ballot, which would allow more stores to sell beer and wine, while also decreasing the number of stores that can sell all types of alcohol.
Released Friday, results of the UMass Amherst/WCVB poll of 700 registered voters around the state found 39 percent of respondents said they would vote to pass the measure, while nearly just as many, or 38 percent, said they would vote against it. Another 23 percent were undecided.
The results show Question 3 is shaping up to be perhaps the tightest race among this election's four ballot questions.
On Question 1, which asks voters whether the state should pass the so-called millionaires tax, 59 percent of respondents said they would support the measure; 33 percent said they would oppose it; and 8 percent said they were unsure.
If passed, revenue from the additional 4 percent income tax on incomes of over $1 million are slated to go toward funding public education and transportation. Gubneratorial frontrunner Maura Healey said Thursday on GBH she, as governor, would veto any effort from state lawmakers to use those funds for any other reason.
On Question 2, which asks voters whether dental insurance companies should spend a certain percentage of their monthly premiums on patient care, 68 percent of survey respondents said they plan to vote "Yes;" 20 percent plan to vote "No;" and 12 percent were unsure about how they plan to vote.
And on Question 4, which asks voters whether the state should keep a law to allow undocumented immigrants to get driver's licenses, 51 percent of respondents said they plan to vote toward retaining the law; 39 percent said they would vote to repeal the law; and 10 percent said they were unsure about their vote.
Republican Gov. Charlie Baker on Thursday also revealed how he plans to vote on the four questions. Baker, also on GBH, said he will vote "No" on all except for a "Yes" vote on Question 3.
The results of a new UMass Amherst/WCVB poll released Friday show voters in Massachusetts believe Democratic gubernatorial candidate Maura Healey resembles outgoing Republican Gov. Charlie Baker's leadership style and ideology more than Geoff Diehl, the GOP nominee to succeed him.
The survey, which polled 700 registered voters around Massachusetts, found 58 percent of respondents believe Healey most resembles Baker's ideology; 59 percent believe Healey most resembles Baker's policy priorities; and 62 percent believe she resembles the current governor's leadership style over both Diehl and Libertarian candidate Kevin Reed.
By comparison, on those principles, 35 percent, 34 percent, and 33 percent of voters believed Diehl better resembled Baker, respectively. Seven percent, 7 percent, and 5 percent of voters, respectively, felt that way about Reed.
Of course for Healey, being like Baker is not necessarily a bad thing, even if the two are technically on opposite sides of the aisle. Over his two terms in office, Baker enjoyed significantly high approval ratings, and frequently earned the title of the nation's most popular governor, including just earlier this month.
And that affinity is already showing itself in the lead-up to the Nov. 8 Election Day: The latest poll shows Healey continues to maintain a large lead over Diehl, garnering support from 61 percent of respondents, including those that say they're "leaning towards" supporting Healey; and 59 percent, not including voters who are leaning towards Healey.
Support for Diehl stands at 33 percent and 32 percent, respectively, while Reed garnered 2 percent both with and without those voters leaning towards voting for him.
Debate around Question 1 on the ballot — over whether Massachusetts should adopt the so-called "millionaires tax" — continues to ramp up ahead of the Nov. 8 election.
Two weeks out, the Massachusetts Society of CPAs, which boasts 11,000 members statewide, is telling voters to reject the amendment to the state constitution that, if adopted, would levy an additional 4 percent tax on income over $1 million. The extra cash would help the state fund public education and transportation initiatives.
But critics argue the move would not only impact the ultra-rich: Residents who, say, cash out on assets that bump their income up over $1 million — think a one-time event like selling a small business or downsizing from a home for a retirement fund — would be subject to pay up under the higher rate.
MassCPAs says the proposed law's approach is "unacceptable," the Boston Business Journal reports.
"Tax rates and thresholds have no business in the state constitution and tax policy should be based on sound principles, not marketing approaches," the group said Monday. "Voters should not envision a tax on wealthy individuals who earn over a million dollars year after year, they should envision a tax on people's homes, their businesses and their retirement nest eggs."
Meanwhile, supporters of the amendment are crying foul over a television ad from the Coalition to Stop the Tax Hike Amendment that claims "Question 1 would nearly double the income tax rate on tens of thousands of Massachusetts residents and retirees when they sell their homes."
According to The Boston Globe, members of Fair Share for Massachusetts are calling on local television stations to stop airing the ad.
"The television stations have a duty to protect their viewers, including homeowners and seniors, from the outright fear-mongering and lies being aired by the 'no' side," said Fair Share campaign manager Jeron Mariani.
The ad cites a study published in January by Tufts University's Center for State Policy Analysis.
If voters back Question 1, taxpayers who earn more than $1 million annually will see their state income tax rate nearly double. All taxpayers currently pay a 5 percent rate. The law would add an additional 4 percent — for a 9 percent total rate — on income over $1 million, if approved.
The Tufts study notes 21,000 taxpayers claimed an income above that threshold in 2019, or about 0.6 percent of all taxpayers in the commonwealth. As the Globe pointed out, the study does not contain details on how many of those taxpayers became millionaires through selling a home.
The Massachusetts Budget and Policy Center, the pro-amendment think tank, says however fewer than 2 percent of homes sold in the state in 2021 saw a gain over $1 million-plus, according to the Globe.
Plus, sellers can get some of their taxable income whittled down through capital gains deductions on their primary residence — $250,000 for a single person and $500,000 for a married couple, the newspaper reports.
"In other words, 99 percent of us who go to sell a home in the future — a future after Question 1 has been passed — are highly unlikely to pay a penny more," La-Brina Almeida, a policy analyst and development coordinator at Mass Budget, said during a press conference on Monday.
Notably, Evan Horowitz, executive director of the Tufts center behind the study cited in the ad, pushed back on the "no" campaign's interpretation of the center's analysis, telling the Globe, "I do not think our work supports their claim about the tax rate on home sales — or even addresses it directly."
A public transit advocacy coalition is calling out Robert Kraft's company for throwing $1 million behind the campaign seeking to shut down Question 1, which, if passed, would institute the so-called "millionaires tax" on the state's highest earners and provide new income for public transportation and education.
If voters pass the initiative next month, the state constitution would be amended to add an additional 4 percent tax on income over $1 million.
Public Transit Public Good, in a new report, contrasted the May donation from Kraft's company Rand-Whitney Containerboard and how the MBTA services Kraft's business interests through bringing fans and customers to the Patriots home at Gillette Stadium, the State House News Service reports.
The MBTA ran commuter rail service to Foxborough only for football games and select events for decades, according to the coalition.
Kraft's team advocated for more weekday service to Foxborough, and the T began a pilot program in October 2019. The service was canceled when the COVID-19 pandemic began, but a new pilot launched last month that touts 10 weekday round trips between Foxborough and Boston.
The coalition highlighted that Patriots cheeleaders welcomed passengers and a Kraft Group spokesperson praised the pilot as service fired up.
"The celebration makes you wonder — why would Kraft oppose a new tax that could help keep the trains that serve his customers safe and well-maintained?" Public Transit Public Good wrote in the report. "Maybe it's because he's more interested in profiting from the MBTA than in paying his fair share."
A Kraft Group spokesperson declined to comment to the News Service on Kraft's stance on the tax. But in response to the coalition's criticism, the spokesperson said Patriot Place operated for over a decade before the expanded rail service and that Kraft made a six-figure contribution to help provide for the pilot program.
Geoff Diehl, the Republican nominee for governor, on Friday challenged Democrat Maura Healey to a third debate after he alleged Healey's running mate cancelled on a planned radio debate against his own running mate.
Diehl's call for another face-off came the day after the two candidates debated in what had been their second, and presumably final, scheduled debate.
In a statement, Diehl accused Healey and her running mate, lieutenant governor candidate Kim Driscoll, of purposefully hiding their opinions on the issues from voters.
"Maura Healey and Kim Driscoll are running a stealth campaign where their radical opinions on important issues are being hidden from the voters, I believe purposefully," Diehl said. "That was apparent last night, when Maura Healey clearly misrepresented her support for [the Transportation Climate Initiative] on-stage. If Kim Driscoll is going to dodge debates, I believe the only way for voters to know where Healey and Driscoll really stand is for Maura Healey to debate me for a third time."
According to a news release from the Diehl campaign, Republican lieutenant governor candidate Leah Allen, Diehl's running mate, was scheduled to debate Driscoll on WBZ radio on Oct. 24.
The release said Driscoll's campaign "then canceled the invite, citing scheduling reasons, and did not respond to calls to reschedule."
The radio debate was the only debate Driscoll had agreed to participate in, according to the Diehl campaign.
On Friday afternoon, Karissa Hand, a spokesperson for the Healey campaign, indicated Healey would not be debating Diehl again.
"People have had the opportunity to hear Geoff Diehl's extreme pro-Trump, anti-choice views during two televised debates," Hand told Boston.com in a statement. "Maura looks forward to taking her case directly to voters for the final two weeks of the campaign."
According to the campaign, Driscoll also had never agreed to the WBZ debate because she had a scheduling conflict.
The campaign also refuted the Diehl campaign's claim the WBZ debate was the only debate Driscoll agreed to take on. The Salem mayor had signed up for another debate with Allen hosted by GBH, but the station was unable to move forward with the event, the campaign said.
In the build-up to September's primary election, Diehl's then-opponent Chris Doughty had repeatedly challenged Diehl to debates, but Diehl declined all but two slated for conservative talk radio shows.
The host of one of those programs, Jeff Kuhner, had previously supported Diehl in other political endeavors, and Doughty declined an invitation to that debate on those grounds.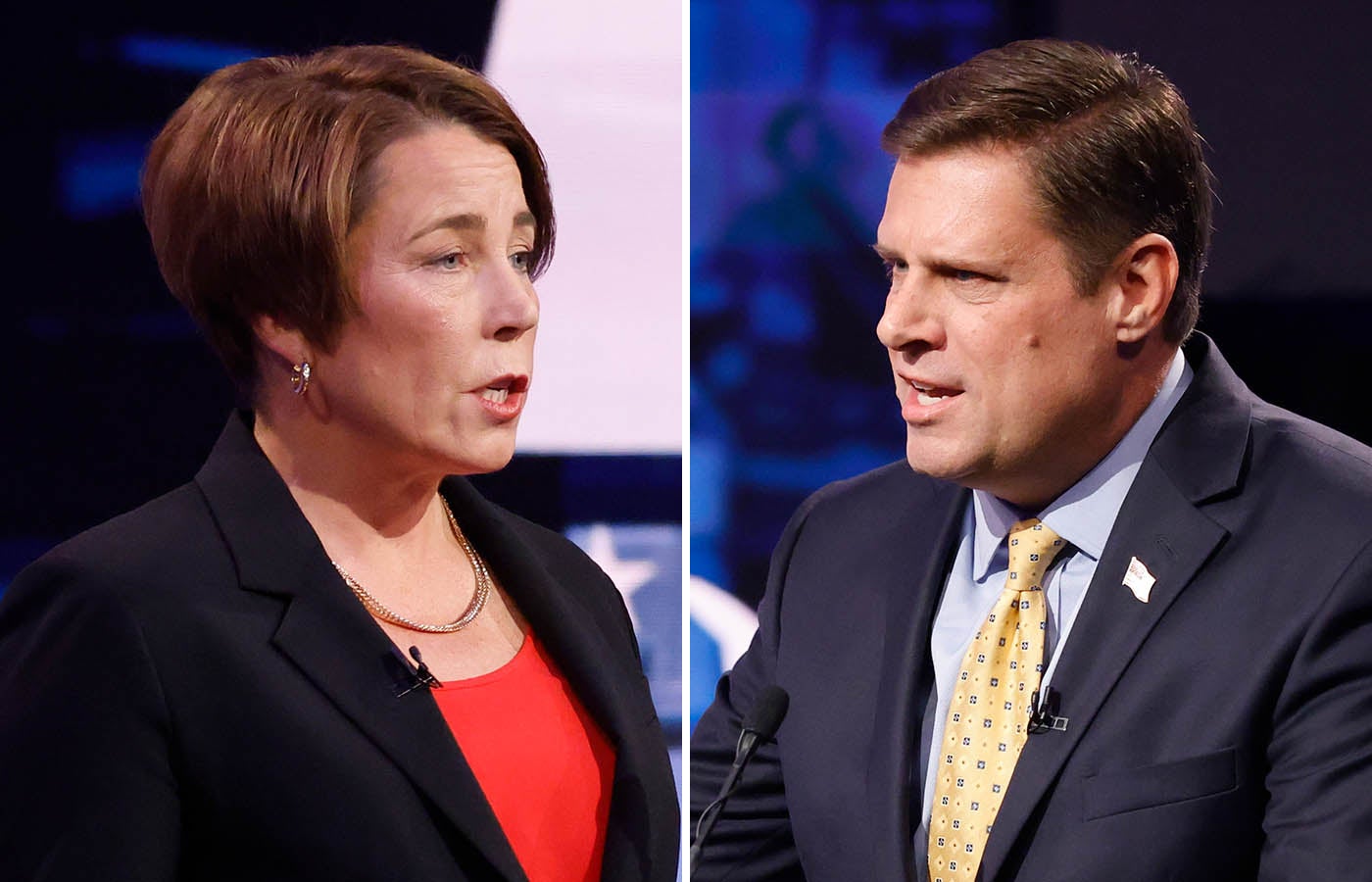 Democrat Maura Healey and Republican Geoff Diehl squared off in their final gubernatorial debate ahead of the Nov. 8 election on Thursday night, battling over the economy, energy issues, abortion access, and a whole host of challenges facing Massachusetts voters.
In closing statements, each affirmed a deep commitment to the Bay State, but offered opposing governing philosophies.
Healey, the current attorney general, likened her approach to the job similar to her past life as a professional basketball point guard – a collaborative endeavor where Republicans and Democrats are on the same team.
"To me, the key about being a point guard is that it's all about the assists. It's never about the points scored," Healey said. "We are going to go to great places in the state working together – collaboration, bipartisan – as I have inside and outside of government. That's what's going to move Massachusetts forward. That's what's going to make us stronger."
Diehl, a small business owner and a former state representative, pitched a leadership style of rolling back the government's role in people's daily lives.
"My opponent thinks that government is the solution to everything," Diehl said. "My goal is to provide you more freedom. Economic freedom – you should keep more of your money. The state is taking more of it than they need. You should get health care freedom. You should have the choice with your lives to get the health care that you desire."
Healey entered Thursday night with a hearty 23-point lead in a recent poll.
Local political analysts say she's stayed the course, especially in her debate performance.
WBZ-TV's Jon Keller writes: "From Healey, the final cameraside chat with a statewide TV audience was a chance to finally uncork the analogy everyone aware of her stellar basketball career — as is anyone who's ever seen a Healey ad or photo op — had been anticipating all night. 'I was a point guard,' she said. 'It's all about the assists, it's never about the points scored.'
"Funny coming from a candidate who devoted most of her time last night to scoring points. Diehl blocked a couple of her shots, notably rebutting her promise to be a tax cutter by noting she supports the Question 1 tax hike. But she scored at will on abortion rights, and called election denier Diehl out for being an election denier, which is undeniable, although he denies it."
And Healey scooped up an "A" from The Boston Globe's James Pindell, notching a letter grade above Diehl in the newspaper's scorecard.
"Healey is as much running now to earn political clout for her first 100 days as she is focused on what will happen in the next 19 days," Pindell writes. "To be sure, Healey wants to ensure a blowout election both because everyone expects it and because she will get to argue to State House leaders she has a mandate."
The early voting period starts this Saturday.
Gubernatorial hopefuls Maura Healey and Geoff Diehl are set for their second and final televised debate on Thursday night.
The one-hour debate, hosted by WCVB, The Boston Globe, WBUR, and Univision-TV will be held live beginning at 8 p.m and will be moderated by WCVB anchor and "On The Record" host Ed Harding, according to WCVB.
Panelists include WCVB "On The Record" host Janet Wu, The Boston Globe's Adrian Walker, WBUR "Radio Boston" host Tiziana Dearing, and Univision news anchor Linda Guerrero.
WCVB and WBUR will broadcast the debate live and a Spanish language broadcast will be available on Univision Boston's WUNI and Univision Springfield's WHTX. Livestreams will also be available on WCVB.com, WBUR.org, Globe.com, Univision Boston, Univision Springfield, and WGGB Springfield's westernmassnews.com, as well as here on Boston.com.
Peabody Republican Robert May, Jr. had a question for his opponent in the Massachusetts 6th Congressional District race on Monday night.
May was among about 100 constituents of incumbent U.S. Rep. Seth Moulton, a Salem Democrat, at a town hall hosted by the congressman. He wanted to know why exactly Moulton has not debated him, according to the Gloucester Daily Times.
"What are you afraid of?" May asked.
Moulton said he wants to have a good exchange of ideas but he is "not going to give air time to election deniers."
"I'm just not going to do it," he said. Moulton was also asked by residents about where he differs with President Joe Biden, issues at the nation's southern border, and financial support for Ukraine in its war with Russia.
Republican gubernatorial hopeful Geoff Diehl's latest advertisement paints Democrat Maura Healey as opposed to prayer in schools.
The advertisement, which launched on Facebook and Instagram last week, says, "Maura Healey Opposes Prayer in schools, but it should be our children and parent's chocie! [sic]," according to The Boston Globe.
A photo that appears with the advertisement reads: "Maura Healey opposes prayer in schools. It's time to restore our Christian foundational values."
The Globe asked Diehl's campaign to elaborate on those values, and campaign spokeswoman Amanda Orlando responded in an email, "Protection of religion is secured in our First Amendment as cited by the Supreme Court in its ruling. It's sad that Maura Healey, the Attorney General, refuses to respect that basic tenet of our Democracy."
The advertisement is apparently in response to Healey's reaction to a U.S. Supreme Court decision released in June that ruled in favor of a Washington state public high school football coach who was fired by his school system for praying on the field after games.
The court ruled the school district violated the coach's First Amendment rights.
Healey had said in a statement at the time that she was "disappointed" with the ruling.
"The football field is for playing, not for forcing religion on children," she said.
Regarding the advertisement, Orlando told the Globe: "It's unfortunate that on yet another issue, Maura Healey chooses to take a position against protecting Constitutional rights of individuals."
Karissa Hand, a Healey campaign spokesperson, told the newspaper Healey believes religious freedom is "foundational" to the United States, and Diehl is using "divisive, dangerous language that has no place in Massachusetts."
"It's not surprising coming from someone who wants to bring Trumpism and the politics of hate to the Governor's office," she wrote in a statement.
According to the newspaper, Diehl has not run any television advertisements this election cycle, but is currently running 16 Facebook advertisements.
With three weeks until Election Day, a new poll shows the double-digit margin between Democrat Maura Healey and Republican Geoff Diehl has held over the past month.
Fifty-six percent of likely voters surveyed in the Suffolk University/Boston Globe/NBC10 Boston/Telemundo poll, released Tuesday, favored Healey compared to 33 percent for Diehl.
Another 4 percent are supporting Libertarian Kevin Reed, while an additional 6 percent remained undecided. A similar poll last month showed Healey with about the same lead, gaining support from 51.6 percent of registered voters surveyed compared to the 26.2 percent who were backing Diehl.
Rahsaan Hall, the Democratic civil rights attorney running for Plymouth County district attorney, received one of the 2022 election cycle's most high profile endorsements on Monday.
Grammy-winning singer-songwriter John Legend expressed his support for the former prosecutor in a thread posted on Twitter. Hall was among several Democrats and causes in races around the country Legend highlighted "because of the positive changes they will make," he wrote.
"Get ready to vote!" Legend tweeted. "Whether you vote by mail or in-person, please don't forget about how important it is to vote in down-ballot races for district attorneys and ballot initiatives."
Hall is facing off against longtime incumbent Republican Timothy Cruz.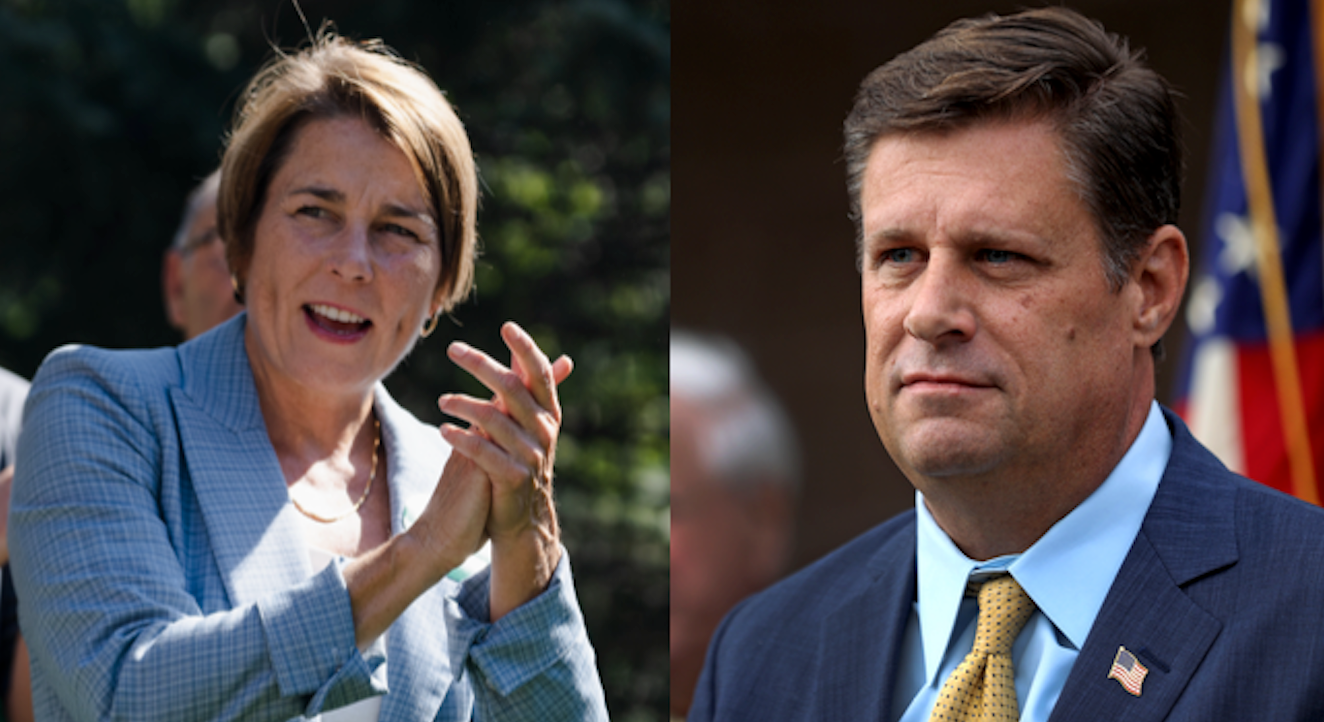 The Democratic and Republican nominees for Massachusetts governor, Maura Healey and Geoff Diehl, respectively, will face off in their first televised debate on Wednesday night.
The hour-long debate, hosted by NBC10 Boston, NECN, and Telemundo Boston, is slated for 7 p.m.
NBC10 Boston morning news anchor Latoyia Edwards will serve as the moderator. Panelists include Alison King, NBC10 Boston & NECN political reporter; Cory Smith, NBC10 Boston news anchor; and Grace Gómez, Telemundo Boston news anchor, according to the network.
The debate will air live on NBC 10 Boston and NECN. A livestream of the debate will also be available on NBC10Boston.com and NECN.com, and in Spanish on TelemundoNuevaInglaterra.com.
Telemundo Boston will broadcast the debate in Spanish on Saturday at 11 a.m.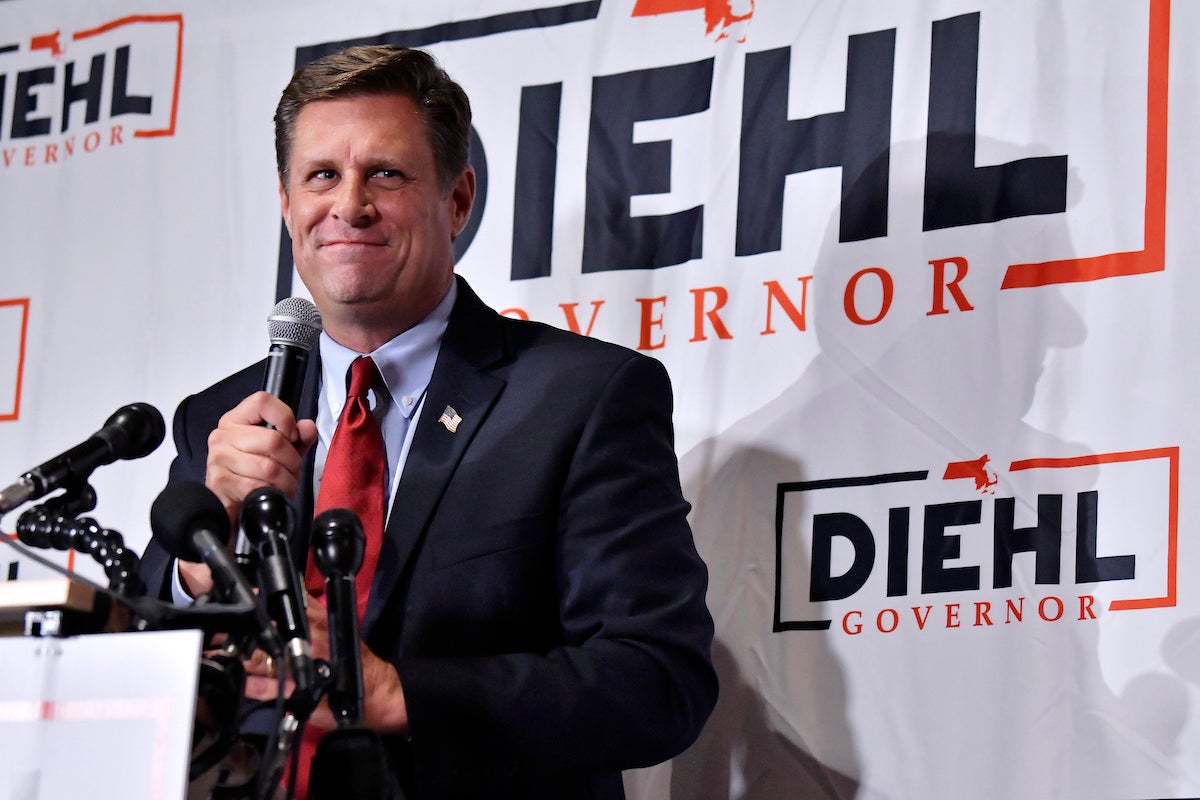 Geoff Diehl, the Republican candidate for Massachusetts governor, is looking to give parents more leverage, or at least a say, in their children's education.
Diehl recently unveiled a "Parents' Bill of Rights," a list of policies aimed at giving parents and guardians more opportunity for input in matters within their kids' schools, such as by requiring informed consent for "controversial curriculum subjects" and mandating school boards collect public comment from parents during public meetings.
"As a ticket, we are focused on the rights, needs, and priorities that parents across our state have these days," Diehl said in a statement. "Some of those desires are common to everyone, such as a need for good paying jobs, quality education, and for public safety. But when it comes to parents and kids, even more is required. We are the only candidates committing to make sure those priorities are properly addressed in the next administration on Beacon Hill."
Like other Republicans running across the country this cycle, Diehl and running mate Leah Allen have brought parental problems at schools into the political arena following well over two years of the COVID-19 pandemic's impact on classrooms and a rise in conservative's concerns over how gender and sexuality are acknowledged and taught in schools amid the country's shifting culture.
On the campaign trail, Diehl has highlighted how some parents say they have felt ignored by school administrators and school committee officials, particularly on issues like curriculum feedback and pandemic-related mask policies. Diehl has often pointed to a bump in the number of homeschooled kids and private school enrollment in Massachusetts as indication of parents' frustration with the state of public school policies.
If elected, Diehl actually wants to make it easier for families to seek alternatives to public schooling under the Bill of Rights proposal.
According to a news release from the Diehl campaign, the former state representative wants to expand school choice "whereby parents will be given more flexibility to send their children to charter, vocational, or private schools, or home schooling, if public schools are not an appropriate action, and to have state education dollars follow the child."
The Diehl-Allen ticket is also proposing a requirement for "parental informed consent for important education decisions, including controversial curriculum subjects and educational materials, human growth and development courses, usage of school library and media, health services, student surveys, guest speakers, and athletics, and for medical testing and treatment involving minors."
Similarly, Diehl wants to create a new curriculum oversight office within the state Department of Elementary and Secondary Education "to monitor school curriculum statewide for subjects that are not appropriate to be taught."
The release did not elaborate on what may be considered a controversial or inappropriate subject, however.
But Diehl, on the trail, has said "sexual preference material from ages kindergarten through third (grade) is totally wrong."
Diehl initially made a similar remark in May after talking to parents in Billerica who were concerned about "very inappropriate" books allowed in elementary schools.
A handful of states have prohibited or limited how and when teachers can cover gender identity and sexual orientation, particularly with young students, with more states considering following suit. Florida, for example, passed a law in March banning teachers from covering those subjects from kindergarten through grade 3 "in a manner that is not age-appropriate or developmentally appropriate for students in accordance with state standards."
"I have two daughters. I was not going to talk sex ed with them — that was my wife's role," Diehl said during a July debate. " … There is no way a teacher, someone outside the family, should be talking to our kids about sexual preference, especially at that young an age."
Other policies Diehl is proposing include eliminating COVID-19 vaccine requirements for teachers and students; tweaking the state's open meeting law to require school boards take in parental public comment during public meetings; and ensuring parents have access to education and medical records involving their children, among other proposals.
Additonally, Diehl would tap Allen to serve as their administration's "point person on matters of parental rights and children, if elected," the campaign said.
"Leah Allen's experience as not only a mother, but also as a Registered Nurse, makes her the perfect person to coordinate matters affecting parents and their kids statewide," Diehl said in a statement. "I have full confidence in her ability to make sure all agencies within our state government do a better job paying due attention to these concerns with the best interests of parents and children in mind."
Allen, in her own statement, said, "I want the message to be heard loud and clear: if you're a parent in this state, we're going to make sure you have a seat at the table and that your voice is heard, and that the state respects and protects your kids in the same way you would as a mom or a dad."
Just a few weeks out from the Nov. 8 election, Democrats appear to have significantly more spending power than their Republican opponents.
The latest financial filings from the end of September show Democratic candidates in every major statewide race topped their GOP counterparts for cash on hand, with only three weeks to go until polls open for early voting on Oct. 22.
A Twitter thread posted by Peter Wilson, of Boston 25 News, illustrated substantial cash differences in several key races, including the race for governor. Democrat Maura Healey had over $3.5 million in her war chest while Republican Geoff Diehl reported approximately $88,500.
There was also a large difference among candidates for secretary of state. Democratic incumbent William Galvin boasted over $1.3 million on hand, whereas Republican Rayla Campbell reported approximtately $13,700.
Races with a narrower cash gap were for attorney general – where Democrat Andrea Campbell reported over $59,000 and Republican James McMahon reported over $37,000 – and for state auditor.
The latter race showed a difference just shy of $9,000. Democrat Diana DiZoglio had over $35,000 on hand at the end of last month while, Republican Anthony Amore had over $26,000.
If you were upset you missed your chance to vote at Fenway Park in 2020, fear not.
This year, the City of Boston is once again partnering with the Red Sox to host early voting at the historic baseball stadium.
Early voting will be available at Fenway Park on Saturday, Oct. 29, and Sunday, Oct. 30 from 11 a.m. to 7 p.m.
Voters should use the Gate A entrance on Jersey Street to enter the park. They will then cast their ballots in the Third Base Concourse and will have an opportunity to view the field before exiting onto Lansdowne Street.
Fenway Park will be a citywide polling location with ballots for every precinct, so anyone who lives in the city of Boston can vote there. Voters who live outside city limits cannot vote at the ballpark.
Fenway Park offered early voting for the first time in 2020 and became a popular citywide voting place. Its unique sticker, which reads "I voted! At Fenway Park" is now selling for $44 on eBay.
Fenway Park is one of 24 early voting locations throughout the city that will be available during the upcoming election. Voters can find more information about early voting by visiting boston.gov/early-voting.
The candidates running for attorney general of Massachusetts will meet for at least one televised debate next month.
WBZ's Jon Keller, in a tweet Wednesday, said Democrat Andrea Campbell and Republican Jay McMahon will tape a debate at the station's studios on Oct. 20. The taped face-off will air sometime over the following weekend on WBZ.
Whether a debate would happen at all before November's general election was in question last week as McMahon, a Cape Cod trial attorney, challenged Campbell, a former Boston city councilor, to seven debates, but Campbell was elusive when asked if she would debate even once.
Campbell repeatedly said, "We'll see."
The former city official, while on WCVB's "On the Record," did note, however, that the two candidates debated in August ahead of this month's primary.
"It was done by the Worcester Bar Association (and) a local college, but there was no media attention," Campbell said. "So it's online, it's livestreamed, it's recorded. You can see us in action."
Outgoing Republican Gov. Charlie Baker has built a reputation for being a rather politics-avoidant leader, and it appears he'll continue in the same vein amid the election to elect his successor.
On GBH's "Boston Public Radio" on Monday, co-host Jim Braude pressed Baker on whether he will vote for Democrat Maura Healey for governor, as Baker, a moderate, has said he will not endorse his party's Trump-backed nominee, Geoff Diehl.
"I pretty much said I was going to stay out of statewide politics and the elections this fall and I meant it," Baker told Braude.
Asked if he's going to vote, Baker said: "Oh yeah I think at the end of the day I'll vote."
But Baker was avoidant when Braude noted that if he's voting but not supporting Diehl, that means the governor is voting for Healey.
"We'll have one more bite at this apple I think before the election," Baker said. "We can talk about it then."
There is one race on the ballot, however, where Baker has been outspoken in his support of a candidate. Baker has backed Anthony Amore, the Republican candidate for state auditor.
Baker said Amore "would be a fabulous auditor. I don't think we've had anybody run for that office who has more qualifications than he does."
Amore, who unsuccessfully ran for secretary of state in 2018, is the director of security at the Isabella Stewart Gardner Museum.
"He was brought in after the (unsolved 1990) theft (of 13 works of art from the museum) to make sure nothing like that ever happened again and clean up their security issues, which he did," Baker said. "He was also brought in after 9/11 by the federal government to set up the security protocols and process and hire the people at Logan Airport … and a federal audit that took place after he did all that work said it was the most secure airport in America."
Amore is running against Democratic state Sen. Diana DiZoglio.
Gubernatorial candidates Maura Healey, the Democratic attorney general, and Geoff Diehl, the Republican former state representative, are slated to square-off in a televised debate next month.
The two nominees will go face-to-face on Oct. 20 in a debate hosted by WCVB, WBUR, and The Boston Globe, according to Politico.
The debate appears to be the only one scheduled so far in a major race.
As Politico noted, a proposed debate between Secretary of State Bill Galvin and his Republican challenger Rayla Campbell isn't in the cards, the candidates said.
WCVB requires people who enter its studios to be vaccinated against COVID-19, and Campbell is not.
Meanwhile, in the race for attorney general, Republican Jay McMahon has challenged his opponent, Democrat Andrea Campbell, to seven debates.
Asked earlier this week about even one debate, Campbell said, "We'll see."And in the race for state auditor, Democratic state Sen. Diana DiZoglio told GBH she would debate her Republican counterpart, Anthony Amore, only if third-party candidates participate, too, Politico reports.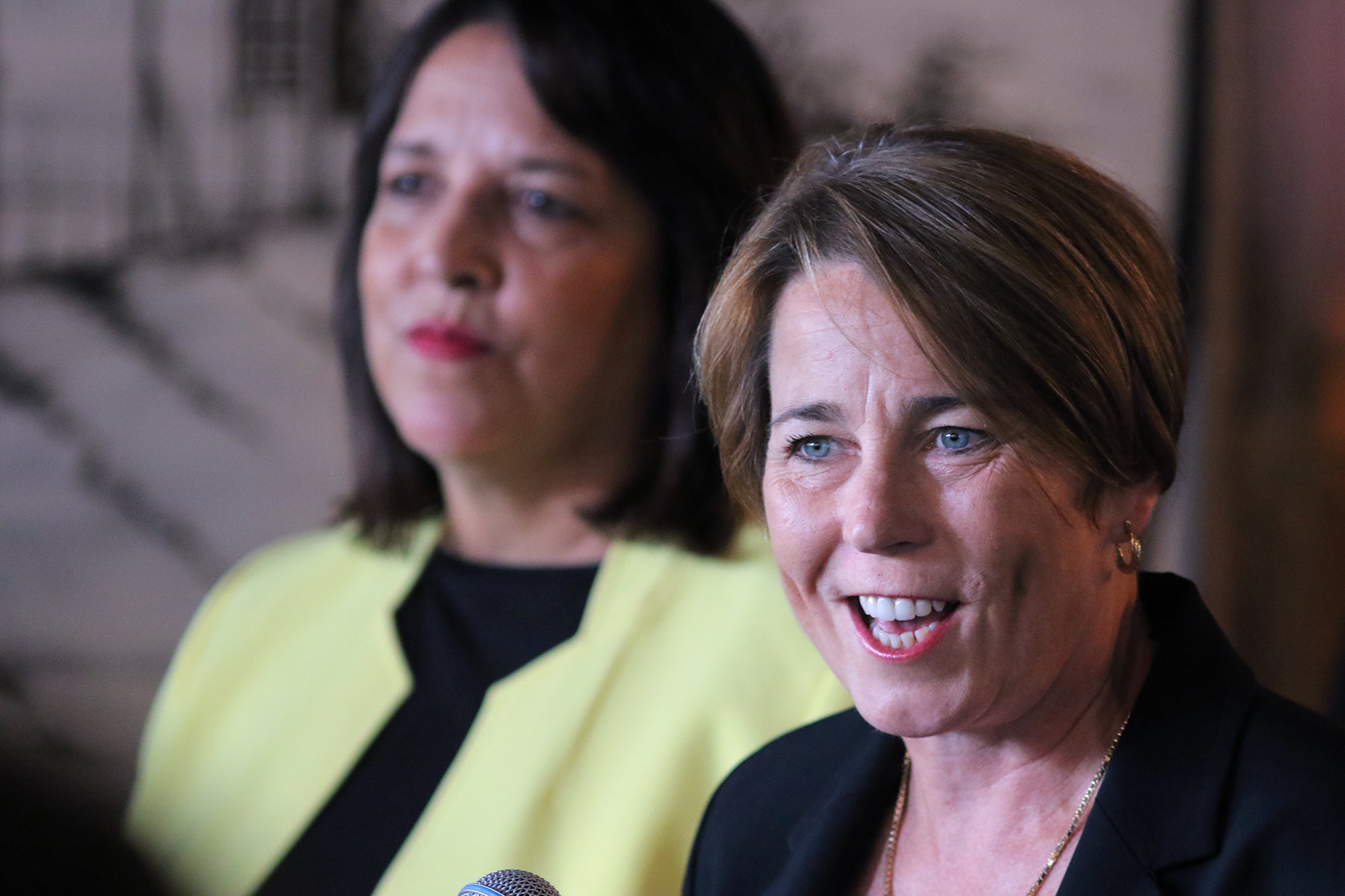 The Democratic ticket for governor and lietenant governor of Massachusetts on Wednesday unveiled its first policy proposal since solidifying as a team in this month's primary, with a vision to bolster housing production through using state-owned land, spurring zoning reforms, and placing focus on paving the way for even more transit-oriented housing.
The agenda from hopefuls Attorney General Maura Healey, the candidate for governor, and Salem Mayor Kim Driscoll, the candidate for lieutenant governor, stopped short of a vision for a statewide rent control policy, but did not close the door on those kinds of policies at the local level.
The plan said a Healey-Driscoll administration would "empower communities to enact local policies that best address their own, unique housing challenges, while encouraging regional cooperation and technical assistance.
"This may include local rent stabilization policies, zoning reforms to allow housing at greater densities, specific housing production supports, and more."
The Healey-Driscoll campaign framed the housing agenda as having a heavy focus on boosting the creation of new housing while preserving existing housing stock, and supporting those struggling with homelessness.
The plan, in large part, seeks to lower costs of the state's red-hot housing market.
"If we want to make Massachusetts more affordable and help our businesses be more competitive, then we have to address the high cost of housing," said Healey. "Young families can't buy their first house, renters can't stay in their homes, small businesses are struggling to retain workers, and our seniors can't afford to downsize. The Healey-Driscoll Housing Agenda will work to dramatically increase housing stock across the state in order to drive down costs for all. It will also alleviate the burden on renters, address homelessness, and support our workforce."
Jay McMahon, the Republican nominee for attorney general, last week, challenged his Democratic opponent, Andrea Campbell, to seven debates ahead of the Nov. 8 election, but it remained unclear Tuesday morning whether the two would face off at all before then.
McMahon, a Cape Cod trial attorney, issued the call in a news release a week ago, stating that he wants debates on television and radio and in print.
But Campbell, the former Boston city councilor, when asked if she will debate McMahon at least once before the general election, has repeatedly said, "We'll see."
This much is clear so far, though: The two will not meet seven times.
"No, we're not doing seven debates," Campbell said Sunday during an appearance on WCVB's "On the Record."
Campbell highlighted that she and McMahon, in fact, participated in a debate together a few weeks before the Sept. 4 primary.
"It was done by the Worcester Bar Association (and) a local college, but there was no media attention," Campbell said. "So it's online, it's livestreamed, it's recorded. You can see us in action. At the end he came up to me and said, 'I thought you did an excellent job.' I said, 'Oh. Thank you, Jay.'
"For me the priority is I want to thank our people who helped mobilize in this primary — I'm still making thank you calls — and then of course get out there to pockets of communities that haven't seen me, that we haven't been able to engage as much, including Western Mass., our rural communities. Do the work. And we'll see, of course, about debates."
Asked if she thought debates have value to voters, Campbell said, "Absolutely."
"That's why I'm telling folks to look at that debate," she said. "It was an hour long."
McMahon, however, was still pushing the matter on Monday. "It has now been 7 days and @AndreaForAG is still avoiding debates," his campaign wrote in a tweet. "What is she afraid of?"
After a spokesperson for his campaign told The New York Times "no comment" when asked if Geoff Diehl would accept the outcome of the governor's race this fall, the Republican gubernatorial hopeful elaborated on Monday by saying he has concerns about election integrity in Massachusetts.
Diehl, in a statement to GBH's Adam Reilly, slammed the Times's question as working to create a "false narrative," stating "liberal news organizations are obsessed with trying to get Republican politicians to commit to accepting the results of the 2022 election before it happens."
Diehl, who was endorsed by Donald Trump in this month's primary election, has previously espoused the former president's false belief that the 2020 presidential election was rigged against him.
A report published by the Times on Sunday found Diehl was among six Trump-backed GOP nominees in gubernatorial and Senate elections who would not comment when asked if they would commit to accepting the results of their elections.
"These 'gotcha' questions from liberal outlets are not worth engaging in because all they are trying to do is weave a false narrative," Diehl said in his statement Monday. "It is ridiculous and preposterous to ask any candidate – Democrat or Republican – for any public office to blindly accept the results of an election that hasn't even happened yet and to thereby waive their legal right and responsibility to raise questions and assert challenges if appropriate.
"I think every American – Democrat or Republican alike – should be concerned about any insufficiency, error, or external force that could influence the outcome of an upcoming election," Diehl's statement continued.
Diehl said he also has concerns about "the future integrity of our election process here in Massachusetts" and pointed to a recently passed law allowing undocumented immigrants to obtain driver's licenses.
Opponents of the law, who have successfully landed a question on the November ballot asking voters to repeal the policy, have contended it will increase the chance non-citizens will vote in elections.
As it stands, the law is slated to take effect on July 1, 2023.
"As a candidate and private citizen, if I see problems with the voting process that I believe in good faith cast doubt on its outcome, I intend to call out these problems and seek resolution by means of accepted legal process," Diehl said. "Once those means are exhausted, or if there are no such irregularities in the first place, the election is over and its results must be respected according to our democratic tradition.
"Any insinuation that I would resort to any methods to protest any election outside of legally-accepted means and consistent with the rule of law is demeaning, offensive, and most of all categorically false," Diehl added.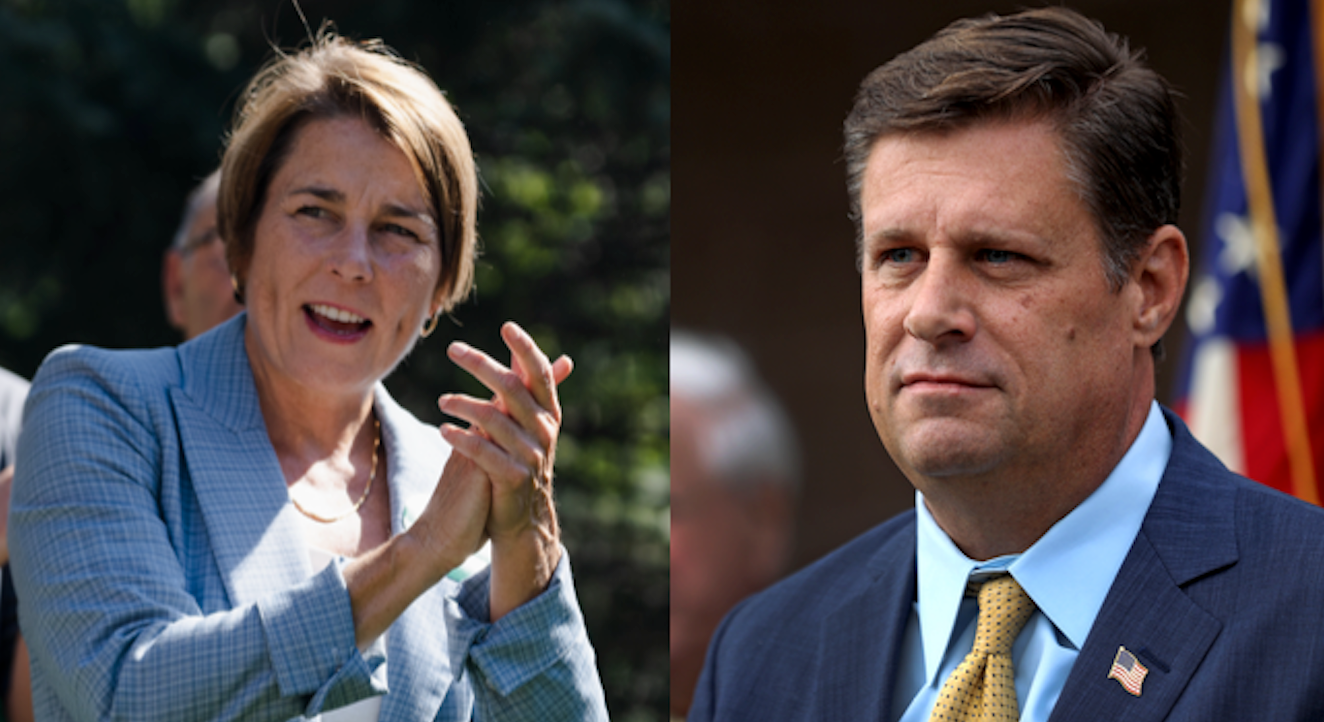 A new poll on the race for Massachusetts governor shows Republican Geoff Diehl trailing his Democratic opponent Maura Healey by a large margin, or at least 25 percentage points.
The Suffolk University survey of 500 registered voters shows 51.6 percent of respondents are behind Healey, the attorney general, over 26.2 percent of participants who say they support Diehl, the former state representative. Another 4.8 percent expressed support for libertarian candidate Kevin Reed, and another 16.6 percent of participants said they were undecided about their support.
The survey was sponsored by the Boston Globe, NBC 10 Boston, and Telemundo.
Democrat Andrea Campbell was also leading her Republican opponent James McMahon for attorney general, 49.6 percent to 24 percent, results show. About 25 percent of voters surveyed said they were undecided who they will vote for in that race.
More than 1 million Massachusetts voters cast ballots in last week's state primary, though fewer than half of them did so on election day.
According to Secretary of State William Galvin, 50.2% of the 1,053,977 ballots were cast ahead of Sept. 6, with 45.6% cast by mail and 4.6% during in-person early voting.
This was only the second state primary in which a majority of voters did not cast their ballots in polling places on election day; the first was in 2020, when 60% voted ahead of election day.
Democratic voters were more likely to vote by mail, while Republican voters saw more in-person turnout.
Of the 777,819 ballots cast in the Democratic primary, 52% were cast by mail and 4.7% during early voting. In the Republican primary, which saw 276,158 ballots cast, 27.4% were cast by mail and 4.2% during early voting. The majority of Republican votes — 68.3% — were cast on election day.
Acton was the municipality with the highest percentage of votes cast by mail, at 68.3%. Ashland and Milford followed with 65.6% and 65.1%, respectively.
In Boston, 40.3% of voters cast their ballots by mail, with 4.4% turning out for early voting and 55.4% on election day.
Sept. 6 saw the second-highest turnout for a state primary since 1990, with only the 2020 state primary logging more ballots cast. With 21.8% of registered voters casting ballots, the 2022 primary turnout matches that of the 2018 primary.
In late June, Gov. Charlie Baker signed the VOTES Act, which made universal mail-in ballots and early voting permanent fixtures for Massachusetts' elections.
According to Galvin, 16% of registered voters have already applied to receive a mail-in ballot for the Nov. 8 state election. Voters who have not already submitted an application should receive a pre-addressed, pre-paid ballot application this month.
The deadline to apply for a mail-in ballot is Nov. 1 at 5 p.m., though Galvin's office advises voters to apply two to three weeks before election day to ensure they receive their ballot with enough time to mail it back.Early voting for the November election will run from Oct. 22 through Nov. 4., with schedules and locations available at least five days before the start of early voting.
The state's Elections Division has certified 71,883 of the signatures gathered in an effort to ask voters whether the state should keep its law to allow undocummented immigrants to obtain driver's licenses.
With the certification process completed, the question will now, officially, be on the ballot this November.
The Fair and Secure Massachusetts committee, which has taken up the initiative, collected well past the required 40,120 signatures for what will be Question 4, Politico reports.
In a statement, Maureen Maloney, the ballot committee chair, said the "excess of signatures shows the groundswell of support" for taking the law off the books.
In response, the "Yes for Safer Roads Coalition" was set to launch on Monday to fight the effort. The coalition has the support of over 60 law enforcement officials, labor unions, and immigrant rights groups.
While opponents of the law have argued granting undocummented immigrants driver's licenses poses risks of voter fraud, proponents say the law makes roads safer, as all drivers will be required to undergo a road test and obtain insurance.
"A broad coalition of law enforcement leaders, advocates and legislators came together to create this common sense law that will help make everyone safer on the roads. The Work and Family Mobility Act will mean that all drivers – regardless of immigration status – would follow the same rules of the road, pass the same road test, and possess the same insurance requirements," Elizabeth Sweet, executive director of the Massachusetts Immigrant and Refugee Advocacy Coalition, said in a statement.
"While it's disappointing that partisan forces are seeking to overturn this law and put public safety at risk to score cheap political points, our broad coalition is ready for the debate and campaign ahead," Sweet said. "MIRA is proud to stand with police chiefs, district attorneys, and advocacy organizations who support this law and we are confident that the voters of Massachusetts will support the policy in November."
A new poll out of Emerson College shows just how much ground GOP gubernatorial candidate Geoff Diehl will have to make up if he wants to best the frontrunner, Democratic Massachusetts Attorney General Maura Healey. (Spoiler alert: It's a lot.)
Back in August, a Suffolk University/Boston Globe survey of 600 Massachusetts residents put Healey over Diehl, 53.96% vs. 23.33%. With his GOP primary opponent, Wrentham businessman Chris Doughty, now eliminated, the new Emerson poll of 708 residents shows Diehl's popularity numbers have improved, with 34% pledging their support.
But Healey's support remains solid in the new poll at 54%, and notably only 12% of respondents classified themselves as undecided — meaning even if Diehl manages to win over them all, he'd still have to peel off a sizable number of voters currently favoring Healey to pull off a victory.
The news wasn't all bad for the former state representative, however: 41% of respondents listed the economy as their top issue, and Diehl actually leads Healey among those potential voters, 49% to 33%.
But for the 12% who said they care most about health care and the 16% who said they prioritize abortion access, Healey is way ahead: 71-20 on health care and 97-3 (unsurprisingly) on abortion.
"Whatever he's gaining with the economy, he's getting crushed with the health care and abortion access vote, and that's where you're seeing it play out to an 18-point lead," Emerson College Polling Director Spencer Kimball told 7News.
See the full poll results here.
Former state Rep. Leah Allen will join former state Rep. Geoff Diehl on the Republican side of the gubernatorial ballot this November, seeking to secure positions as lieutenant governor and governor, respectively.
Allen secured about 52% of the vote, beating out former state Rep. Kate Campanale, who had received roughly 47% when the Associated Press called the Republican primary Wednesday around 10 a.m.
Although governor and lieutenant governor candidates run on separate ballots in Massachusetts primaries, Allen had aligned herself with Diehl, while Campanale ran as running mate to Diehl's challenger, Wrentham businessman Chris Doughty.
Allen's victory avoids the awkward pairing of governor and lieutenant governor candidates who had been effectively running against the other's ticket during the primary.
Allen and Diehl – who secured the Republican nomination for Massachusetts governor with an endorsement from former President Donald Trump – will face off against Attorney General Maura Healey and Salem Mayor Kim Driscoll, who secured the Democratic nominations for governor and lieutenant governor.
Trump's support for Diehl was a key source of contention when the two Republican candidates for lieutenant governor met for a debate in August.
A slate of candidates advanced to November's general election in the primary elections on Tuesday, including gubernatorial nominees Maura Healey, a Democrat, and Geoff Diehl, a Republican.
Read the coverage on the major races:
Newsletter Signup
Stay up to date on all the latest news from Boston.com