Politics
In final debate against Healey, Diehl says he will 'absolutely' accept the results of 2022 election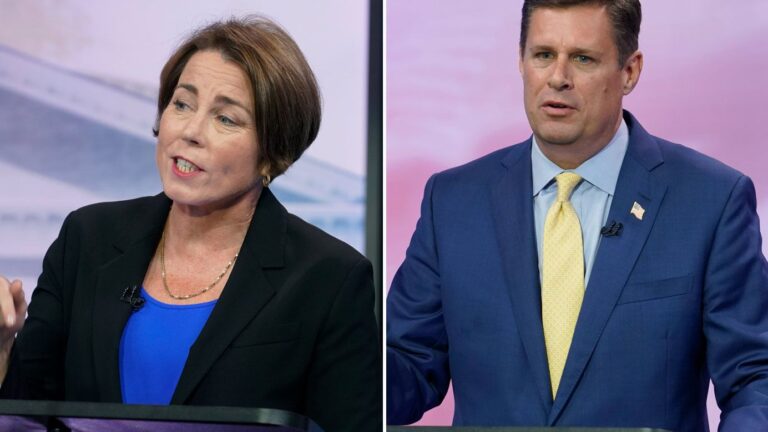 Republican candidate for governor Geoff Diehl clarified his stance on election results during the final gubernatorial debate Thursday, after his previous comments on the matter sparked controversy.
Thursday's debate opened with both Diehl and Democrat Maura Healey pledging to accept the results of the upcoming election.
Diehl said that he would "absolutely" accept the results, but added that "it's okay to question elections."
In the past, Diehl has oscillated on the matter. When asked by the New York Times if he would agree to the outcome of the November election, Diehl's spokeswoman quickly replied "no comment."
In response, Diehl called the Times' inquiry a "'gotcha' question," and said in a statement to GBH News last month that he wouldn't "blindly accept the results of an election that hasn't even happened yet."
"Liberal news organizations are obsessed with trying to get Republican politicians to commit to accepting the results of the 2022 election before it happens," the statement said.
A spokeswoman for Diehl then said that if he sees problems with the voting process, he will "seek resolution" through legal avenues.
Diehl made similar comments concerning the 2020 presidential election, referring to it as "rigged," "highly suspicious" and "stolen from Trump." He has also argued there were "flaws" in the voting process in key swing states. However, he said Thursday that he accepts Joe Biden's presidency.
"It's okay to say that things like mail-in balloting in certain states may have been handled badly. I ultimately understand that Joe Biden was certified and became our president," he said.
Diehl's statements have elicited backlash from opponent Maura Healey's campaign and the Democratic party as a whole.
"This is a difference in this race because my opponent is an election denier," Healey said at Thursday's debate. "He supports election deniers out there."
Maura Healey has previously accused Diehl of "laying the groundwork to cast doubt on the results of our election."
The Democratic Party released an advertisement last week claiming Diehl's remarks were reminiscent of Trump's statements which prompted the deadly Jan. 6 Capitol riot.
Nationally, the issue of "election deniers" has become a recurring theme in the upcoming midterm elections. A recent study by FiveThirtyEight found that 60% of Americans will have an election denier on their ballot this fall
The study counted 10 Massachusetts-based politicians who have either fully denied or refused to comment on election legitimacy — Diehl ranks among them.
Newsletter Signup
Stay up to date on all the latest news from Boston.com