Politics
George Santos came to Washington. It was awkward.
On the first day of the 118th Congress, the representative-elect, a Republican who has made false claims about his background, education and finances, brought his saga to Capitol Hill.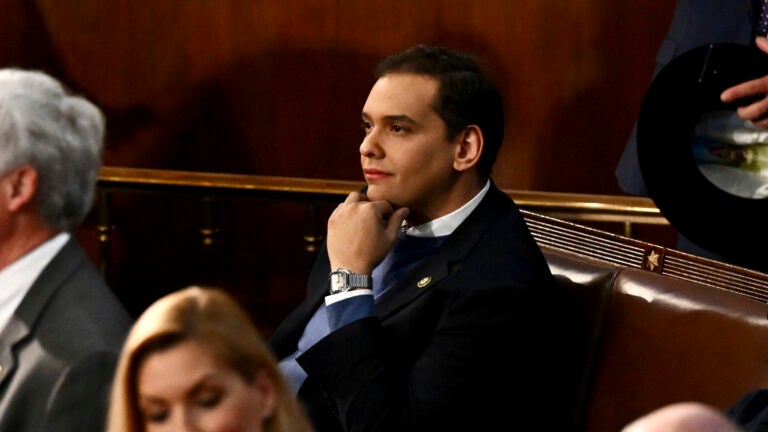 WASHINGTON — Hounded by reporters whom he labored to avoid and shunned by members of his own party, George Santos, Republican representative-elect of New York, spent his first day in Congress as an outcast.
For weeks, Santos had been hard to pin down, ignoring calls and texts, hiding out in Long Island and Queens, appearing only briefly for uncomfortable interviews with conservative outlets and dodging questions about the geyser of falsehoods about his background that have been revealed since he flipped a Democratic seat on Long Island in November.
But on Tuesday, Santos was not able to hide anymore.
Dozens of reporters waited for him outside his new office in the Longworth Building, peppering him with questions about whether he owed his constituents answers about the fantasy persona he created in order to win his seat, and whether he had any response to the investigations that those fabrications have produced.
Wearing a backpack and staring at his phone as he walked with two aides beside him, Santos, 34, gave off the aura of an overwhelmed college freshman arriving on a new campus and in desperate need of a map.
He strode right past his office, before doubling back and closing the door behind him. He answered no questions.
Santos appeared frazzled. It was not even noon.
His hard landing on Capitol Hill came on a chaotic opening day of the 118th Congress, when Republicans were preoccupied with the intraparty drama of who would be speaker and a revolt on the far right turned what should have been a triumphant first day of the GOP majority into a spectacle of dysfunction on the House floor. Lawmakers and aides could be heard snickering about who was having a worse day — Rep. Kevin McCarthy of California, who lost three votes to become speaker — or the newcomer from New York.
On Tuesday, Santos was something of a colorful symbol of the Republicans' disarray — a young, newly elected lawmaker who for a short time had looked like a beacon of the party's unexpected resurgence in a deep-blue state. Now, members of his own party are distancing themselves from Santos, asking for more explanations of his conduct, and some are even calling for a House ethics investigation.
"The guy who lied about his résumé?" Rep. Mike Gallagher, R-Wis., said when asked about Santos as he exited a morning conference meeting before the vote for speaker. He said Santos "demonstrated he doesn't have a grasp on the truth."
Santos spent the morning being chased by reporters as he appeared to get lost in basement service hallways of the Capitol complex. At one point, as he searched for an elevator, a security guard pointed him back in the direction from which he had come.
In the face of a barrage of questions that confronted him at every turn, Santos stayed mum except to say he planned to vote for McCarthy, which he did several times.
Near the south door entrance to the Capitol, Santos finally met up with his husband, Matt, and walked up the front steps.
The day brought Santos his first taste of the all-permeating press corps that freely roams the Capitol, as he navigated the new environment while in the midst of a scandal of his own making. At one point, as he appeared to be heading toward his office, he turned on his heels and walked in the opposite direction after spotting the cameras waiting for him.
Santos is under the shadow of active investigations by federal and local prosecutors into potential criminal activity during his two congressional campaigns. Prosecutors told The New York Times on Monday that Brazilian law enforcement authorities intended to revive fraud charges against him stemming from an incident in 2008 regarding a stolen checkbook.
Democrats are already calling for him to give up his seat, and members of his own party have stepped up their questions about his conduct.
That includes making up claims about his education, his ties to Wall Street firms and his charitable endeavors — all of which have been revealed as part of a cooked-up character created as the backbone of his pitch to voters.
In addition to his background, Santos has misrepresented parts of his finances and filed incomplete or inaccurate congressional disclosures. He has also claimed that he is Jewish and the descendant of Holocaust survivors. Santos is Catholic.
Federal and local prosecutors are investigating whether he committed crimes involving his finances or misleading statements.
On Tuesday, Santos' isolation was on display in the House chamber before the highly anticipated speaker vote. He sat alone in the back of the chamber, staring at his phone, even as a group of New York Republicans mingled not far from him.
Anthony D'Esposito, another incoming Republican representative-elect from Long Island, had been aligning himself with Santos after they won their races in November. The two appeared in multiple joint interviews on Fox News. But on Tuesday, D'Esposito, chatting with the other New York Republicans, did not even approach Santos in the chamber to say hello.
Rep. Andrew Garbarino, another New York Republican, later posted a picture to Twitter of members of the state's Republican delegation on the House floor with McCarthy. "New York is in the House!" he wrote. Santos was notably absent from the photo.
Overall, Santos' awkward reception was a sideshow to a stunning day for Republicans in Congress. The election for House speaker devolved into a pitched floor fight, with a mutiny among hard-right lawmakers creating disorder not seen in the chamber in a century.
Santos, along with all other new members, could not be sworn in until a new speaker was chosen. Members who brought their children and family members to the chamber eventually sent their tired babies and toddlers home. The next generation had witnessed McCarthy's embarrassment, as he failed to win the speakership in multiple votes, but had not seen their family members sworn in.
Santos, the first openly gay Republican to win a House seat as a nonincumbent, has yet to offer a full accounting to the voters who elected him based on a largely made-up biography. He has admitted to "embellishing" his résumé and to the fact that he did not graduate from any institution of higher education.
He has promised to tell his whole story at some point.
Even though Santos was shunned, it remained unclear what, if anything, Republicans would do to punish him, or how he would choose to comport himself once he was sworn in. On Tuesday, McCarthy had more pressing concerns, like his own political future, to contend with. He so far has remained silent about Santos and his position in the Republican conference.
For many Democrats watching the turmoil on the other side of the aisle with some glee, Santos was treated as the butt of a joke and an unflattering representation of the party's overall turmoil.
Rep. Ruben Gallego, D-Ariz., said the enigmatic congressman-elect might be the key to solving the logjam on the other side of the aisle.
"Santos for speaker — it solves it all," Gallego quipped.
This article originally appeared in The New York Times.