Politics
'Even George Santos is having a better day': Mass. Dems. react to GOP's infighting over House speakership
"Waiting while the speaker nominee scrambles to be captain of a pirate ship with a crew already planning his mutiny."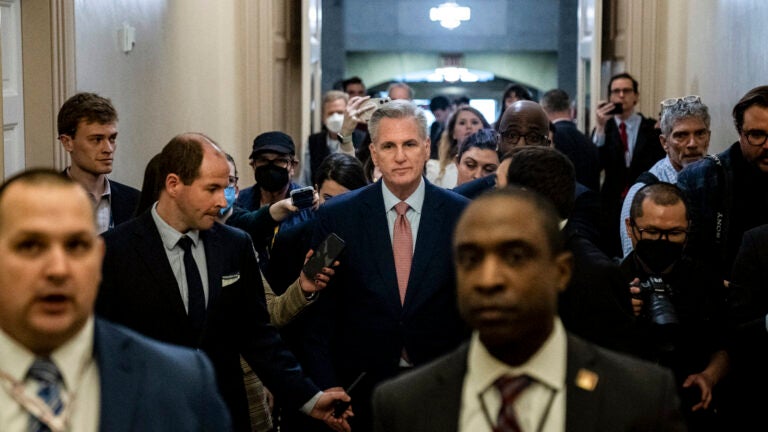 Massachusetts Democrats say the infighting among U.S. House Republicans that kept the House speakership out of Rep. Kevin McCarthy's grasp Tuesday was years in the making, and indicative of a party in chaos.
"Kevin McCarthy has thrown away his moral compass," Congresswoman Katherine Clark, the incoming House Minority Whip, told MSNBC ahead of the first of three rounds of failed votes to select a new Speaker. "He will do anything to get that gavel in his hands, and when you're willing to do that, you are no longer a leader. And it is exactly why he finds himself in this situation."
McCarthy, of California, has long eyed the speakership, and spent much of his Congressional career so far trying to walk the line between his party's mainstream and far-right factions.
The latter was the source of disarray on Tuesday, as a group of as many as 20 representatives — including outspoken hardline conservative lawmakers such as Florida's Matt Gaetz and Lauren Boebert of Colorado — consistently voted against McCarthy and eventually coalesced behind Ohio Rep. Jim Jordan.
"Waiting while the speaker nominee scrambles to be captain of a pirate ship with a crew already planning his mutiny," tweeted Cape Cod Democratic Rep. Bill Keating, as the House readied for a vote.
By contrast, Democrats repeatedly fell in line to back New York Congressman Hakeem Jeffries for House speaker.
But ultimately, House adjourned without a speaker, and therefore, without sworn members, bringing Congress to a standstill.
The House is set to reconvene on Wednesday at noon and continue voting.
"It's his own fault," Rep. Jim McGovern, the Worcester Democrat, tweeted after McCarthy's first failed vote. "Republicans have bent over backwards for the radical right, election deniers & QAnon tinfoil hat brigade. The extremists hijacked his party. Now they're trying to hijack Congress."
McGovern also made another quip, looping in another Republican going through his own turbulence: "Even George Santos is having a better day than Kevin McCarthy."
(Santos, the New York GOP congressman-elect who lied about his background to voters but has refused to step aside, was surrounded by a gaggle of reporters at as he backed himself into a literal corner.)
Votes for the House speakership can continue until a nominee receives the majority of votes cast.
Technically, the magic number for McCarthy is 218, although he can theoretically obtain the speakership with fewer votes, as past Speakers Nancy Pelosi and John Boehner did.
Still, it is rare for a presumed frontrunner nominee to go to the vote without the votes needed for a victory. In fact, the last time multiple rounds of votes were required was 100 years ago — for a Republican from Massachusetts.
In 1923, Rep. Frederick Huntington Gillett faced a reelection challenge when a bloc of his own party refused to back him. Gillett went on to win, but only after nine rounds of voting.
Here are a few more reactions over McCarthy's predicament from Massachusetts Congressional lawmakers:
Rep. Katherine Clark: 'The @HouseGOP has been in the majority for less than 8 hrs & already their tenure is defined by dysfunction.'
Rep. Jake Auchincloss: 'The GOP campaigned on a commitment to America but can't even commit to their own leadership.'
Rep. Ayanna Pressley: 'It's clear that [not] only do they have contempt for the American people, they are ill-prepared to govern, and McCarthy is unfit to be Speaker.'
Newsletter Signup
Stay up to date on all the latest news from Boston.com