Politics
Here's who will be the acting Mass. attorney general for 13 days
A Jamaica Plain resident will temporarily serve as the state's top prosecutor before Andrea Campbell takes office later this month.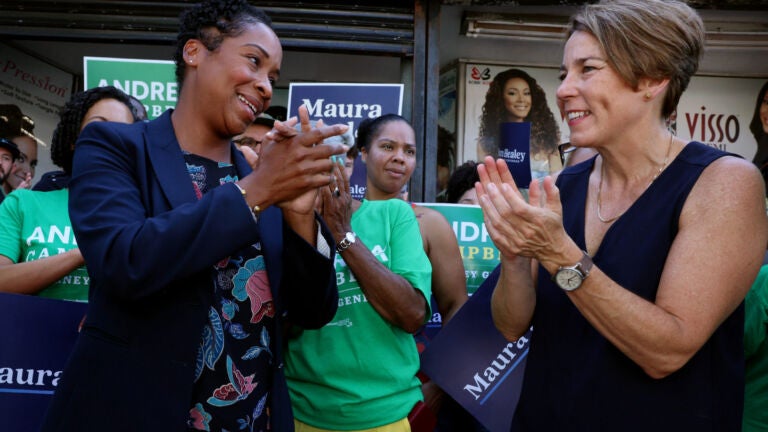 There's a 13-day gap between when Maura Healey makes history on Thursday as she becomes the first lesbian governor in the nation and when her successor in the attorney general's office, Andrea Campbell, takes the oath of office herself.
So who will take on the job in the interim?
Enter Elizabeth N. Dewar, of Jamaica Plain.
Healey will appoint Dewar as first assistant attorney general, who, in turn, will assume duties as acting attorney general as soon as Healey steps down for her new gig, a spokesperson for the attorney general-elect told Boston.com Wednesday.
Of course there is typically a bit of political musical chairs when an incumbent moves to a new office.
But Healey's move to the State House's corner office required an extra bit of maneuvering, as she recently tapped First Assistant Attorney Kate Cook — the would-be acting attorney general in Healey's absence — to serve as chief of staff in her gubernatorial administration. Cook was expected to resign from the attorney general's office on Wednesday.
According to Campbell's spokesperson, Dewar began working in the attorney general's office in 2013 as assistant state solicitor.
"In 2016, she was appointed by Attorney General Maura Healey to serve as the state's second State Solicitor," the spokesperson said in an email. "In that role, she supervises the briefing and arguing of appeals by attorneys throughout the Attorney General's Office, handles select appeals, advises the Attorney General on exercising her authority to decide whether to appeal from adverse decisions, and leads the office's 'friend of the court' amicus brief practice in state and federal courts, among other responsibilities."
Before working in the attorney general's office, Dewar was an appellate and trial-level lawyer in private practice in Boston, a civil rights advocate in Philadelphia, and "a law clerk at all three levels of the federal judiciary, for the Honorable Stephen G. Breyer of the U.S. Supreme Court, the Honorable William A. Fletcher of the U.S. Court of Appeals for the Ninth Circuit, and the late Honorable Louis H. Pollak, of the U.S. District Court for the Eastern District of Pennsylvania," the spokesperson wrote.
A mother of two, Dewar graduated from Harvard College and Yale Law School, and holds a master's degree from the University of Cambridge.
Campbell, a former Boston city councilor, is slated to become the first Black woman and first woman of color to serve as attorney general for Massachusetts.
On Wednesday, her team announced her inauguration will be held at the Boston Convention and Exhibition Center in South Boston on Jan. 18.
The secretary of state, state treasurer, and state auditor will also take the oath of office that day, as mandated under state law.
Newsletter Signup
Stay up to date on all the latest news from Boston.com