Politics
Project to replace Bourne and Sagamore bridges faces another federal funding setback
"The Baker-Polito Administration is disappointed that this latest funding application has been denied."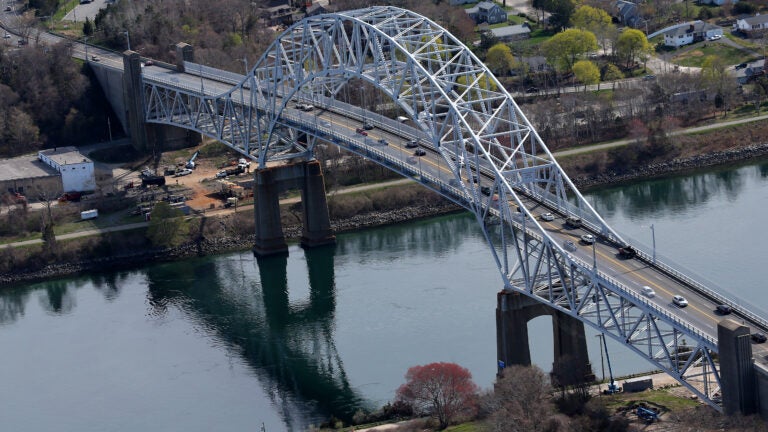 Efforts to replace the Bourne and Sagamore bridges hit another setback this week when the federal government denied a grant request for funding the project.
The Massachusetts Department of Transportation announced Wednesday that the application by the U.S. Army Corps of Engineers (USACE) requesting $1.882 billion from the U.S. Department of Transportation's Federal Highway Administration to help replace the aging bridges that carry traffic on and off Cape Cod was rejected. The denial of the grant, which was requesting funding through the Bipartisan Infrastructure Law and would have represented 47 percent of the total project cost, follows after another request from the Army Corps of Engineers, responsible for operating and maintaining the bridges, failed.
"The Cape Cod Bridges are federal assets, and the responsibility to replace them lies with the USACE and the federal government," MassDOT spokesperson Jacquelyn Goddard said in a statement. "The Baker-Polito Administration is disappointed that this latest funding application has been denied. Despite these bridges being federal assets, the Administration has spent considerable time, energy and funds to support replacing the bridges, including working with the Legislature to pass significant funding to replace the approaches to the bridges and authorization for Massachusetts to compete for federal grants."
MassDOT will continue to pursue all the avenues it can, she said, to help the Army Corps of Engineers secure funding to replace the bridges. The two bridges, which both opened in 1935 as the only roadway connections to Cape Cod, were labeled "functionally obsolete" by the Army Corps of Engineers in 2019. The same year, MassDOT found both bridges had exceeded their design life and required "substantial regular maintenance to function reliably."
In a joint statement, Senators Elizabeth Warren and Ed Markey and Rep. Bill Keating expressed disappointment that the most recent funding request was denied but noted that the state has been granted a $1.6 million planning grant for the project by the Biden administration. The elected leaders said they were encouraged by that award, saying it signals the administration's "strong commitment to this infrastructure project."
"It is frustrating, the Massachusetts Department of Transportation and the U.S. Army Corps were unsuccessful as part of this round of funding in their bid for a federal grant to replace the Cape Cod Bridges," the statement read. "Congress has appropriated unprecedented infrastructure money for bridges around the country, and we remain confident that the Army Corps and MassDOT can learn lessons from this grant cycle to submit a more competitive application in the next round of federal funding. Cape residents deserve safe, secure public infrastructure and we'll continue to work with federal, state, and local partners until it's delivered."
The total projected cost for replacing both the bridges — which serve the 263,000 residents on the Cape and Islands and 5 million annual visitors to the area — and improving the adjoining roadway network is estimated to be $3.976 billion, according to MassDOT.
Newsletter Signup
Stay up to date on all the latest news from Boston.com