Politics
Here are Gov. Maura Healey's policy priorities — and what she's done so far
This is everything the new governor said she would do in her inaugural address.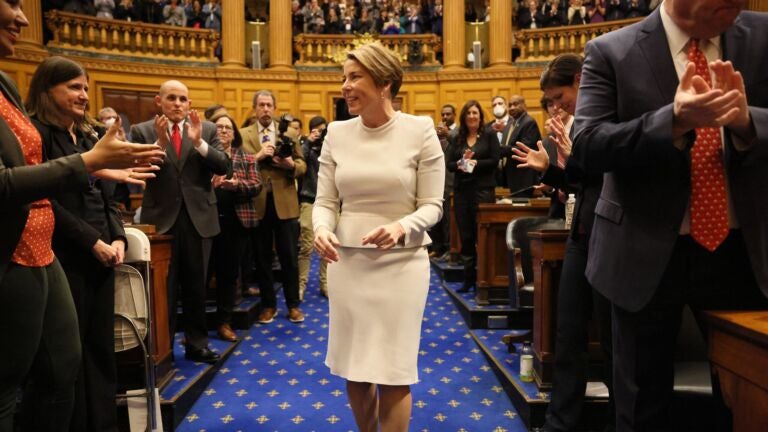 Gov. Maura Healey on Thursday mapped out a vision for aggressively tackling some of Massachusetts' largest looming problems, from ballooning housing costs and the "unacceptable" state of the MBTA to retooling its workforce training and combatting the climate crisis.
The former attorney general, at times during her inaugural address inside the House chamber, spoke frankly about the "barriers that are holding back our people and our state," and highlighted the state's dichotomies amid its strengths.
"We have untold wealth in the commonwealth," Healey said. "But record public revenue does little good when families can't pay the rent, or buy a house, or heat their homes, or hire child care."
Healey said she wants to see through several of the policy proposals within her first year in the corner office — substantive agenda-setting for the new governor, who promised transparency despite criticism for lacking policy details, even in the months after her landslide victory last fall.
Tapping into campaign promises to make Massachusetts more affordable, Healey said the state must build more housing, especially next to transit hubs, and take a hard look at existing zoning laws.
In her first 100 days, she said she will file legislation to create a secretary of housing, who will work across government agencies "and support every city and town to make sure we meet our goals."
Healey said she has already instructed her team to find unused, state-owned land that can be transformed into rental housing or homes within a year.
She also said she will seek to expand tax deductions for renters, and push for other tax cuts, including a child tax credit "for every child, for every family."
"The Legislature already put forward several worthy tax cut proposals during the last legislative session," Healey said. "This will mean real relief for the people who need it most. I want to work, let's get it done."
Healey also outlined how local industries cannot find workers with the necessary skills and training.
She vowed to include funding in her first budget for a new program dubbed, "MassReconnect," which will provide free community college to people 25 years old and older who do not have a college degree, and pledged to increase funds for the state university system.
For state workers, Healey said she will instruct each agency in her administration to complete a full equity audit.
Healey also laid out infrastructure improvements, especially for the MBTA.
"Let's face it: The state of our trains and roads and bridges is unacceptable," she said.
In the first 60 days of her administration, Healey will name a safety chief to inspect the entire transit system "track by track," she said.
Describing the agency as "woefully understaffed," Healey said her first budget proposal will also include cash to hire 1,000 additional workers within her first year.
As for the bridges and roads, Healey promised to form an interagency task force so Massachusetts can better compete for the billions of federal dollars available for those projects.
On climate, Healey, who has previously vowed to intensely pursue impactful climate and environmental policy, said she will double the state's offshore wind and solar power development goals and quadruple energy storage deployment. She also intends to electrify the state's electric vehicle fleet and have 1 million more electric vehicles on the road by 2030.
She'll also throw at least 1 percent of the state's budget to environmental and energy agencies, triple the funding of the state's Clean Energy Center, and launch a "green bank" to bring investments to resilient infrastructure and to attract new businesses to the commonwealth, she said.
"We'll create thousands of new jobs in clean tech and blue tech, coastal resiliency, and environmental justice," Healey said. "And I believe 10 years from now, we will look back and see the undeniable benefits for our workers, our economy, and our planet."
Healey's climate work began Friday, as the Cambridge Democrat signed an executive order to create the position of climate chief and an Office of Climate Innovation and Resilience within the governor's office.
Healey tapped Melissa Hoffer, principal deputy general counselor at the Environmental Protection Agency, for the chief job. Massachusetts is the first state in the country to create that kind of position at the cabinet level, the governor's office said.
"The climate crisis is Massachusetts' greatest challenge, but there is enormous opportunity in our response," Healey said in a statement. "I'm filing this executive order today, on the first full day of the Healey-Driscoll Administration, because we have no time to delay. It's essential that we begin coordinating our climate policy across all state agencies and all communities
in Massachusetts so that we can make the progress we so urgently need and drive our clean energy economy."
What relationship the new administration will have with the energy sector was called into question Friday, following reports Healey accepted large donations from energy companies as well as developers and lobbyists representing clients involved in state business to make up close to $1.8 million used to bankroll her inaugural party at TD Garden.
According to the Boston Globe, a disclosure filed Thursday night shows most of the cash, or $1.3 million, came from 53 donors who gave the maximum $25,000 — a limit set by Healey. More donations may come to light later, as the report filed by Healey's committee only tracked donations through the end of last month.
Speaking to reporters at the State House after her first cabinet meeting on Friday, Healey declined to answer a question on how she will guarantee to constituents the donors will not sway her decisions in office.
Instead she referred a Globe reporter's questions to her inaugural committee, which did not immediately respond to the newspaper's request for comment.
"Today is about the administration of government," she said.
Newsletter Signup
Stay up to date on all the latest news from Boston.com