Politics
The new communications director for George Santos previously worked for Charlie Baker's administration
Naysa Woomer previously worked for the Massachusetts Dept. of Revenue and the Massachusetts Republican Party.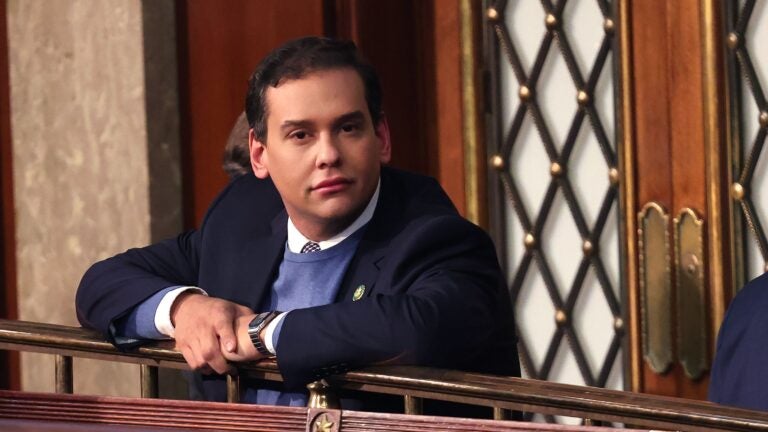 New York Congressional Rep. George Santos, who infamously lied about major parts of his background and committed alleged campaign finance law violations, has a new communications director with ties to former Massachusetts Governor Charlie Baker and his administration.
According to Legistorm, a nonpartisan research firm, Naysa Woomer began as Santos's communications director this month. Before that, she worked as a communications specialist for the Massachusetts Department of Revenue for nearly four years.
Prior to working for the state, Woomer was the communications director for the Massachusetts Republican Party for almost a year, from April 2018 to Feb. 2019.
Notably, she left about a month after the current chair of the party, Jim Lyons, who is known for chastising former Gov. Charlie Baker for not supporting former President Donald Trump, became chair.
Last week, Woomer tweeted a picture of herself with Baker and his wife during their ceremonial "lone walk" out of the State House as he left office.
Woomer hails from Harrisburg, Pennsylvania, and earned a B.A. in political science from Indiana University of Pennsylvania, according to Legistorm. She participated in many Republican extracurricular activities during her time there, and even interned for former Republican Pennsylvania Sen. Rick Santorum in 2006.
After graduating college in 2008, Woomer seemingly took a break from politics for a few years, before beginning work for several different republican congressional representatives over the next few years in 2014.
Woomer was not immediately available for comment on this article.
Newsletter Signup
Stay up to date on all the latest news from Boston.com