Politics
Biden, Trump and classified documents: An explainer
In general, classified information needs to be housed in what is known as a sensitive compartmented information facility (SCIF), which has appropriate controls to ensure security.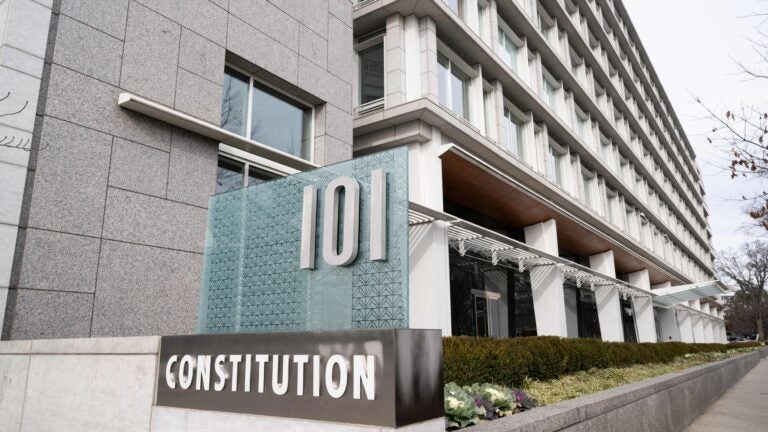 The announcement that classified documents were found at President Biden's office at the Penn Biden Center for Diplomacy and Global Engagement raised instant comparisons to the Justice Department's investigation into former president Donald Trump's retaining of hundreds of classified documents at his Mar-a-Lago home in Florida.
Attorney General Merrick Garland assigned Chicago U.S. Attorney John R. Lausch Jr., who was nominated by Trump, to oversee a review of the Biden documents. They were discovered in early November, the White House said, shortly before Garland named a special counsel to oversee the criminal investigation into Trump's actions.
Here's a brief explainer to help readers evaluate the significance of the discovery.
What was found?
A White House statement said that "a small number of documents with classified markings" – said to be about 10 – were discovered on Nov. 2 by the president's personal attorneys while vacating office space used by Biden from mid-2017, shortly after his vice presidency ended, to early 2020. They were found in files in a locked closet. The statement said the White House Counsel's Office notified the National Archives that same day. The Archives took possession of the documents the following morning.
What does 'classified markings' mean?
The documents had clearly visible stamps or cover material showing that they are considered sensitive. Anyone looking at a document would immediately know it must be handled carefully. In general, classified information needs to be housed in what is known as a sensitive compartmented information facility (SCIF), which has appropriate controls to ensure security. A locked closet in an office building would not qualify as a SCIF.
As secretary of state, Hillary Clinton used a private email server, and emails, too, can have classified markings, but despite the controversy over her handling of the materials, it was ultimately determined that none of her emails had been marked classified.
Are there different kinds of classification?
Yes. There are big differences in classification, as outlined in an executive order signed by President Barack Obama in 2009. There is also a well-acknowledged problem of over-classification in the U.S. government. In 2010, Congress even passed a law, the Reducing Over-Classification Act, but did not offer a definition of over-classification.
The lowest level is "confidential" – information that if disclosed could be expected to cause "damage to the national security."
The next level is "secret," which is said to cause "serious damage" to national security. The Code of Federal Regulations, which says the designation should be used sparingly, offers examples: "disruption of foreign relations significantly affecting the national security; significant impairment of a program or policy directly related to the national security; revelation of significant military plans or intelligence operations; and compromise of significant scientific or technological developments relating to national security."
The highest level is "top secret," which would be expected to cause "exceptionally grave damage" to national security. This information is supposed to receive the highest degree of protection. Examples in the federal code include: "disruption of foreign relations vitally affecting the national security; the compromise of vital national defense plans or complex cryptologic and communications intelligence systems; the revelation of sensitive intelligence operations." In 2017, for instance, intelligence contractor Reality Winner leaked a "top secret" report on Russia hacking to the Intercept, earning a five-year sentence after pleading guilty.
Even rarer are Special Access Program (SAP) materials. Access to these can be restricted to those who "need to know," and controls are even more stringent than those for "top secret" information; it generally requires multiple clearances to see this highly sensitive material.
What level of classification did the Biden papers have?
We do not yet know. CNN has reported the documents included intelligence memos and briefing materials, dated between 2013 and 2016, that covered topics including Ukraine, Iran and Britain. The memos were contained in boxes that also contained unclassified papers that fall under the Presidential Records Act and should have been in posssession of the Archives. The CNN said the office mostly contained personal Biden family documents but it was not clear if the boxes with classified materials contained personal materials.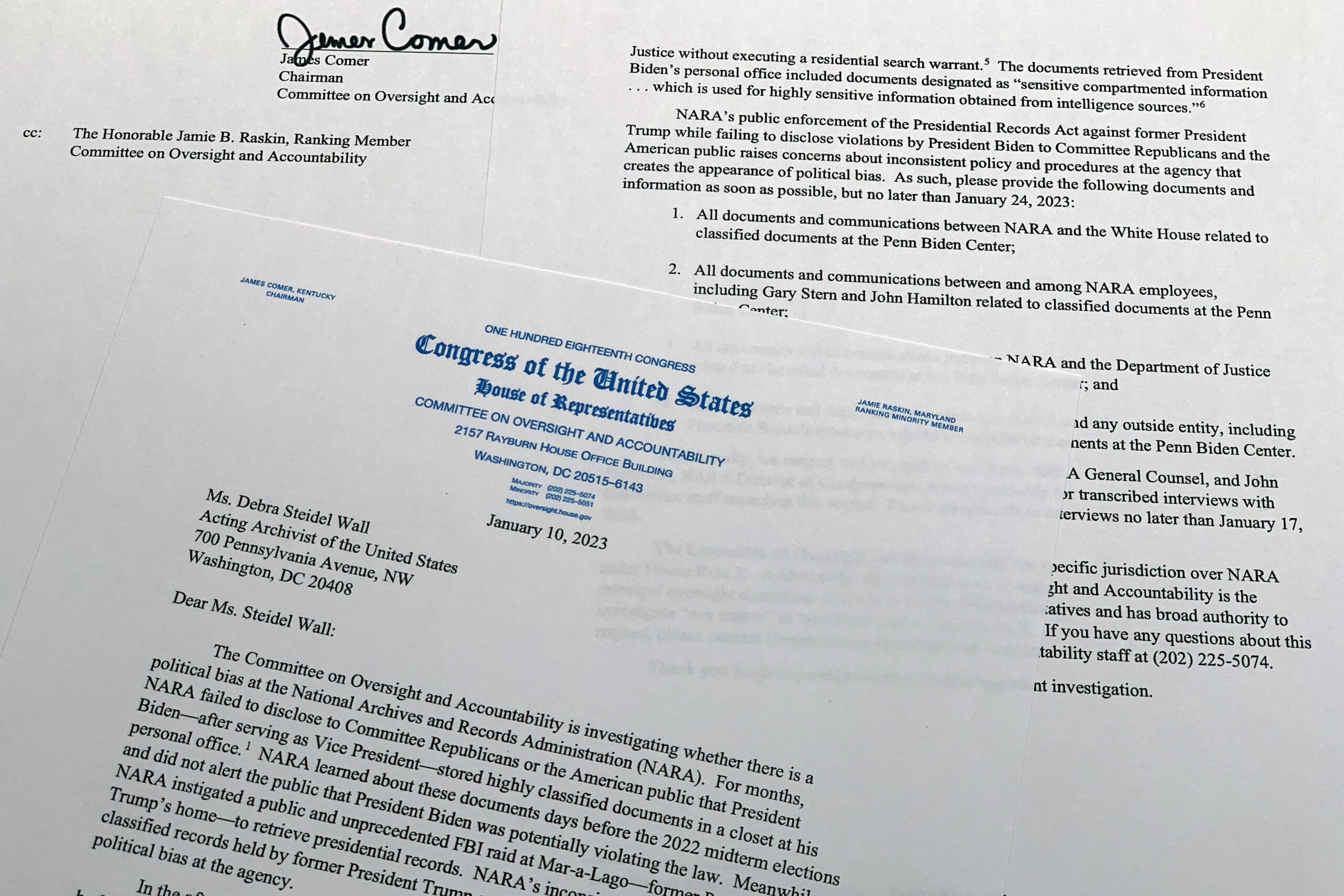 Do classified documents often show up in someone's possession improperly?
It happens all the time, according to Mark S. Zaid, a lawyer who defends people who have committed security violations. Someone retires or leaves a job, he or she packs up boxes – and then sometimes years later they discover they accidentally stored a classified document in their garage or attic.
What happens next depends on how the person deals with the discovery.
In the vast majority of cases, Zaid said, the matter is handled administratively – security clearance is suspended, for example – especially if the incident was quickly reported, investigators determine no one else saw the documents, and the amount of lifted materials was not massive. He said "hoarders" – people without authorization who take a lot of classified documents – are the ones who get in trouble.
For instance, former FBI analyst Kendra Kingsbury pleaded guilty in October to taking home more than 300 files or documents, classified at the secret level, related to al-Qaeda.
Intentional removal of documents is especially serious. During the investigation into the Sept. 11, 2001, attacks, Sandy Berger, President Bill Clinton's national security adviser, was discovered to have secretly removed classified "code word" documents from the Archives and destroyed some of them. He also lied about what he had done. In 2005, he agreed to plead guilty to removing classified material without authorization, a misdemeanor.
Why were Biden's personal lawyers packing up his office?
That is unclear.
How did Biden respond to the discovery?
Once the documents were discovered, Archives officials were notified and the documents immediately turned over, according to the White House. Speaking to reporters during a trip to Mexico, Biden said he "was surprised to learn that there were any government records that were taken there to that office." He said his lawyers have not described the documents to him.
Is that different from Trump?
In the Trump case, the Archives initially contacted the former president in May 2021 about missing documents. Trump resisted returning them. Then, when some boxes were returned a year ago, Archives officials discovered documents clearly marked classified, some at the SAP level. The classified documents were intermingled with printouts of news articles, mementos and other items. That triggered an investigation into possible mishandling of classified information.
The FBI, in seeking a warrant to search Mar-a-Lago for more documents, says the boxes contained 184 documents with classification markings: 67 marked confidential, 92 marked secret and 25 documents marked top secret.
In August, when the FBI searched Mar-a-Lago, they seized more than 100 additional documents marked classified, from the confidential to the top secret level. While most were found in a storage room, some were found in desk drawers in Trump's office, mixed with post-presidential communications with a religious leader, a book author and a pollster, among others.
Zaid said that if Trump had returned all the missing documents when the Archives first requested them, that would have been the end of the matter. It became a criminal matter "only because Trump and his lawyers delayed at first and then obstructed," he said.
Prosecutors have asked a judge to hold Trump's representatives in contempt for not fully complying with the subpoena, according to the New York Times.
Why hasn't a special prosecutor been named in the Biden case?
Republicans have been quick to charge a "two-tiered" system of justice, one for Biden and one for Trump. That presupposes the cases are the same – and thus far there appears to be major differences, especially regarding cooperation. But the investigation is in the preliminary stages, and the appointment of a special counsel cannot be ruled out.
Did the White House delay the announcement because of the midterm election?
Republicans have suggested an intentional delay – "Classified documents were found at Joe Biden's think tank before the midterms. Why are we just finding out now?" Rep. Jim Banks (R-Ind.) tweeted – but so far, there is no evidence of that.
The initial stages of a documents investigation by the Justice Department often are not public. In the Trump case, the Archives first requested Trump turn over missing documents in May 2021. The investigation did not become public until the Archives announced nine months later that it had obtained 15 boxes from Trump.
The Biden investigation became public after about two months, when CBS News first reported it.
"This is an ongoing process under review by DOJ, so we are going to be limited in what we can say at this time," White House spokesman Ian Sams said in response to a question about the timing. "But we are committed to doing this the right way, and we will provide further details when and as appropriate."
Will Biden's properties be searched?
If prosecutors can show probable cause that other classified documents may be stored at Biden's home or other properties, they can obtain a search warrant from a judge. In Trump's case, prosecutors developed evidence that the former president had not complied with a grand jury subpoena seeking return of all classified documents.
One key question for Lausch will be to understand how classified documents from Biden's vice-presidential office ended up at Penn Biden. How were the boxes packed, for example, and who was responsible for arranging the transfer? He will also seek to learn who might have had access to the boxes since they were stored at Penn Biden. A number of former Biden staff members who are now in the administration worked at Penn Biden. Presumably, many will be interviewed.
Did Biden as vice president have classification authority?
Yes. Under Obama's executive order, the vice president has original classification authority. Trump has claimed that he declassified the documents he kept. Biden, while vice president, had the right to declassify material if he had classified the material in the first place. But properly declassified materials would be marked as such.
At this stage, the classification status of the documents is somewhat beside the point in the Trump investigation. The Justice Department has publicly cited three criminal statutes that might apply – and none require that the documents be classified to prosecute.