Politics
'I never thought I would see something like this': Brazilians in Mass. react. to political riots in their home country
"Whatever happens there in Brazil, affects us here."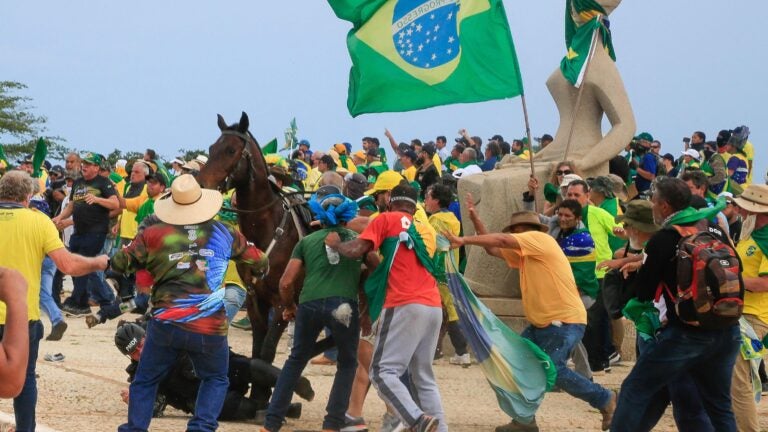 Thousands of supporters of Brazil's right-wing former President Jair Bolsonaro swarmed into Congress, the Supreme Court, and the presidential palace in that nation's capitol of Brasília this past Sunday, sending shockwaves around the world, including in Massachusetts.
Some of these supporters wanted the Brazilian army to restore Bolsonaro to power and oust the newly inaugurated leftist president, Luiz Inacio Lula da Silva, who had his inauguration ceremony on Jan. 1 of this year. The last time a military coup occurred in Brazil was in 1964, which kickstarted a two-decade military regime in the Latin American country. By Monday, police had detained around 1,500 people in Brasilia since the Sunday riots. Many Brazilians in Massachusetts have been particularly attentive to these events.
Heloisa Galvão, co-founder and executive director of the greater Boston-based organization the Brazilian Women's Group, discussed the significance of the attacks on the Brazilian government to Brazilians everywhere.
"The [Brazilian] community that comes here, they don't forget about Brazil, they have a leg in Brazil and another leg in Massachusetts and in Boston," she told Boston.com. "So we also have to pay attention to what's happening in Brazil because whatever happens there in Brazil, affects us here."
For Galvão, the events of Sunday's attacks were shocking and brought up memories of Brazil's last coup. "I have been through the dictator years, which were the darkest of our history," she said. "I never thought I would see something like this."
Protests against the pro-Bolsonaro rioters' actions have been organized throughout Brazil, and similar work has started in Massachusetts and nationwide here in the U.S. Galvão's organization is one part of a larger decentralized network called the United States Network for Democracy in Brazil. The network was founded in 2018 in response to Brazil's far-right turn after the election of Bolsonaro, and aimed to educate the public about the situation in Brazil.
This past Monday, the collective helped organize a number of protests across the country against the attacks on the Brazilian government and in support of the validity of the election. The Brazilian Women's Group was one of the organizations involved with this week's protest at the Brazilian consulate in Boston.
André Simoes, a Brazilian staff member at the Massachusetts-based Brazilian Worker Center, attended that protest. "[Some people and I went] to the front of the Brazilian consulate to do a message [that] Brazilians outside Brazil do not support this kind of event. We want democracy," he told Boston.com.
Mariana Dutra, a Brazilian organizer for the Massachusetts Immigrant and Refugee Advocacy Coalition, also attended the protest Monday. "There were 10 to 15 people at the consulate that night," she explained. "And that was a very self-organized action. And lots of folks work during the night — they work in restaurants, they are delivery drivers. So it's hard for people to be able to come to Boston, to downtown, to participate in that."
Still, the politics around Sunday's attacks are still sensitive and contentious for some of the Brazilian community in Boston. Simoes added that the Brazilian community is "such a diverse community. It is not a homogenous community. Some people support Bolsonaro. Some people support [and] some people don't support this kind of event."
He continued that sharing one's opinion on the issue can be difficult because of the tension these issues create. "Sometimes we need to expose [our opinions] but sometimes you can't expose yourself because it's so dangerous," he said.
In Massachusetts, Bolsonaro won the majority of the vote amongst Brazilian citizens who voted from here in 2022, and his supporters in the U.S. are well organized. One prominent conservative group based in Framingham, Mass., includes Congresso Conservador Brasileiro-USA, which has hosted online and in-person events, including a November 2022 protest opposing the results of the election.
Dutra described the extent of conservative organizing in Massachusetts: "They organized around the election. They were doing campaigning, even before the campaign really started in Brazil."
Alvaro Lima, a Brazilian immigrant who has been in the U.S. for 35 years, believes that there is a strong connection between political activity in U.S. — which, of course, saw its own politically motivated riots on Jan. 6, 2021 — and Brazil that needs to be examined after Sunday's chaos. He cited U.S.-based organizations that spread fake news amongst the Brazilian community as an obstacle to democracy and a factor in Sunday's chaos.
"It's not just a Brazilian problem," Lima told Boston.com. "It's a problem that has, in some ways, the roots here."
For some, Sunday's events mark a potential turning point for the future of Brazil and Latin America as a whole. Galvão said, "I really hope that our community in Boston realizes how important it is that we support democracy at all levels. And at all costs. We support democracy in Brazil, because if democracy in Brazil is at risk, then the whole continent is … at risk."
Newsletter Signup
Stay up to date on all the latest news from Boston.com