Politics
New poll out of UMass-Amherst shows DeSantis and Trump neck and neck
"GOP voters will have a difficult decision to make between two viable and popular candidates."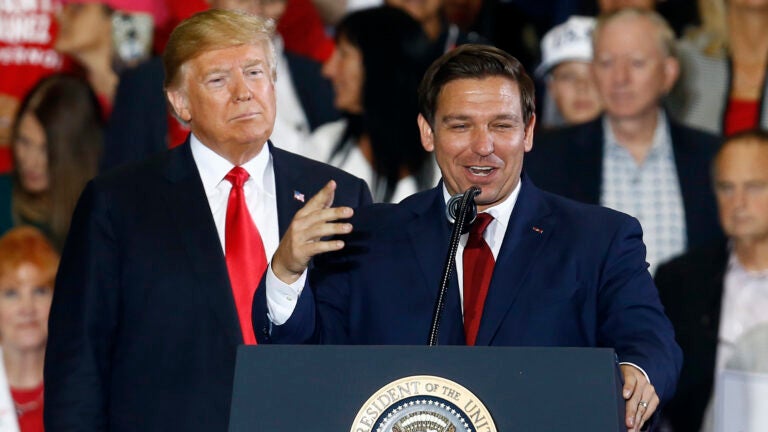 A recent University of Massachusetts-Amherst poll found that Republicans seem to like Florida Gov. Ron DeSantis as much as they like former President Donald Trump.
The poll shows that in a head-to-head matchup, DeSantis and Trump would be evenly matched. Of the 1,000 sampled participants, DeSantis slightly edges out Trump, 51%-49%, falling within the poll's margin of error.
"If the race comes down to the two current frontrunners, former President Donald Trump and the current governor of the state of Florida Ron DeSantis, the election is a statistical dead heat," said Tatishe Nteta, professor of political science at UMass-Amherst and co-director of the poll. "In the coming year, if the election does indeed become a two-person race, GOP voters will have a difficult decision to make between two viable and popular candidates."
However, in a pool of larger Republican candidates, the poll shows Trump beating DeSantis 37%-34%. No other Republican candidate received double-digit support.
Gov. DeSantis saw a boost after the 2022 Midterms
DeSantis's popularity comes in large part from establishment Republicans: a block of supporters that is older, wealthier, and more educated. The Florida governor's intelligence, ability to articulate, and notably, his youth all appeal to voters seeking an electable Republican candidate.
"He is a staunch conservative that is able to connect and mobilize independent and moderate voters [and] he has effectively led the state of Florida over the last four years," Nteta said in an interview with Boston.com. "These characteristics are attractive, not just to Republicans, but generally to Americans."
And importantly, this group of supporters are the most likely to show up to vote in an upcoming Republican primary, according to Jesse Rhodes, professor of political science at UMass-Amherst and co-director of the poll.
DeSantis has yet to declare his presidential candidacy, but due to his historic support in the 2022 midterm elections and his ability to bring together Republican voters, many believe it is only a matter of time before the popular Republican announces his bid.
Trump maintains popularity among Republicans
The poll also shows that former President Trump, who announced his campaign in November, is still incredibly popular among Republican voters. Despite prevailing narratives about the party abandoning the former president after a disappointing showing in the 2022 midterms, he maintains large support among the GOP.
"All of our polling indicates that President Trump remains a singularly popular figure amongst those who identify with the Republican party," Nteta said. "Without a pandemic, the likelihood of President Trump being re-elected was relatively high …He garnered a historic number of votes, so this is a candidate that has a clear set of supporters and under the broader label of the Republican party, is a formidable opponent."
A head-to-head primary will likely boil down to electability, Nteta said. Republican voters will need to decide which candidate could come out on top in a hotly contested 2024 general election against a strong Democratic opponent.
A recent GOP poll, meanwhile, indicates that in a matchup against President Biden, DeSantis poses more of a threat than Trump. In a head-to-head, Biden defeats Trump 49%-41%, outside the poll's 3% margin of error, while DeSantis outperforms the Democratic president 45%-42%.
A poll from Suffolk University shows similar results, with DeSantis narrowly defeating the current president.
"In a primary the policy differences between candidates, particularly between these two candidates are not very stark," Nteta said. "I think in a head-to-head matchup the ideology of these two candidates is not really distinct, so the [most likely factor] is electability."
Newsletter Signup
Stay up to date on all the latest news from Boston.com