Politics
What we learned about MassGOP's chairman allegedly breaking state campaign finance law
Chairman Jim Lyons could be in legal and political trouble.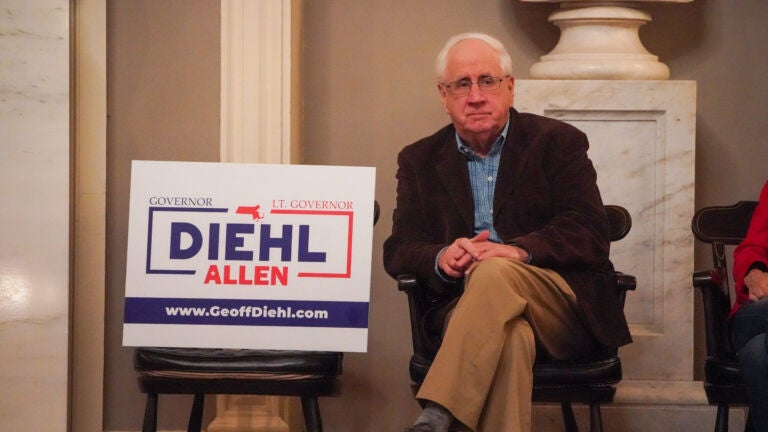 MassGOP Chairman Jim Lyons appears to have coordinated with an independent expenditure political action committee (IEPAC) to conduct opposition research on Gov. Maura Healey during the 2022 general election, according to a Boston Globe report. This would be a violation of state law.
The Globe reported Wednesday that it obtained a trove of emails in which Lyons communicated with the chairman of the Mass Freedom Independent Expenditure PAC (MFIEPAC) and an independent research firm about digging up dirt on Healey during her campaign for governor.
It is against state law for candidates or political parties to "directly or indirectly" coordinate with IEPACs, which, unlike other PACs, can accept donations of any size.
"In other words, these outside PACs can spend money in an effort to support candidates, but cannot discuss with those candidates how they plan to spend the money," the Globe wrote.
What was in the emails
On Oct. 17, Lyons allegedly wrote an email with the subject line "Re: Healey Final Report and Relevant Data" to MFIEPAC's chairman, Antoine Nader, and the research firm which investigated Healey. In the email body, Lyons allegedly wrote "On one sheet of paper please explain what you think we should highlight regarding your investigation," the Globe reported.
In another email, Lyons allegedly said he would forward the opposition research to Nader, the Globe reported. Other emails reportedly show Lyons coordinating phone calls between him, Nader, and Stirm Group, the research firm that was hired to dig up dirt on Healey.
The Globe reported that the emails indicate that Stirm was directed to look into Healey's personal and romantic past, and that Stirm and Nader communicated about paying for the research.
Notably, an attorney for the Stirm Group previously said Lyons told Stirm to ask Nader to pay the bill for the opposition research they'd done on Healey, according to the report.
Neither Nader, Lyons, nor a spokesperson for MassGOP replied to the Globe's request for comment on Wednesday.
What this means for Lyons
MassGOP would have a hard time claiming it was simply unaware of state campaign finance law, as in February 2022, its attorney asked state campaign finance regulators what kind of contact between a party's leader and IEPACs is allowable.
On March 8, a regulator responded that "caution should be exercised to avoid coordination."
"There should be no coordination between the IEPAC and the state party committee," a top state regulator wrote, according to the Globe. "Prohibiting any communication between the chair or other officer/agent of the state party and the IEPAC would be the best practice."
Lyons could face fines or even prison time if he is found in violation of state campaign finance laws. But, the state campaign finance office's policy is not to confirm whether it is conducting any legal investigations, so it's unclear what will happen next, legally speaking.
What this means for MassGOP
Aside from breaking the law, the discovery of these emails could impact Lyons's tenure as MassGOP chairman.
The party's elections are set for Jan. 31, and according to the Globe, the party is struggling to keep a foothold when it comes to fundraising without popular Gov. Charlie Baker in office. The party also suffered historic losses in the Legislature during the 2022 general election.
Then, last week, the Globe reported that as of late December, MassGOP was at least $86,000 in debt to at least two independent firms that conducted election-related services for them. The party was reportedly behind on these bills by over two months.
For years now, infighting has been a staple within MassGOP, as pro-Trump conservatives, led by Lyons, battled with Baker-aligned moderates over the future of the party.
The outcome of the election later this month may serve as a compass for the direction of the state's republican party.
Newsletter Signup
Stay up to date on all the latest news from Boston.com