Politics
What's in Gov. Healey's new $1 billion bill?
Gov. Maura Healey just filed her first piece of legislation, requesting nearly $1 billion for economic development. Here is where the money would go.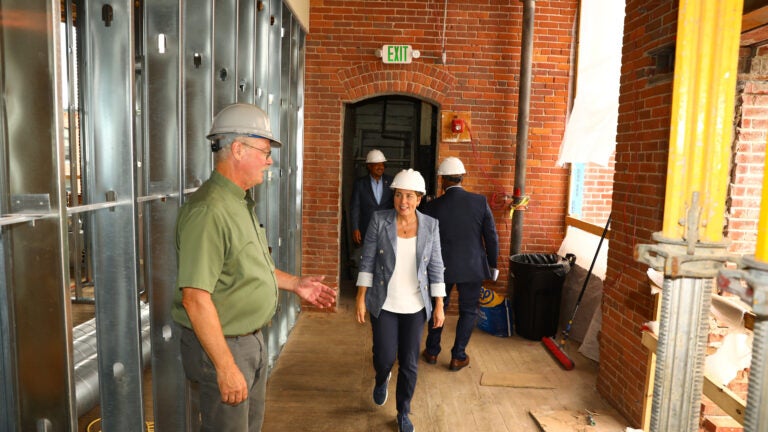 Massachusetts Governor Maura Healey filed her first piece of legislation Thursday, Jan. 19. The governor's proposed $987 million "immediate needs" bond bill calls for over $140 million in funding for housing projects, over $250 million for innovative technology and manufacturing initiatives, and over $500 million for infrastructure programs across the state.
"This bill ensures that critical housing, infrastructure and community development programs have the funding needed to continue serving the people of Massachusetts. And it's only the start of our administration's proposed capital investments," Healey said after announcing the legislation.
"We look forward to working with our colleagues in the Legislature and other stakeholders as we develop our broader long-term strategy to increase housing production and preservation, and expand economic opportunity for all residents, which will culminate in a more comprehensive bond bill later this session," she said.
Here is where the money would go:
$520 million to fund MassWorks, infrastructure, and economic development
The heftiest part of the bill would allocate $400 million to MassWorks, a 2010 statewide infrastructure program tasked with rewarding grants to municipalities and public projects.
Current funds for MassWorks are waning, so the Healey administration is hoping to replenish its coffers heading into 2023.
While the size and scope of rewards vary — recipients can look to upgrade their sewage system or purchase light fixtures — the program looks to improve infrastructure throughout the state to pave the way for future development projects.
The bill would commit $10 million for community planning and investments to the Seaport Economic Council, $5 million for development in small and rural towns, $4 million to improve tourist facilities, and $1 million for low-income businesses owned by marginalized groups.
An additional $104 million would be used to help the state improve water infrastructure and pollution.
$223 million towards innovative research and technology
The legislation would also heavily focus on funding research and development for various technological projects throughout the state. Specifically, the bill would allocate $200 million as a state match for federal grants, funding technological and innovative projects through the federal CHIPS and Science Act.
The bill outlines funding for various fields, such as artificial intelligence, cybersecurity, and advanced automation, among others.
$144 million for housing projects
As the administration looks to tackle the housing crisis in Massachusetts, Gov. Healey's first piece of legislation would also send over $140 million to various low- and moderate-income housing projects.
The bill would allocate $48 million to repair public housing units and $34 million to the state's revitalizing underutilized properties program. Additionally, the bill would look to fund low-income housing close to transit hubs, housing for people with disabilities and mental illness, and climate-friendly housing.
$39 million to improve broadband infrastructure
Additionally, the legislation would assign $30 million from President Biden's bipartisan infrastructure law to compete for federal broadband funding — increasing access to high-speed internet across the state.
The proposal would also allocate $9.3 million to broadband "middle mile" investments, which aim to improve broadband infrastructure in central and western Massachusetts.
$29 million to fund Massachusetts manufacturing
The filed legislation would allot $29 million to two different Massachusetts manufacturing programs. It would send $15 million to the Massachusetts Manufacturing Innovation Initiative and $14 million to Massachusetts Manufacturing Accelerate Program.
The Massachusetts Manufacturing Innovation Initiative, or M2I2, is a grant-based program tasked with funding research and development for innovative manufacturing projects across the state. The Massachusetts Manufacturing Accelerate Program focuses on awarding smaller grants to small and medium-sized businesses, helping them grow, develop, and make partnerships.
$28 million for public services
The final line items of the proposed bill would allocate $25 million for public libraries and $3 million for zoos.
What's next?
Along with the Immediate Needs Bond Bill, Gov. Healey filed a piece of legislation requesting, "$400 million to fund improvements to municipally owned roads and bridges…over the next two fiscal years."
Healey's campaign pledged housing and economic development, and these two bills seem to be the first steps towards those promises.
Though these bills seek to fund the immediate needs of the commonwealth, there are still several steps before they become law. For now, the two pieces of legislation will sit in the Office of the Clerk of the House, awaiting a joint committee hearing.
Newsletter Signup
Stay up to date on all the latest news from Boston.com