Politics
A Mass. bill would cut prison time for organ donations. An advocate is calling the measure 'unethical and depraved.'
"To incentivize the selling of your body parts in exchange for the most precious commodity in the world ... was just so appalling."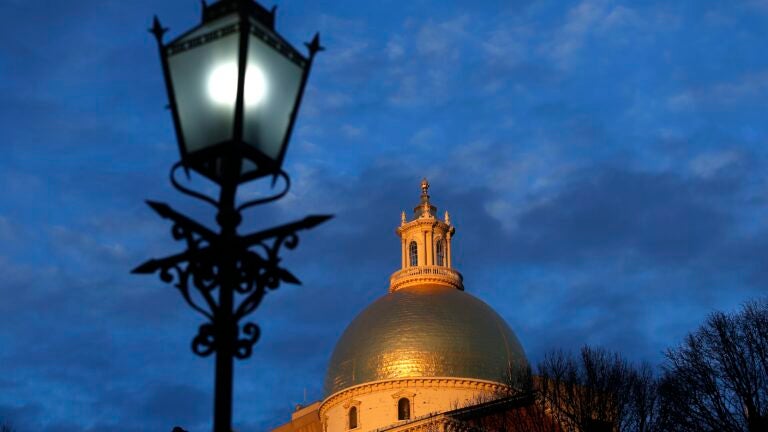 Newly proposed legislation would allow incarcerated people in Massachusetts to trade one precious commodity, donated organs, for another: Time.
Under HD.3822, a bill filed in the State House last month, incarcerated individuals could shave two months to one year off of their prison sentence in exchange for bone marrow and organ donations.
State Rep. Carlos González, one of the legislators behind the bill, told Boston.com in an email that he was inspired in part by a close friend who requires dialysis three to four times a week while he awaits a kidney transplant.
"He's a father of three children and is in stage 4 of kidney failure," González said, adding, "I love my friend and I'm praying through this legislation that we can extend the chances of life for him and any other person in a similar life-or-death situation."
González, a Springfield Democrat, noted that a number of comorbidities put people of color at risk for organ failure, pointing to higher risks of diabetes and heart disease among Hispanic and Black populations, and higher rates of chronic liver disease among Hispanic people. Broadening the pool of potential donors, he argues, is an effective way to increase the likelihood of those patients receiving critical care.
The bill would establish a bone marrow and organ donation program within the Massachusetts Department of Correction, to be administered by a committee that would include in its ranks MADOC representatives, a donation specialist, and an advocate for incarcerated individuals' rights. Benefiting institutions would bear donation-related costs, and the Department of Correction wouldn't profit from donations.
"We must provide every person who is incarcerated with the guidance of medical experts and advocates in order to ensure them the same rights and opportunities that every individual in Massachusetts has to save the life of their mother, father, brother, sister, child or friend," González said.
He added: "In my view, there is no compelling reason to bar inmates from this. One of our goals is to provide information and education on the disproportionate number of Blacks and Latinos dying while waiting for donors."
State Rep. Judith García, a Chelsea Democrat who submitted the bill alongside González, did not respond to multiple requests for comment. However, she shared an infographic on Twitter that stated the bill will "restore bodily autonomy to incarcerated folks by providing opportunity to donate organs and bone marrow" and "recognize incarcerated donors' decisions by offering reduced sentence."
Is the proposal ethical?
However, the proposal has raised eyebrows — and questions — among ethicists and advocates for incarcerated peoples' rights.
"When I saw the bill, it just smacked as unethical and depraved. And the reason is because it is unethical to sell organs; it is unethical to incentivize the selling of organs for very, very good reasons," said Michael Cox, executive director of the prison abolition organization Black and Pink Massachusetts, which supports LGBTQ+ and HIV+ people impacted by the criminal legal system.
He said the focus on incarcerated individuals was particularly shocking.
"They're a marginalized group in society, highly stigmatized and extremely vulnerable," Cox said in an interview. "And so to incentivize the selling of your body parts in exchange for the most precious commodity in the world — which is time on this earth, and your freedom — was just so appalling."
Citing his own experience in the prison system, Cox explained that earning "good time," or credit-based early release, is difficult to do, as the demand for applicable programming far outpaces availability.
"So that's sort of why this bill is so criminal, because it's such a big incentive for people who find it very difficult to earn even a single day," he said.
The incentive also raises legal questions, as the National Organ Transplant Act prohibits the exchange of a donation for "valuable consideration."
In 2007, South Carolina lawmakers considered a similar proposal that would have shaved up to 180 days off prison sentences in exchange for donations. However, critics debated the proposal's legality, and South Carolina ultimately adopted a voluntary organ and tissue donation program that allows incarcerated individuals to donate without an incentive.
The Massachusetts bill's proposed sentence reductions may confront the same issues, according to Dr. Robert Truog, director of Harvard Medical School's Center for Bioethics.
"It does seem that there's a quid pro quo here that [the incarcerated donors] are being rewarded with something — in this case, not money, but with time off of their sentence," he said in an interview. "That does seem to me to not be compatible with how we think about organ donations, which are that they are given as a gift with no quid pro quo of any sort, whether money or otherwise."
In 2014, the ethics committee at the United Network for Organ Sharing (UNOS), which manages the U.S. organ transplantation system, opined that "any law or proposal that allows a person to trade an organ for a reduction in sentence, particularly a sentence from death to life in prison, raises numerous issues."
For example, the committee noted that if sentence reductions were to exclusively apply to donations that took place, and not offered donations, the policy would then discriminate against those found to be medically unsuitable for donation.
What's next?
Cox said he doesn't believe the bill will advance as-is, citing the abundance of progressive voices in the Legislature. He also cautioned against expending finite resources on this bill when there are so many others in need of attention, including a proposed jail and prison construction moratorium and the RIGHTS Act, a bill that would improve conditions of confinement for LGBTQ+ people.
Yet it's early in the legislative session, and González noted that the proposed incentives are still up for debate.
"The same program could be established without a reduction in sentencing," he said. "We are open to having discussions, throughout the course of the legislative session, on whether a sentence reduction component is appropriate."
Allowing incarcerated individuals to donate without the expectation of a quid pro quo could make a difference, according to Truog.
Cox concurred.
"I met some of the nicest, kindest, most protective people I've ever met while I was incarcerated," he said. "And yeah, I believe that some people who are incarcerated would choose to donate an organ or bone marrow to a dying child. I think that would be so meaningful to some incarcerated people, just like it is in the community."
But, he added, "you just can't incentivize it, because it just goes down a bad path."
Newsletter Signup
Stay up to date on all the latest news from Boston.com