Politics
Major police reform bill is back in the spotlight
The bill, co-written by Vice President Kamala Harris when she was a senator, has languished for a year and a half amid partisan differences.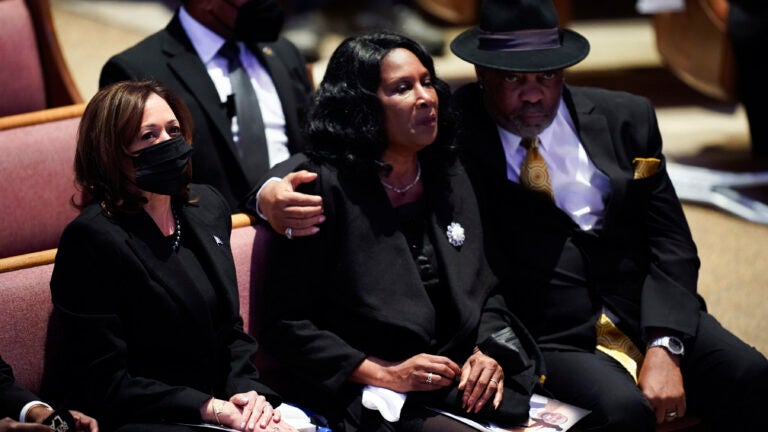 As mourners filled the Mississippi Boulevard Christian Church in Memphis, Tennessee, on Wednesday to pay tribute to Tyre Nichols, lawmakers, clergy and activists found themselves again calling on Congress to act.
The death of Nichols, whose fatal beating prompted murder charges against five former Memphis police officers, has sparked a renewed push to pass the George Floyd Justice in Policing Act.
The expansive policing bill targeting racial bias and use of force was named for another Black man who was killed by police; Floyd's death in 2020 at the hands of a white police officer in Minneapolis shocked Americans and led to a movement for police reform.
"We need to get that bill passed," said RowVaughn Wells, Nichols' mother. "Because if we don't, the next child that dies — that blood is going to be on their hands."
The bill, co-written by Vice President Kamala Harris when she was a senator, has languished for a year and a half amid partisan differences. The broad measure addresses the use of excessive force and racial discrimination, but party leaders have failed to reconcile their differences over altering the legal liability shield for individual police officers, known as qualified immunity, to make it easier to bring lawsuits against them for wrongdoing.
President Joe Biden will meet with members of the Congressional Black Caucus on Thursday to have a "real conversation about police reform," according to White House press secretary Karine Jean-Pierre. Jean-Pierre said Biden would continue to push for the reform bill, which stalled in Congress during his first year in office. But Jean-Pierre did not directly address whether the White House would consider passing additional reform measures through executive action if Congress failed to act.
Democrats have demanded changing the federal code to make criminal prosecution of individual officers easier. The Democrats' bill would also include restrictions on the use of deadly force except as a last resort.
Harris, who delivered a surprise speech at the service, called on Congress to pass the bill, adding that Biden would sign it. Ben Crump, a civil rights lawyer for the Nichols family, said a new version of the Floyd bill should include language about a police officer's duty to intervene when they see police violence.
The Rev. Al Sharpton, who delivered the eulogy at Nichols' funeral, called for an end to qualified immunity and for the passage of the Floyd Act.
"I want to go where they can't treat me like a double standard," Sharpton said. "I want to get home."
Nichols could be heard on a body camera saying, "I'm just trying to go home" as officers repeatedly beat him after a traffic stop.
This article originally appeared in The New York Times.