Politics
Mayor Wu announces 20 electric school buses for Boston Public Schools
The 20 buses is the first step from Wu to convert all 700 BPS school buses to electric by 2030.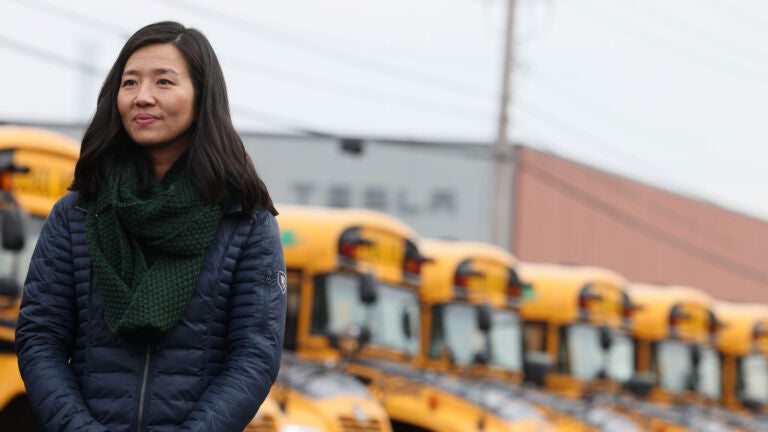 Mayor Michelle Wu announced Monday morning that Boston will soon be replacing some of the city's diesel school buses with 20 electric ones.
Months after Wu's announcement last April, the city reported that it will spend around $7 million from COVID relief funds and the city's budget to back the first step of Wu's campaign promise to convert all BPS buses to electric by 2030.
"Today we are excited to celebrate the arrival of 20 electrical school buses," Wu said, "which will be hitting the roads, getting more than 2,500 students to and from class every day right after February vacation."
Wu made the announcement standing in front of the two already-delivered buses (the other 18 will arrive in Boston soon) at the Readville Bus Yard in Hyde Park, where the 20 buses will be charged and stationed. Standing alongside her were BPS Superintendent Mary Skipper, Green New Deal Director Oliver Sellers-Garcia, and other city officials.
"When these buses hit the road, they will operate with zero emissions and significantly lower noise levels than their diesel-fuel counterparts," Skipper said. "So when you see the buses with the green bird with a plug logo on each side, be sure to wave and smile as they and the children inside represent our great city's future."
Boston's 739 school buses, with 620 on the road each day, make up 11% of the city government's greenhouse gas emissions. And half of the city's school buses run on diesel fuel, which has shown to be hazardous for those exposed to it. The 20-bus pilot program aims to cut down on these emissions, making school transportation better for the climate and its riders.
The new bus fleet will inform the city on how to best implement future charging stations, bus routes, and maintenance practices, said recently-appointed director of BPS transportation Dan Rosengard.
"Safe, reliable, and on-time transportation is critical in ensuring equitable access to education for Boston students," he said. "At the end of the month, we will begin transporting over 2,500 students across 42 schools on 20 electric school buses … the largest electric school bus deployment in the Northeast."
The buses will be operational after February vacation, giving the rest of the fleet time to arrive, and drivers and operators time to learn routes and maintenance proceedures.
Wu says the program will also be a prime example of what a green economy can look like under Boston's Green New Deal. In addition to collaborating with bus manufacturers, drivers, and monitors on implementing the buses, seniors participating in Madison Park Technical Vocational High School's automotive program will be able to take classes on bus maintenance.
"This will give our young people a head start on the skills necessary to secure solid, well-paying jobs in a green economy," Wu said. "Today's announcement is just one of many steps that we are taking for Boston to become a green new deal city and to move with the urgency that our community members, our residents deserve."
Boston is one of a few Massachusetts school districts to implement electric school buses, according to WBUR. And the buses are one prong of a multi-faceted approach to convert to electric transportation in both Boston and the commonwealth.
As for the rest of the buses, "the City intends to use federal funding from the Environmental Protection Agency and Inflation Reduction Act to further expand the number of electric buses in the fleet and enhance training for staff," a press release from the mayor's office said.
Wu and Rosengard said the city will be learning and adapting best practices regarding on-time arrival, bus route efficiency, and charging station placement. But for now, Wu says that Boston's transformation to all electric school buses is "ahead of target."
Newsletter Signup
Stay up to date on all the latest news from Boston.com