Politics
Watch: Marjorie Taylor Greene calls Biden a liar during State of the Union
The Republican representative was objecting to Biden's claim that members of her party want to sunset Social Security and Medicare.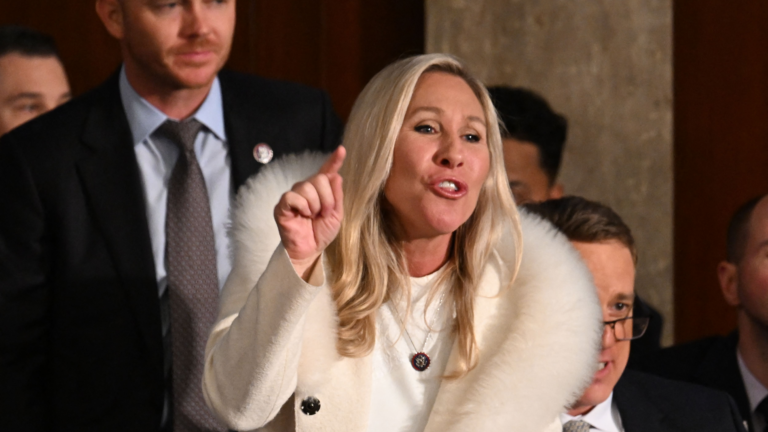 Republican Rep. Marjorie Taylor Greene made a splash during President Joe Biden's State of the Union address Tuesday night when she stood up from her seat and shouted "liar!"
Greene was objecting to Biden's claim that some Republicans want to sunset Social Security and Medicare. Biden insisted he was not implying a majority of Republicans want to end the programs, only some, but that didn't stop the boos coming from GOP legislators in the audience.
As Biden delivered the line, cameras captured Green standing up in a white, fur-lined coat, jabbing her finger, and yelling "liar!" out to Biden in reaction to this claim.
After the objections, Biden challenged his detractors, saying "Anyone who doubts it, contact my office. I'll give you a copy of the proposal."
Biden seems to be referencing a proposal by Florida Sen. Rick Scott that was released last year. Scott, the chairman of the National Republican Senatorial Committee, wrote in a policy guide that "All federal legislation sunsets in five years. If a law is worth keeping, Congress can pass it again."
According to NBC News, Scott denied that he wanted to get rid of Medicare and Social Security, instead saying he wanted to spotlight financial issues within the programs.
But, NBC reported, Democrats still latched on to the language and claimed that the proposal was evidence that Republicans wanted to end these two landmark security net programs.
Senate minority leader Mitch McConnell later said that Scott's proposal wouldn't be part of the Republican majority agenda, NBC reported. Even so, a New York Times article from November 2022 detailed a proposal by Republicans to make significant cuts to both programs.
Watch the exchange below:
Newsletter Signup
Stay up to date on all the latest news from Boston.com