Politics
Poll: 59% of Mass. residents think Biden shouldn't run again
"Of course people aren't excited because he's not an exciting candidate."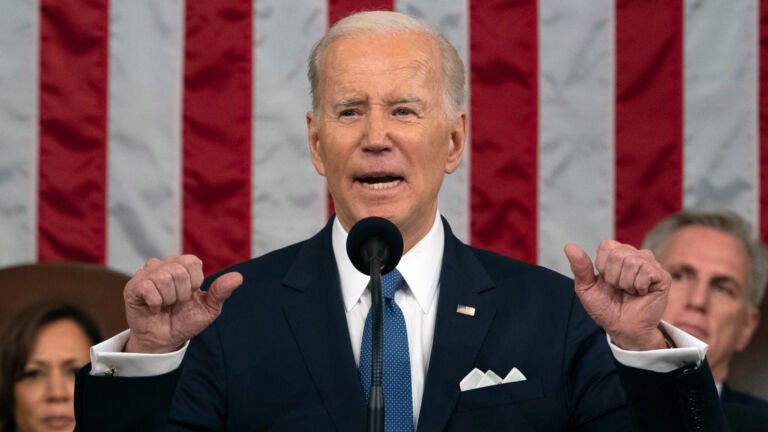 When asked whether he's come to a decision to seek re-election in 2024, President Joe Biden told reporters on Thursday that he's "just not ready to make it."
And recent polling shows that Massachusetts residents think he shouldn't.
A MassINC survey of 986 Bay Staters, conducted between Jan. 30 and Feb. 2, before the State of the Union, showed that 59% of respondents do not think Biden should seek re-election, with only 22% wanting him to go for another term.
Forty-eight percent of the respondents to the MassINC poll identified as independent, with 36% identifying as Democrat and 14% as Republican. But important to note, as Ray La Raja, a professor of political science and associate director of polling at UMass Amherst, told Boston.com, people that respond to polls and pay attention to politics tend to want the most exciting and ideologically extreme candidates. Notably, two things that Biden is not.
"Of course people aren't excited because he's not an exciting candidate," La Raja said. "People just aren't paying attention that much, and they're still sticking to their priors."
While the poll showed a 43% approval rating for the president, a myriad of factors such as Biden's record-setting age and his unexciting centrism has led many to hope he stays off the ticket come 2024, according to La Raja.
"He's helping secure things for the [Democratic] base, but he's presenting himself as kind of a bipartisan, moderate person," he said. "It's a tough balancing act that I think he's doing pretty well, but it means he's not going to have huge enthusiasm among the Democratic base because he's still trying to tilt to the middle to win those independents."
As Biden expresses hesitancy, experts believe that the president will eventually seek re-election. And in the wake of his State of the Union address — where the 80-year-old both touted bipartisanship and took shots at Republicans — many see Biden's potential campaign message taking shape.
Now in year three of his presidency, Biden sits above a divided congress — likely to pass little legislation. Essential to a successful 2024 bid is Biden's ability to cooperate with Republicans when needed, but also make clear when the GOP is acting unreasonably, La Raja said.
"Biden has to constantly message and remind Americans that they're getting some benefits from his administration," he said. "They [also] need to keep focusing on the fact that the Republicans are dangerous and they don't want to pass policies that help the average American."
As the election approaches, La Raja says, voters will begin weighing candidates — and in a field of few Democratic alternatives — Biden will likely come forward as the only viable option.
"As the campaign heats up, people are going to start [asking] the key question 'Who are the alternatives?'" he said. "As the election approaches, people are going to be like, '[Biden's] our guy.'"
Newsletter Signup
Stay up to date on all the latest news from Boston.com