Politics
AG Andrea Campbell talks gun violence, local crimes in first GBH appearance
"The Supreme Court is obviously going in the wrong direction when it comes to our gun laws."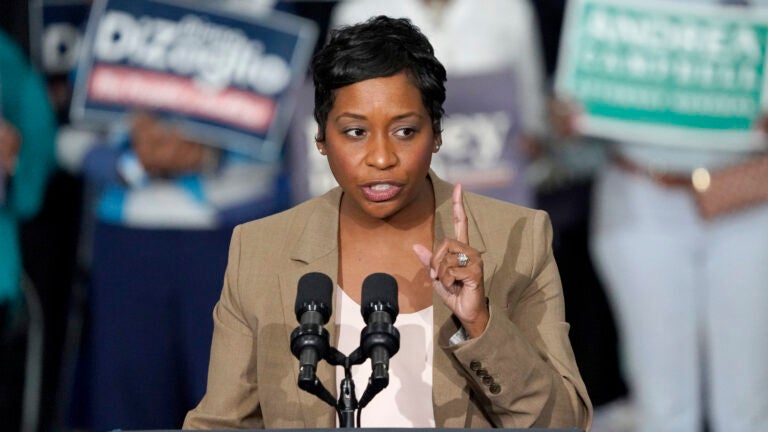 In a new segment on GBH Tuesday, Attorney General Andrea Campbell addressed issues that matter to Massachusetts, including local and national current events.
While Campell's first-ever appearance on "Boston Public Radio" fell on Valentine's Day, she acknowledged a deeper significance for Feb. 14 — the aftermath of the deadly Michigan State University shooting, as well as the five-year anniversary of the Parkland shooting.
BPR hosts Jim Braude and Margery Eagan pressed Campbell on what state gun laws may look like in the aftermath of Supreme Court rulings striking down gun control measures. Campbell criticized the Court's choice, but said Massachusetts' protections are set in stone.
"The Supreme Court is obviously going in the wrong direction when it comes to our gun laws," she said. "We should all feel really lucky and blessed that we live in Massachusetts because we have codified so many laws and have significant precedent here to protect us."
Campbell said that in her month of service, her office has filed friend of the court briefs to SCOTUS to "keep our laws on the books."
"I'm confident that with that fierce and bold advocacy that we should be fine here," she said.
However, Campbell added that state voters can make a difference on a national level — just by showing up to the polls.
"At the end of the day, whether it's Supreme Court appointments or folks in Congress that aren't moving fast enough to respond to the pressing issues of today, they get there because people either vote or they don't vote. We have an opportunity to play a role in that."
The attorney general explained that in her first four weeks on the job, she has witnessed some abnormally dark cases — from the murder of Tyree Nichols to the ongoing Andover murder-suicide — many of which are close to home.
"There are moments it's been really heavy," she said, but added: "The best thing about my job is that I get to go into an office to work with incredible attorneys and staff who are passionate about public service, passionate about helping people, to really do something to address [these issues]."
In her interview, Campbell also answered questions from listeners about her current cases, as well as covered numerous other issues that she wants to tackle during her term, from prison reform to racial wealth gaps.
Campbell will return to Boston Public Radio's "Ask the Attorney General" monthly throughout her term. The full interview is available below:
Newsletter Signup
Stay up to date on all the latest news from Boston.com