Politics
There's a push to give teachers (and other public employees) the right to strike in Mass. What to know.
The proposal would allow unions to legally strike after six months of failed negotiations with their employers.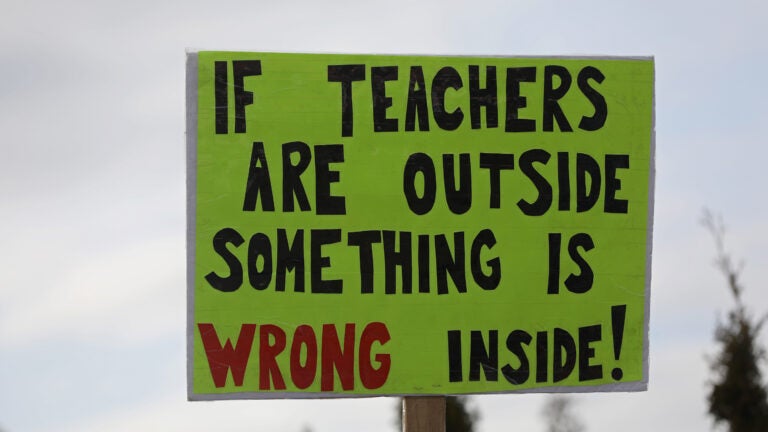 An effort is underway in Massachusetts to legalize the right to strike for some public employees — including teachers.
The push to give educators and other unionized employees in the public sector — excluding public safety workers like police and fire — the right to go on strike began in the last session of the state Legislature. A new iteration of the proposal, "An Act uplifting families and securing the right to strike for certain public employees," was filed last month as a companion bill in both the Senate and House. The legislation would allow unions to legally strike after six months of failed negotiations with their employers.
Twelve states, including Vermont and California, give public school educators the right to strike, according to the Massachusetts Teachers Association, which has named the proposal in the Bay State one of its legislative priorities for 2023-2024.
The move comes as the start of the year saw teachers go on strike in Woburn for a week after more than a year of talks failed to produce an agreement for a new contract. Schools were closed in the city for five days as negotiations stretched on.
Because the strike was illegal, the union was subject to thousands of dollars in fines. Ultimately, the union accumulated up to $85,000 in fines from the state; it also agreed to pay $225,000 in damages to the city over four years and $20,000 to local charities, the Boston Herald reports.
The union has reached out to the community for help in the face of those costs, and so far, families and businesses in the city have responded, with more than $50,000 pouring in to the GoFundMe fundraiser started for the educators. The Woburn Teachers Association has said the encouragement received from parents and other members of the community through their strike kept them "strong and affirmed that [they] were doing the right thing."
Yet, there remains debate in Massachusetts about whether teachers and other unionized public sector employees should legally have the right to strike. Supporters of the proposal say the measure is needed to level the playing field at the bargaining table, while opponents argue it is a bullying tactic that will only hurt students and families.
What those in opposition say
Glenn Koocher, executive director of the Massachusetts Association of School Committees, said there are a number of reasons for opposing the proposal, saying his group has a "serious problem with giving public employees the right to strike."
"Number one, when teachers strike, they strike against the interests of children and their families," Koocher told Boston.com. "And that is counterintuitive to the fact that teachers already have strong collective bargaining rights that put all the parties at the table, that requires that all issues be discussed, and that there's a process for conflict resolution."
Koocher said the argument from those pushing for the right to strike — that it's needed to break gridlock in negotiations — is just an advocacy tactic to "sway public opinion or to mobilize [their] base."
School committees, meanwhile, are concerned about preserving the workforce and preserving positions, he said.
"The unions want to position themselves as being in charge or calling the shots and demanding that the management side of the table compromise its management rights," said Koocher.
School committees aren't alone in their objections to the proposal.
Gov. Maura Healey said in recent weeks she is opposed to legalizing the right to strike for teachers and other public sector employees. She told WBZ she wants workers to get the compensation they deserve but that it is "paramount" that kids are in school.
"I've come to this … as the proud daughter of educators, I think we should be doing everything we can to support our educators, particularly in this time and what so many have been through with COVID," Healey told WBZ's Jon Keller. "A lot of strain on our educators, also a lot of strain on our kids and families. Every day when I see kids out of school because of a strike, my heart just breaks because kids have been through enough in terms of learning loss and the like."
State Education Commissioner Jeffrey Riley has also blasted the push for strikes, according to the Boston Globe.
"I want to be clear I'm a supporter of collective bargaining rights, but I just think this is a bridge too far at this time," Riley said at a December state Board of Elementary and Secondary Education meeting. "Our focus needs to be on the kids. The kids need to be in school."
Koocher said he understands that teachers may be frustrated and angry and "realize that some people get paid more than others depending upon the district."
"But still, it's a matter of using the collective bargaining process rather than the bullying tactics of a strike, which are not only bullying, but are also illegal," he said.
Who, he questioned, will make it up to students when schools are closed for strikes?
"They're going to be going to school later in June because they have to make up the days," he said of Woburn students. "So think about the kids who may not be able to get to summer camp or may not be able to get to their summer school or their summer jobs or stuff because they're making up the days because of the teachers strike. Or the kids who are home and whose parents have to quickly make shifts and adjustments to accommodate that."
Despite the push to move the legislation forward, Koocher said he "finds it hard to believe" that lawmakers would give teachers unions the right to strike "against the best interests of students and families."
He also said he doesn't believe the public is in favor of giving teachers the right to strike.
What those in favor say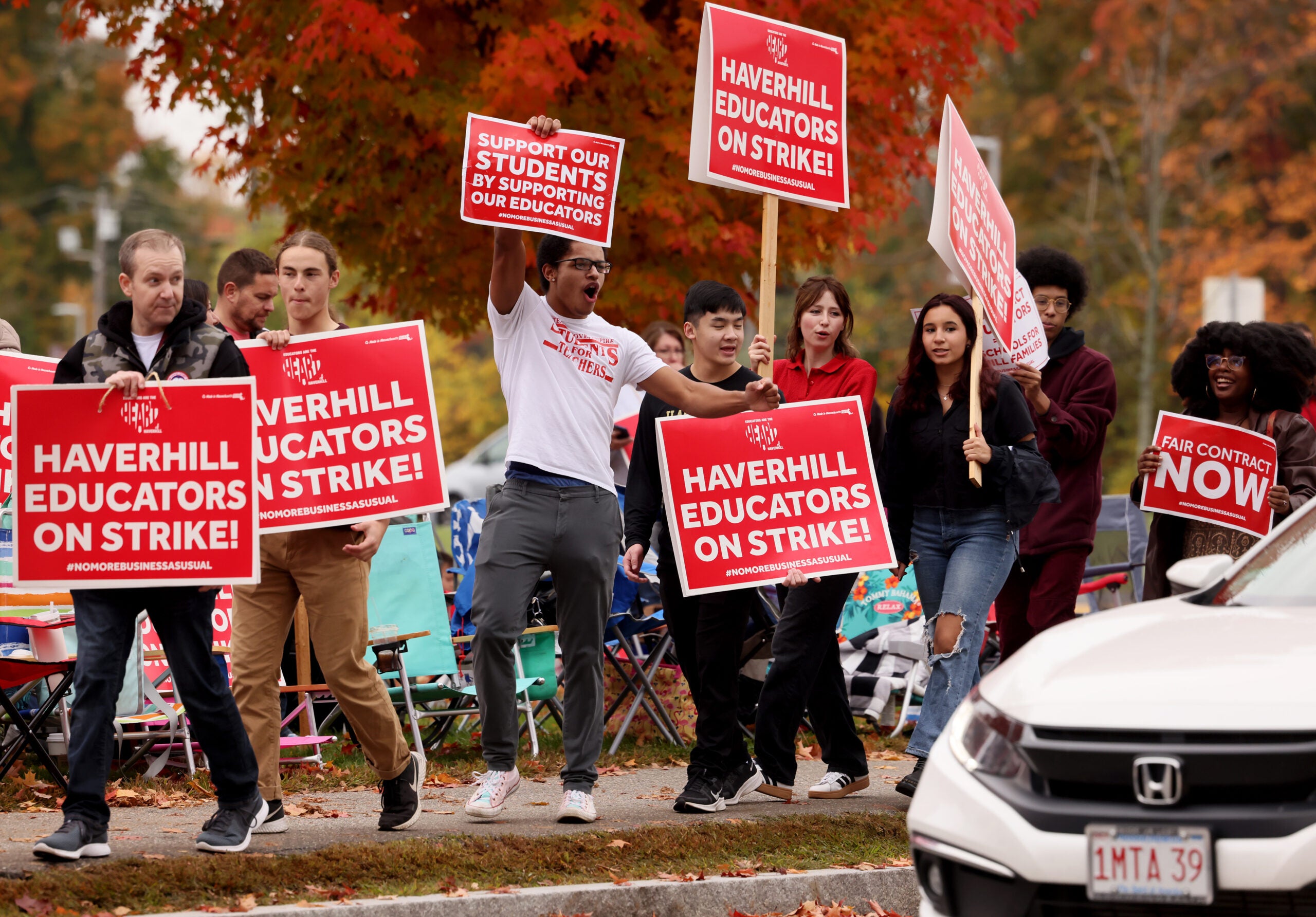 State Sen. Becca Rausch, whose district includes parts of Middlesex, Norfolk, and Worcester counties, filed the senate version of the bill, while Reps. Mike Connolly and Erika Uyterhoeven did so for the house version.
The proposal is "important for so many reasons," Rausch told Boston.com.
"The right to strike is one of the most fundamental, central rights of workers, collective action by workers that we have," she said. "And [we're] seeing that importance play out recently where results are swifter and more effective and more beneficial to students and families where strikes have occurred or where strikes have been voted on to occur and then a negotiated result happens very quickly."
Not every community in the state is fortunate to have a school district with significant resources, she said, emphasizing that supporters of the legislation want students to have "all the support that they need to learn."
Rausch said that personally, as someone who worked as a public sector unionized employee in the executive branch before she took office, and whose dad was also a public sector unionized employee, she knows the importance of unions.
Anyone who is working in the public sector as part of a union deserves the right to say they won't put up with not having a new contract, she said.
"Most people working in the public sector are not making what the equivalent would be in a private sector position, but people are coming in doing public service," she said. "They deserve to be able to get a contract renewal more often than every 20 years. That's an extreme example, but there are instances of three years, five years. We know economics change a lot faster than that."
The argument from opponents — that the legislation would negatively impact students and is a bridge too far beyond existing collective bargaining rights — "relies on a misunderstanding of the power dynamic that exists between employers and employees," she said.
The power dynamic inherently favors the employer, Rausch said.
"Providing a pathway to strike as a last resort, that only provides mutually expected ground rules but also equalizes the negotiating power between the bodies," she said. "I also think the argument that it's detrimental to students misunderstands both the nature of what we're seeing unfold in various school districts across the commonwealth and also what the parents and families themselves are saying."
Rausch argued that in Woburn there was "overwhelming" support for the teachers by parents and families while they were on strike.
The state senator said that as a parent she understands the concerns about how families could be impacted by school closures during a strike, about what it might mean for families to not have the regular programming available for kids.
"We still need to be able to empower public sector employees to stand up for themselves, on equal footing with another party," she said. "But also, and in the case of education, much more importantly, to be able to stand up for their students and the families that they are there to teach and support. And that's what we're seeing."
She also emphasized that education, and childcare more broadly, remains a largely gendered profession.
According to data from 2018 released by the National Center for Education Statistics, 76 percent of public school teachers in the United States were female during the 2017-2018 school year, while 24 percent were male.
"Teachers teach; they also take care of kids all day long, as parents go off to do a lot of things," Rausch said. "It is a great responsibility, and it is gendered. And I think we do a disservice to the conversation if we overlook the fact that childcare in all of its manifestations, including educating children, has historically been considered women's work. And that is an aspect of this conversation that we really need to see and recognize its significance."
Compared to the last session when the proposal was initially introduced and got "basically zero attention," Rausch said she thinks the landscape has changed with the start of the new session and the new year.
In the last year, strikes have occurred in Malden, Haverhill, and Woburn.
In Melrose, there was an authorization vote for a strike that ended up not going forward because a resolution then quickly came together.
"There's been a little more time for folks to get to know the issue and to have conversations about it," she said. "It's certainly being discussed quite significantly now, which is going to help not just the members of the Legislature but parents, school committees, and members of the general public to be engaged in that conversation. And that is a very important part of the legislative process."
Should teachers have the right to strike?
Newsletter Signup
Stay up to date on all the latest news from Boston.com