Politics
Maura Healey says affordability is about more than minimum wage
During her "Radio Boston" appearance Wednesday, Healey was asked whether she plans to increase the minimum wage, and the governor didn't give a clear answer.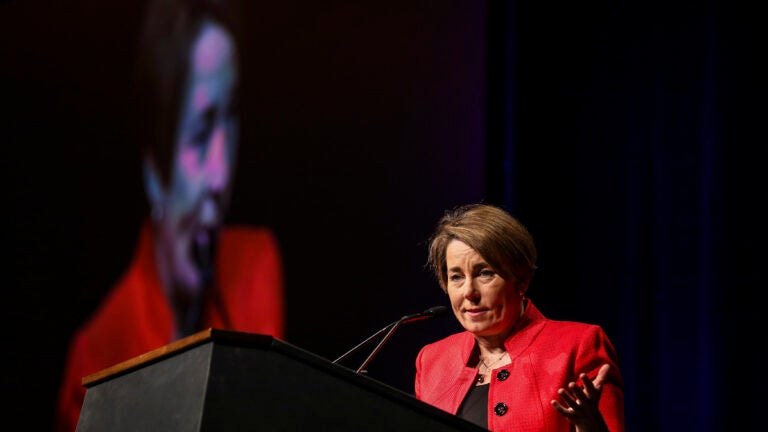 Massachusetts has one of the highest minimum wages in the country, but it's still not enough for a living wage.
On Wednesday, newly appointed Gov. Maura Healey was noncommittal on if she'd look to raise it any time soon. Instead, she hinted during her appearance on "Radio Boston" that she's going to focus on other factors to make living more affordable in the state.
When asked whether she might be looking to increase the minimum wage, the governor did not directly state whether it was in her plans.
"When you talk about affordability, certainly wage and minimum wage is important, but it's also important to look at what are we doing around food security, what are we doing around housing, what are we doing to drive down the cost of child care," she said.
She then mentioned legislation she will introduce that aims to create a secretary of housing to focus, in part, on affordable housing around the state. The governor added that her tax proposal, which she also discussed, will encompass affordability.
"I am very much focused on what we have in terms of revenue, what we have in anticipated revenue, and what I can do in support through my proposed budget," Healey said.
The state currently holds the fourth-highest minimum wage in the country at $15 per hour. It just started at that this year, meeting the goal set five years ago by former Gov. Charlie Baker's "grand bargain" bill.
Baker's bill, which passed into law in 2018, set out to raise the minimum wage from $11 to $15.
While the law was a huge step at the time for increased wages, inflation has ebbed at its benefit.
MIT's Living Wage Calculator estimates the price of living for Boston, Cambridge, and Newton to exceed $20 per hour, and activists have already been calling for additional increases on top of those brought on by Baker's law.
Steve Crawford, a spokesperson for Raise Up Massachusetts, which is at the forefront of the push of minimum wage increases, said he agrees with Healey's assessment.
"The governor is right to be focused in her budget on some of the drivers of cost of living in Massachusetts," Crawford said. "Food, child care, housing are all recognized as high costs in our state."
At the same time, he said, increasing the minimum wage has been at the forefront of the Raise Up Massachusetts agenda, "given the high rate of inflation we've experienced."
"Low wage workers are already behind at $15 an hour," Crawford said. "Perhaps most importantly, we think that it's important to link the minimum wage to the cost of living. So that if the consumer price index went up the minimum wage would go up also."
Newsletter Signup
Stay up to date on all the latest news from Boston.com