Politics
Bernie Sanders calls Moderna CEO to testify on proposed vaccine price hike
On Wednesday, after its CEO agreed to appear in front of the HELP committee, Moderna announced a new "patient assistance program" to begin this May that will provide millions of uninsured and underinsured Americans the vaccine free of cost.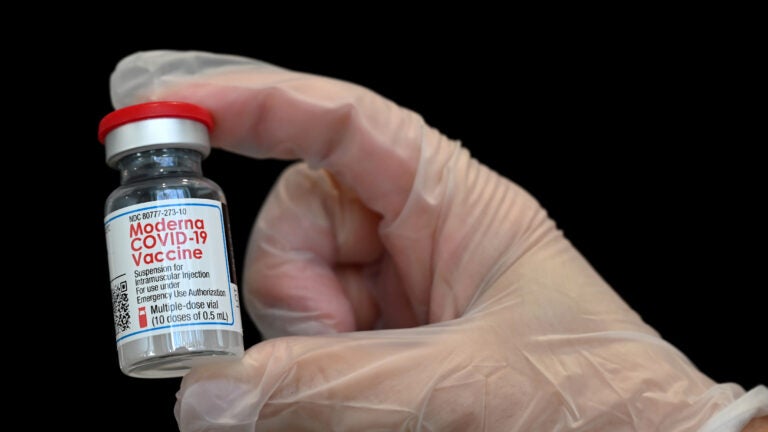 Sen. Bernie Sanders plans to grill the CEO of Moderna about his reported plans to raise the price of the coronavirus vaccine in a Senate hearing next month that the Vermont independent hopes will convince the company to reverse course.
The hearing will make up a key piece of Sanders's larger oversight agenda for the Health, Education, Labor and Pensions Committee that he chairs. The former presidential candidate hopes to use his perch on the panel to highlight the "greed" of large pharmaceutical companies in an effort to lower prescription drug prices.
Senate Democrats have signaled they will focus on corporate overreach with their expanded majority as House Republicans launch investigations on the other side of the Capitol into China, alleged abuses of the FBI, tech companies' handling of a 2020 story about President Biden's son, Hunter, and other targets.
Senate Majority Leader Charles E. Schumer (D-N.Y.) said shortly after the midterm elections last year that "corporate corruption and inequities" would be a major focus of oversight for his caucus, and other committees have already held hearings on alleged anticompetitive practices of Ticketmaster and abuses of the cryptocurrency industry.
In an interview, Sanders said that Moderna, whose only federally approved drug is the coronavirus vaccine that the company received nearly $2 billion in direct federal money to develop, is a "poster child" for the greed of the pharmaceutical industry. He plans to argue that CEO Stéphane Bancel, who Forbes estimates is worth more than $5 billion, and several other Moderna executives "profited" off the pandemic.
"We're going to ask them, 'Hey, you made billions of dollars in profit on a vaccine that was developed because of taxpayer support from the [National Institutes of Health], you've become a multibillionaire, and you think it's appropriate to cost the federal government even more money by quadrupling prices?" Sanders said. "And I hope, I really do hope, that these people will reconsider this outrageous decision and decide not to raise prices for the vaccine."
Bancel told the Wall Street Journal last month he was considering quadrupling the price of Moderna's vaccine to as much as $130 per dose once the federal government drains its stockpile and insurers and individuals are responsible for purchasing them on their own. Since the start of the pandemic, the federal government purchased vaccines and provided them free, and Moderna sold its booster shots to the government for about $25 per dose.
On Wednesday, after its CEO agreed to appear in front of the HELP committee, Moderna announced a new "patient assistance program" to begin this May that will provide millions of uninsured and underinsured Americans the vaccine free of cost. "Everyone in the United States will have access to Moderna's COVID-19 vaccine regardless of their ability to pay," spokesman Chris Ridley said in a statement.
Moderna, which did not describe how the patient assistance program would work, also noted that patients who are insured will continue to receive the vaccine free through their insurance, regardless of price hikes.
The announcement takes some of the sting out of one of Sanders's main critiques of Moderna – that uninsured Americans would find the shots their tax money helped fund unaffordable. But Sanders has also argued that the higher vaccine price for insurers – and Medicare and Medicaid – would further inflate medical costs, and that taxpayers will ultimately foot the bill. (Pfizer is also considering a similar price hike for its vaccine, but Sanders said its case is different because it did not receive the same federal investment into its research.)
Sanders, who chairs the HELP Committee for the first time this year, declined to say who else he wants to call before his committee, but claimed broadly there is a "morality crisis" within the pharmaceutical industry and support across the political spectrum for putting pharma CEOs in the hot seat and tackling the issue of high prescription drug prices. He also mentioned concerns about how Starbucks CEO Howard Schultz and Amazon founder Jeff Bezos, who owns The Washington Post, are handling unionizing efforts at their companies – and left the door open to questioning them, as well.
"The pharmaceutical industry is enormously powerful politically," he said. "There are 535 members of Congress and they've got 1,700 [lobbyists] including former leaders of the Democratic Party, leaders of the Republican Party. They're all over the place. They're swarming Capitol Hill."
Sanders did not rule out compelling witnesses to appear before the committee via subpoena power in the future, which Senate Democrats gained when they won a 51st seat in November's elections. A report created by his Democratic committee staff listed the pay of the CEOs of pharma companies including Pfizer, Eli Lilly, AbbVie and Regeneron Pharmaceuticals – as well as five other Moderna investors and executives – as examples of "pharma pandemic profiteers."
"We didn't have to use subpoena power and he's coming in voluntarily and I appreciate that," Sanders said of Bancel, who is appearing on March 22. "But if people do not want to come in voluntarily and we want them, we will use subpoena power."
Sanders said he believes Republicans will be supportive of his focus on pharmaceutical greed. But the ranking Republican on his committee, Sen. Bill Cassidy (R-La.), told The Washington Post this month that he wanted to hear more from Pfizer and Moderna before passing judgment on their decision to hike prices.
"You obviously have a marginal cost. It's easier to spread a marginal cost over billions of doses than it is over millions of doses," Cassidy said. "And so what is their justification for all this? I just don't know that. . . . Give me more data before I render an opinion."
Cassidy has said that drug affordability is important but that "we have to understand that there is a component of innovation driven by profit."
There is also a possibility, which Sanders acknowledges, that other members of his committee may use the forum to sow doubts about the vaccine's efficacy or safety.
But Sanders said he plans to use the hearing to tell a larger story about past scientific pioneers, including Jonas Salk, who developed the polio vaccine, and Alexander Fleming, who discovered penicillin, and contrast their selfless decisions not to seek a patent or profit to Moderna and other drug companies.
"It's a really profound moral issue," he said.