Politics
James O'Keefe is removed as leader of Project Veritas
Mr. O'Keefe had been the face of the group of conservative provocateurs since he founded Project Veritas in his father's garage in suburban New York in 2010.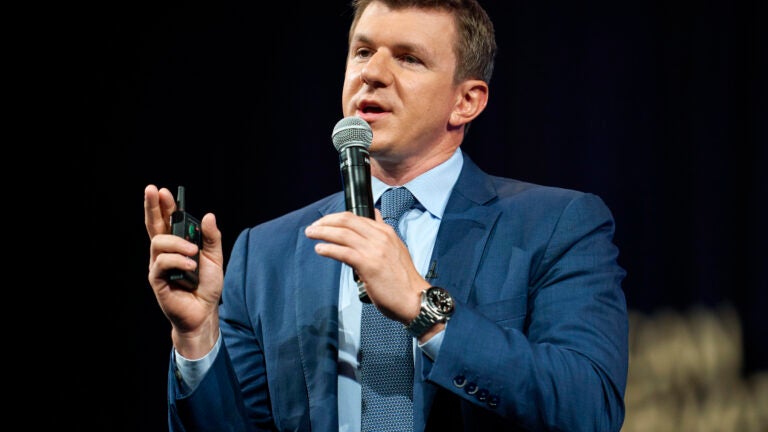 James O'Keefe, who as the leader of the conservative group Project Veritas used theatrical stunts, undercover stings and other deceptive tactics in efforts to inflict embarrassment and charges of hypocrisy and wrongdoing on perceived liberal enemies in politics and the media, has been removed from his post by the organization's board, O'Keefe disclosed Monday.
The decision to remove O'Keefe came amid an uproar among the group's staff about his leadership style, his treatment of subordinates and his use of the group's funds for high-priced expenses like flights on a private plane.
It also came in the midst of an ongoing Justice Department investigation into how Project Veritas acquired a diary kept by Ashley Biden, President Joe Biden's daughter, before the 2020 election. O'Keefe's home was searched by FBI agents with a warrant in autumn 2021 as part of the investigation.
Project Veritas' board put O'Keefe on paid leave earlier this month and last week stripped him of his title and authorities.
"Currently, I have no job at Project Veritas. I have no position here based upon what the board has done — so I'm announcing to you all that today, on Presidents Day, I'm packing up my personal belongings here," O'Keefe said in a video address to the group from its headquarters in Mamaroneck, New York.
O'Keefe had been the group's leader and provocateur in chief since he founded Project Veritas in his father's garage in 2010. He initially rose to prominence before that when he used an undercover sting to assert that the community organizing group Acorn was promoting illegal activity, a characterization that largely unraveled upon scrutiny by law enforcement agencies and in court cases.
Project Veritas became a more visible force on the right during the Trump era, when former President Donald Trump and some of his supporters embraced O'Keefe, who was invited to the White House and became a frequent guest on Fox News. Among its recent targets was Pfizer, the pharmaceutical company and manufacturer of one of the leading COVID-19 vaccines.
Along the way, the group's operations — which often relied on concealed cameras being used by operatives lying about their identity — led to a string of embarrassing disclosures about their targets, which included journalists at The New York Times.
Especially since the beginning of the investigation into the theft of Ashley Biden's diary, O'Keefe has argued that his group's information-gathering tactics should be defended on First Amendment grounds.
Although Project Veritas describes its employees as journalists, its operations typically diverge from standard journalistic practice, with the organization's operatives masking their identities or creating phony ones. In defending Project Veritas in a court case last year, a lawyer representing the group, Paul Calli, described the group's operations as "legitimate and lawful news gathering" but went on to say that in pursuing its targets, Project Veritas used "deception, deceit, dishonesty and, indeed, lies on the bad actors" it was investigating.
Project Veritas has an ongoing defamation suit against the Times.
The group's legal problems had become an apparent strain on O'Keefe, according to complaints lodged about him by colleagues and sent to the Project Veritas board this month.
In September, a jury in a federal civil case found that the group had violated wiretapping laws in a sting operation against a consulting group affiliated with Democrats. The jury awarded $120,000 to that firm, Democracy Partners.
In the Ashley Biden diary investigation, two Florida residents pleaded guilty in August to stealing the diary and selling it to Project Veritas.
At the time of the guilty pleas, federal prosecutors directly tied Project Veritas to the theft of Biden's items in the court papers, saying that an employee for the group had directed the defendants to steal additional items to authenticate the diary and paid them additional money after receiving them.
Neither Project Veritas nor O'Keefe or any of its other employees have been charged with wrongdoing in that case. Project Veritas never published the diary.
The impact of O'Keefe's removal on the group — which is heavily reliant on donors — was not immediately clear. Although the group employs several dozens of operatives, O'Keefe has always been its main fundraiser and public face, often conducting ambush interviews with his targets, fashioning himself as a fearless truth teller willing to confront powerful individuals and institutions.
When news first broke earlier this month that O'Keefe had come under internal scrutiny, his allies in the conservative media rallied to his support, saying that the group would be nothing without him and that they would follow him wherever he went if he were ousted.
Just minutes after his removal became public Monday, Donald Trump Jr. voiced his support for O'Keefe, saying conservatives "need to continue the mission of exposing the left."
The complaints about O'Keefe from the staff members were voiced by a group of his colleagues in an 11-page memo sent to the board Feb. 3. The employees who signed the memo said it was based on descriptions of O'Keefe's conduct compiled by one-third of the group's staff members from all of its departments.
"James has become a power-drunk tyrant, and he is exactly who he pontificates on who we should be exposing," the memo said.
In the video Monday, O'Keefe disputed the characterizations in the memo of his conduct and management style.
The memo portrayed O'Keefe, by the accounts of some subordinates, as a frequently bullying boss who had a "constant habit of publicly demeaning people's role and responsibilities, almost in a way to then step in" to claim that he had fixed the problem.
The memo painted a picture of a group that has been struggling since it became public in 2021 that it was under Justice Department investigation in the Ashley Biden case.
"We still haven't fully recovered the losses from fall of 2021 — and now over a year later, we've lost more people, through resignation or termination," one unnamed employee told the writers of the memo, "and I fear that on the path we are on, we will not only prevent the growth of the organization, but we will be led to a place where the organization doesn't exist."
This article originally appeared in The New York Times.