Politics
Gov. Maura Healey announces plan to make community college free for Mass. adults
Community colleges are "the ticket to economic mobility for so many of our residents," the governor said.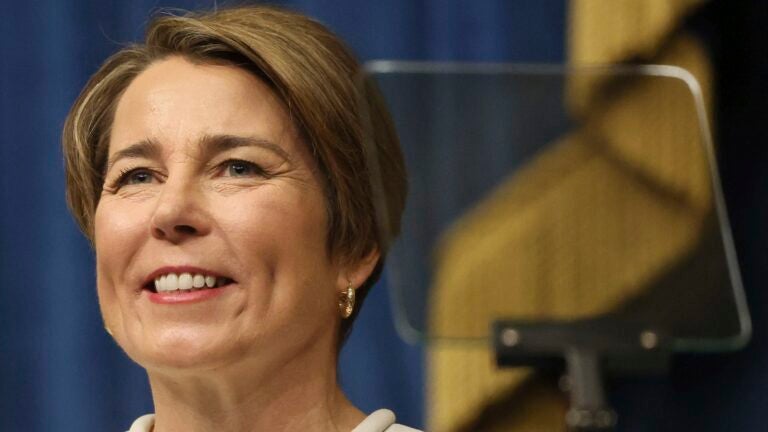 Following through on one of her campaign promises, Gov. Maura Healey on Wednesday proposed setting aside $20 million from the state's 2024 budget to make community college free for residents older than 25.
The funding will help launch a program called MassReconnect, aimed at addressing workforce shortages and skills gaps by covering community college costs — including tuition, books, and wraparound services — for an estimated 1.8 million residents who haven't already earned a college degree.
"MassReconnect will be transformative for hundreds of thousands of students, for our amazing community colleges, and for our economy," Healey said during an event at Bunker Hill Community College.
She said Massachusetts's community colleges are "the ticket to economic mobility for so many of our residents."
Bunker Hill President Pam Eddinger shared a similar message, noting, "Community colleges are the best tool we have to help people in every corner of the commonwealth to rise and to build a skilled workforce that will ensure our state's growth and prosperity for all."
Of the nearly 2 million Massachusetts residents who would be eligible for MassReconnect today, Healey said almost 700,000 already have some credits toward a college degree.
MassReconnect, she said, is "about bringing these students back into education and programming that will help them get jobs and further opportunities for themselves and their families."
Community college students face several barriers to completing their degrees in a timely manner, Bunker Hill graduate Yamileth Lopez explained.
"Sometimes we can be only part-time students, because we are working two jobs, taking care of our children, and paying our bills," she said. "It is not easy; it took me seven years to finish a bachelor's degree. But one thing is certain: Community colleges change lives."
Cape Cod Community College student Nicole Cain shared that it took her 22 years to get to her upcoming graduation in the fall of 2023.
She said she had her first child at 17, and "after that, it just became survival. I always wanted to go to college, I always wanted to be an entrepreneur; I had big dreams. And life decisions, they just kept coming."
Decades later, as she nears graduation, "I am proof in the pudding that miracles do happen, and with perseverance and asking for help, you can make it," Cain said.
Healey described the new initiative as an opportunity to grow access to education for Massachusetts residents who have historically been left out.
"Let's remember, folks: Massachusetts, we're home to the first public school in the country," she said. "A quality education, that's something that we don't just talk about; it's actually enshrined in our constitution."
Newsletter Signup
Stay up to date on all the latest news from Boston.com