Politics
An exit interview with Labor Secretary Marty Walsh
"An opportunity presented itself to me to run a union for NHL players. I wasn't looking for it."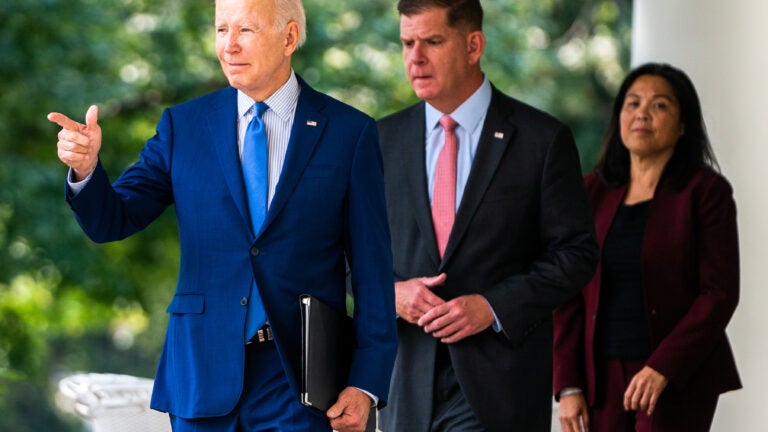 The Washington Post sat down with Labor Secretary Marty Walsh on Thursday before he departs the administration later this month to become the NHL Players' Association's executive director. We talked about why he's leaving, what he accomplished and his involvement in brokering the contract that Congress forced rail workers to accept in December.
This interview has been edited and condensed for length and clarity.
The Post: You're one of the first Biden cabinet members to depart. Why are you stepping down?
Walsh: It's unexpected. An opportunity presented itself to me to run a union for NHL players. I wasn't looking for it. It's funny, I was talking to Charlie Baker, the [former] governor of Massachusetts, who is running the NCAA, and he said to me when he called me to tell me he's got the job – like, how'd you do it? how'd that happen? And he said, "If you asked me to write 50 things down on a piece of paper for future careers" – it just happened. Somebody reached out to him: "Would you be interested in having a conversation?" And if you asked me to write down 100 potential career follow-ups, that would not have been one of them.
The Post: President Biden has often pledged to be the most pro-union president in history. What are the three most important moves you made to put that mantra into practice?
Walsh: The first is really the legislation that he's passed, and making sure that there's language in the legislation that empowers workers. It's not just about producing a green economy or clean energy or building new roads – it's about creating opportunities. The second is probably the worker empowerment task force that he put together – the vice president's the chair, I'm the vice chair. The third is the president's not afraid to say the word "union." And he's not afraid to say people have the right to collective bargain.
The Post: The Labor Department said Monday that it would crack down on companies that have child labor in their supply chains in response to a New York Times investigation of migrant child labor. How does the department plan to go after such companies?
Walsh: We already have. The cases up to date I want to say are in the thousands that we've opened and closed. We have about 600 to 800 cases open right now – investigations into child labor complaints. We're putting together a Department of Labor-led task force to look and see how we can work better across the board with [the Department of Health and Human Services], and wherever else we have to work with. We have a package that we're going to be looking [for] from Congress for more money for enforcement officers. You can't handle the number of complaints if you don't have the number of officers.
Whatever the numbers are, that potentially is the tip of the iceberg. There are cases that people won't come forward. They're afraid of their immigration status, they're afraid of their family's immigration status. There's a lot of cases out there that we might not have even found yet. We have to send inspectors out to see if there's problems out there.
We also need to do something on the penalties. We can only fine a company – I think it's $15,156. So if you're a contractor or you're a company, you're using child labor because you want cheaper labor, you want to be undercutting people, you want to be able to make a bigger profit, you want to take advantage of people. If you're charging them $15,000 per violation, they've already made that money if they're using a child. They've already made it. So we really have to look at how we can raise the penalties for child labor. And then we're also going to look at the system as a whole. This agency was decimated in the last administration. If Congress chooses not to give us more enforcement officers to protect these companies that are violating the law by using children, then they're accomplices in this.
The Post: You helped broker a deal last year between freight rail companies and their unions that Congress imposed by force in December after four of the 12 unions voted against it. Did you anticipate while negotiating it that some unions might reject it?
Walsh: I did. The union membership is no different than the electorate of America. Those four unions voted down the contract for different reasons. Three of the four, the biggest issue was paid sick leave.
One of the unions voted it down because of work rules and conditions.
As I got into this negotiation – I got into it late. The contract expired. I want to say they went like 18 months without even negotiating. The companies didn't negotiate with the unions. And then when they began to negotiate they brought a mediator in. The mediator wasn't able to really get to an agreement. I got involved at that point.
I sat down with them to try to keep them at the table. The unions requested a presidential emergency board to be put together. It's not the first time a president did this. George Bush did it.
The president put together a presidential emergency board. They put their proposal on the table. They came back and made recommendations, what should be in the contract. Sick time was put on the table by the unions but the PEB didn't feel that should be in the agreement. So they came back with a 24 percent raise, work condition changes, preserving health care, things like that.
And then the companies and the unions were still trying to negotiate a little more. That's when I brought them in here.
Was I surprised? No. But do I stand by the process, what we've done, moving forward? Yes. We did all the things we were asked to do. We're living in a very difficult time. We had, at that point, the height of inflation. We just got off the L.A. ports [labor dispute] and the supply chain issues of the previous holiday season. The economy just couldn't take another hit.
Saying that, the contract's a good contract. At least two of the companies have already begun to negotiate and have offered the unions paid sick leave. We made it clear – myself, [National Economic Council Director] Brian Deese, the president – made it very clear to the companies that you need to address this issue, and they are. Most of them are.
The Post: Do you think there's anything that you could have done differently that would have resulted in a contract proposal the unions would have accepted?
Walsh: I wish I knew earlier. We got into it halfway through the fourth quarter. If we had gotten into it a little earlier, I think it might have been a better conversation. Because in a very short period of time, I had to get to know the union leadership – I knew who they were, but I didn't really know them all. And then I had to get to know the companies, which I had very little relationship with. If we had got there six months earlier, I think the outcome would have been a vote in favor from all the unions.
The Post: Some union members have criticized Biden for urging Congress to impose the deal. "I assume Biden is hoping we have a short memory," one conductor, Beau Trego, told The Post. "This shows that for him big business is more important than the worker's plight."
Walsh: Without President Biden, he doesn't get a 24 percent increase in wages and he doesn't have a company right now negotiating [with] his union for health care. It was the union, his leadership, that asked the president to step up and do the PEB. If the president hadn't done that, they wouldn't have been able to preserve their health care. Health care was one of the most important issues for them. Wages was another very important issue for them. Sick time was an issue [but] it wasn't at the top of the list – at least brought to my attention – until after the fact.
The Post: The Senate tried and failed to pass an alternate agreement that would have given workers seven days of paid sick leave, which failed even though six Republican senators voted for it. Would you have supported such a deal if it had passed?
Walsh: If the Senate put it in? Absolutely. Congress has the ability today to get together and do paid sick time for every American if they want. Let's not grandstand. If you're going to do it, do it, and do it for every American that doesn't have sick time.
The Post: We last saw each other in October in Indiana at an event you did with Democratic Rep. Frank Mrvan. He won reelection by only six points in a union-heavy district that used to be solidly Democratic. Do you worry union members are moving away from Democrats?
Walsh: I think both parties right now are in this place of fighting for their traditional voters. The moderate Republicans are looking for a place to go. You have some organized labor people over the last couple of elections not sure if the Democratic Party is the right party for them. I think the parties and the candidates have to do a better job of defining what they stand for.
The Post: You were mentioned as a potential successor to Ron Klain as White House chief of staff. Did you end up interviewing for that?
Walsh: It was an honor to be mentioned. I never talked to anyone about it. The president never mentioned it to me. Nobody ever called me about it. Ron Klain didn't call me about it. Jeff Zients didn't call me about it. My mother didn't ask me – no one asked me about it. So when I read that, I was like, Holy [unintelligible], where did that come from?
The Post: You passed on running for governor last year. Would you consider running in the future?
Walsh: I'm not going to rule anything out. We have a brand-new governor of Massachusetts, Maura Healey. She's going to be an incredible governor.