Politics
New Hampshire Poll: Voters support a Biden-Trump rematch
The results of the polls indicated that if the two were to go head-to-head for the second time, Biden would come out on top.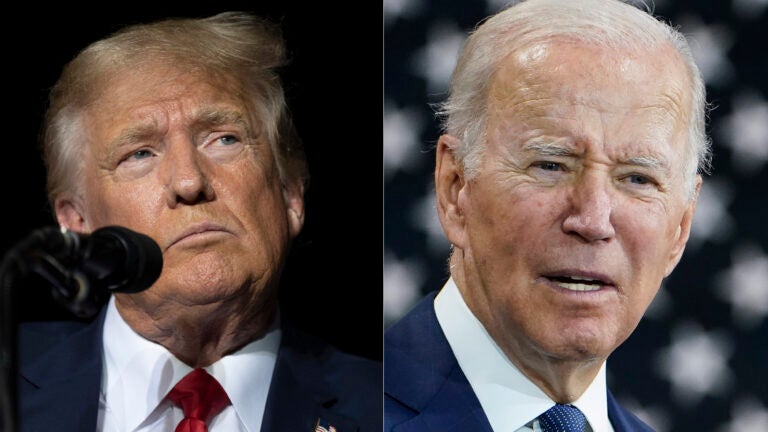 New Hampshire voters seem to want a rematch between President Joe Biden and former President Donald Trump, a new Emerson College Polling/7 News WHDH poll found.
The poll of more than 1,000 people indicated that Democrats continue to predominantly support Biden and Republicans continue to overwhelmingly back Trump. And if the two were to go head-to-head for the second time, Biden would come out on top, as the current president leads Trump by four points.
Biden remains the best candidate for Democrats
While 55% of polled Democratic primary voters preferred the party nominate someone other than Biden, when given a list of potential Democratic candidates, Biden received a 29% plurality — 12 percentage points higher than Senator Bernie Sanders, the second highest-ranked candidate.
Forty-four percent of polled Democratic primary voters did say they would like to see a Biden nomination, but that mark is a far cry from Biden's 71% national support from Democratic voters.
Biden carried New Hampshire in the 2020 presidential election by more than seven points, but concerns over the 80-year-old's age and his desire to move the first national primary out of the granite state have slashed his support. In addition to the 55% that think Biden should not be the Democratic candidate, those polled gave the President a 38% approval rating.
Age seems to be a key indicator of support for Biden, with younger voters showing greater opposition to the President than older voters.
"There is an age divide in the Democratic electorate in New Hampshire," Spencer Kimball, Executive Director of Emerson College Polling said in a press release. "Biden has 30% support with voters under 50, 50% support among voters in their 50s and early 60s, and 68% of voters over 65 support Biden as the nominee."
Republicans keep Trump in the top spot
Similar to Biden, Trump's support also puts him atop his respective party's polls. Trump leads the Republican field by 41 points, with 58% support from New Hampshire Republicans. When only accounting for candidates who have announced their campaigns, that lead leaps to 53 points.
Trump polls over Florida Governor Ron DeSantis, who has yet to announce his candidacy, and New Hampshire Governor Chris Sununu, who received a 48% approval rating from the poll.
"Similar to our February national poll, Trump finds his primary base among young voters: 67% of Republican primary voters under 35 support Trump as the nominee," Kimball said. "Unlike the national survey, where DeSantis found a base of voters over 65 and those with higher educational attainment, DeSantis holds no such base at this time among New Hampshire Republicans. Similarly, Governor Sununu is unable to surpass 10% among any demographic groups."
The rematch
Though Biden's support in New Hampshire seems weak, he still edges out Trump when the two are put head to head. The poll, which surveyed nearly the same amount of Republican and Democratic voters, showed a four-point lead for Biden in a head-to-head with Trump.
When asked who they would vote for, Biden received a plurality of 42% to 38% from New Hampshire voters, with 16% saying they would support someone else and 4% undecided.
The poll also showed that a majority of polled New Hampshire voters, 76% feel it is important that the New Hampshire presidential primary remains the first primary in the country. And 58% of those polled showed support for legalizing marijuana.
Newsletter Signup
Stay up to date on all the latest news from Boston.com