Politics
Violent incident on plane to Logan was last straw for Rep. Stephen Lynch
Lynch said the recent escalation of incidents and "close calls" at Logan Airport is "very troublesome" and called for vigilance.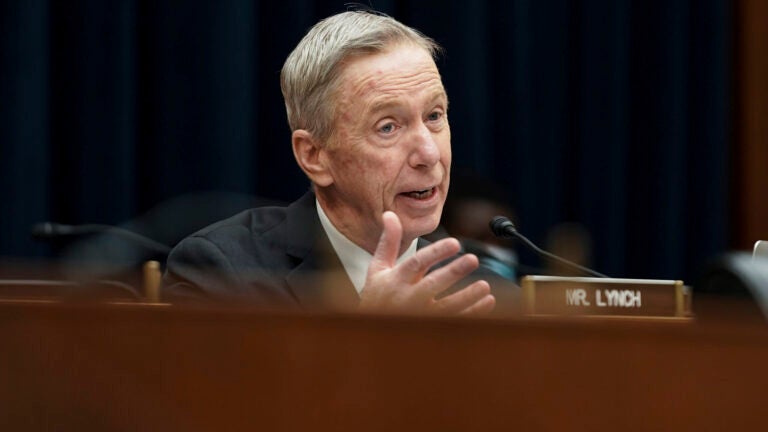 U.S. Rep. Stephen Lynch is pushing for an "urgent" review of Federal Aviation Administration flight operations and an update on investigations into three "troubling" incidents that happened recently at Boston Logan International Airport.
The first incident came last week, when a JetBlue pilot had to take "evasive action" to avoid colliding with another plane that took off without clearance.
On Monday, one United Airlines plane clipped another as both were set to depart, just one day after a passenger was arrested at Logan for allegedly trying to open an emergency exit and stab a flight attendant, also on a United flight.
"I am relieved that no one was hurt or injured in all three events, however the escalation of incidents and 'close calls' at Logan airport is very troublesome," Lynch, who represents Massachusetts' 8th District, said in a statement.
The congressman sat on the Transportation and Infrastructure Committee in the last Congress, when it held a hearing to examine a surge of disruptive behavior on airplanes, his office noted in a press release.
"The FAA is responsible for flight operations and I have already requested a briefing with their officials to get an update on their investigations into how these events occurred and proposed solutions to ensure they do not continue," Lynch said. "We must be vigilant and address these issues now to prevent more accidents from happening with potentially far worse outcomes."
Unruly passenger behavior by the numbers
The FAA announced last year that it would make its Zero Tolerance policy against unruly passengers permanent. That policy, under which the FAA issues fines for unruly behavior, was first implemented in January 2021 following a "disturbing" rise in incidents.
The agency logged 2,359 unruly passenger reports last year following record highs in 2021, during which it saw 5,981 unruly passenger reports and several thousand mask-related incidents.
Interfering with a flight crew member's duties violates federal law, and the passenger accused in Sunday's attempted stabbing, 33-year-old Francisco Severo Torres, has been charged with one count of interference and attempted interference using a dangerous weapon.
If convicted, he faces a sentence of up to life in prison, up to five years of supervised release, and a fine of up to $250,000.
Federal court documents revealed that Torres has spent time in two Massachusetts psychiatric hospitals and sued them both.
In 2021, he accused the state-run Worcester Recovery Center and Hospital of medical malpractice for an alleged misdiagnosis. Torres, a vegan, also sued Attleboro's Fuller Hospital for $30 million to $500 million last year, claiming the facility violated his constitutional rights in part by denying him almond milk and providing limited food options.
Both cases were later dismissed.
The Leominster man also has a history of odd and threatening behavior, according to WCVB.
He was charged in 2015 with trying to rob a Fitchburg convenience store, the news outlet reported. Two years later, Torres was accused of assaulting his mother by grabbing her wrist to take away her car keys, though officials dropped the assault charge at his mother's request, according to WCVB.
Newsletter Signup
Stay up to date on all the latest news from Boston.com