Politics
Is there a rift between Kamala Harris and Sen. Elizabeth Warren? A CNN report suggests so.
Harris has reportedly not returned Warren's calls after the latter called to apologize for her remarks during a GBH interview in January.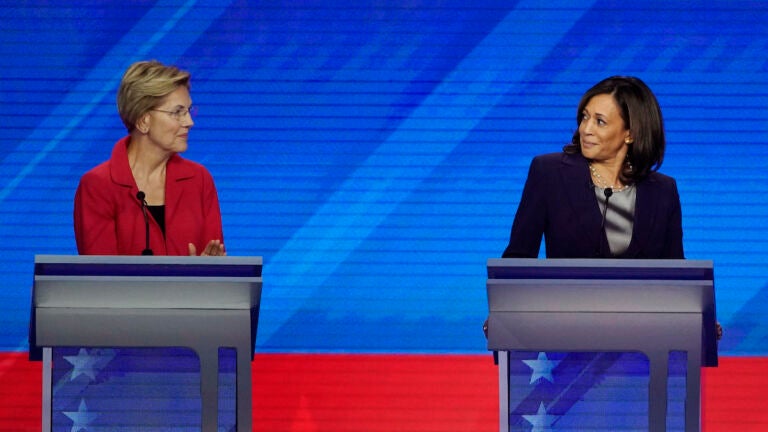 Sen. Elizabeth Warren and Vice President Kamala Harris first met each other over the phone.
Just as the 2008 housing market crash was shaking up the economy, Harris, then the attorney general of California, was trying to figure out how to protect homeowners, and Warren, then a Harvard Law professor, was "the person clanging the bell about the housing bubble," as the latter recalled to InStyle magazine in October 2020.
The two began working long-distance together alongside other attorneys general from around the country, Warren said.
And apparently the pair had a fruitful working relationship: When Warren considered a run for the Senate in 2012, Harris visited Warren's Cambridge home and gave her some advice about what to expect from a life in public office.
"Then I tried to help her when she ran for senator. It's been a back and forth, woman to woman, helping each other as we moved into new roles," said Warren, who eventually became Harris' rival as the two both sought the Democratic nomination for president.
When President Joe Biden beat them both in the primaries and selected Harris to join his ticket, Warren, once considered a vice president contender herself, gave Biden's pick an enthusiastic endorsement.
But these days, Warren is reportedly having trouble getting her old friend on the phone again.
According to a CNN report this week, Harris has not returned two calls from Warren since January, when the Massachusetts senator seemed to punt on a question asking whether Biden should keep Harris as his running mate in the 2024 election.
"I really want to defer to what makes Biden comfortable on his team," Warren said during an interview on GBH's "Boston Public Radio."
She continued: "I've known Kamala for a long time. I like Kamala. I knew her back when she was attorney general and I was still teaching, and we worked on the housing crisis together. So we go way back. But they have to be a team, and my sense is, they are. I don't mean that by suggesting there are any problems. I think they are [a team]."
Warren then quickly clarified her remarks in a statement to GBH News: "I fully support the President's and Vice President's re-election together, and never intended to imply otherwise. They're a terrific team with a strong record of delivering for working families."
In the months since, Warren has reportedly called Harris twice to apologize for her initial comments, multiple sources close to the two officials told CNN.
But Harris has not returned them.
"Pretty insulting," is the way one person close to Harris described how people within Harris' office are feeling over Warren's remarks.
Meanwhile, people close to Warren told CNN the senator was calling Harris to say her statement was simply a mistake made in an attempt to avoid impeding on any possible announcement from the Biden campaign.
When contacted by the cable news outlet, a spokesperson for Warren pointed to the statement the senator released in January.
Another person close to Warren stressed to CNN how Warren and Harris have had a close relationship, including when Warren was the first sitting senator to endorse Harris in her run for the Senate.
In trying to reconcile, Warren called and spoke with Harris' chief of staff, who returned Warren's call on Harris' behalf, a source told CNN.
Frustration in the Harris camp is not necessarily isolated to Warren's interview, however. As CNN notes, those in the vice president's orbit see the matter as only the latest in a series of snubs and disrespect shown to Harris since she entered the office over two years ago.
But, some Democrats are now considering how Harris' image could impact the viability of a 2024 ticket that's the same as the 2020 bid, especially as Biden enters his 80s.
"Right now, she seems to be an albatross," one state Democratic Party chair concerned about Harris' poll numbers, and about Biden's reelection, told CNN. "She's either going to be a liability or a help. And you better embrace her because it's not like she's going to be off the ticket."
Harris declined an interview request from the network, and her press secretary Kirsten Allen also declined to comment to the outlet about what happened with Warren.
"Whether advancing the priorities of the Biden-Harris administration, defending Americans from unrelenting Republican attacks on freedom and liberty, or helping to restore our nation's reputation on the global stage, the vice president remains laser-focused on improving the lives of the American people," Allen said in a statement to CNN.
Newsletter Signup
Stay up to date on all the latest news from Boston.com