Politics
As rent control plan advances, Mayor Wu addresses her critics
Mayor Michelle Wu said her administration is looking to build State House support "on all fronts." The Greater Boston Real Estate Board, meanwhile, is diametrically opposed to Wu's rent control proposal.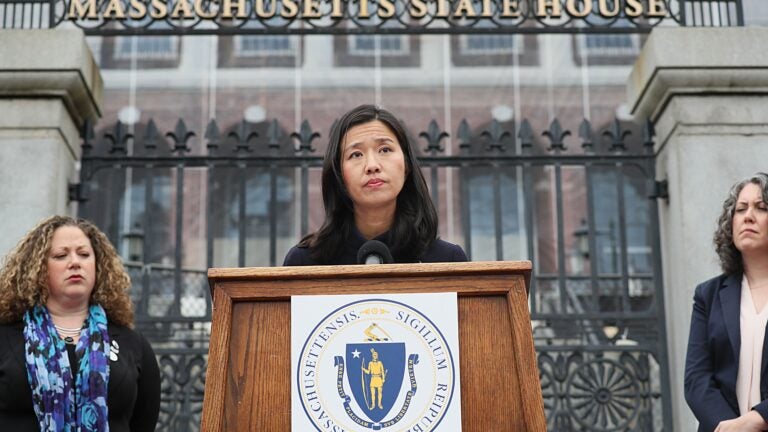 Historically, home-rule petitions, like the one from Mayor Michelle Wu that would re-establish rent control in Boston, have faced a tough road to secure the votes needed on Beacon Hill to become law.
But Wu vowed her administration is "trying on all fronts, from every angle" to build support at the State House, as the mayor made her case against the naysayers on Tuesday.
"We're talking about a proposal that is extremely balanced," Wu said during an appearance on GBH's "Boston Public Radio." "Usually it'll end up being a 7 or 8% limit on rent increases. Most landlords across the city are decent human beings taking care of their tenants and who know that it's in their financial interest to have stable tenants.
"For the people who are advocating to have the ability to implement 30% rent increases, 100% rent increases, I mean, maybe you're talking about a brief window of short-term profit, but that is hurting all of us, including those very real estate folks, in the medium and long run," she said.
Wu confirmed on the NPR affiliate's program Tuesday she has already signed the petition to establish a maximum annual rent increase of 10 percent in the city that city councilors approved last week.
With her signature, the measure heads to the state's halls of power, where it will need support from both lawmakers and Gov. Maura Healey to become law. (Wu also signed another substantial home-rule petition aimed at reforming the Boston Planning and Development Agency on Friday.)
If enacted, the law would limit year-over-year rent hikes to the change in the Consumer Price Index plus 6%, or 10% at most, whichever of the two figures is lower.
The proposal also provides several exemptions to the law, including for owner-occupied properties with six units or fewer, properties where the owner and tenant share bathrooms or kitchens, and for new apartment buildings and developments for the first 15 years after the city issues a certificate of occupancy.
Landlords would also be able to set their rents back to the market rate between tenancies.
The act would set rent restrictions on an estimated 56 percent of all rental units in Boston, or some 185,000 dwellings.
The measure has faced heavy criticism from the region's real estate sector.
Since Wu first put forward the petition, the Greater Boston Real Estate Board has launched a nearly $400,000 public opposition campaign dubbed, "Rent Control Hurts Housing." The board vowed to expand the effort after last week's council vote.
Asked Tuesday if she has spoken with the GBREB about its qualms, Wu said officials have had public conversations with the board, but ultimately, the organization has been unwavering in its stance.
"They want the ability to implement drastic rent increases, again for maybe a few people's very short-term interest but in everyone's long-term harm. … They have said there's just no point at which they'd be willing to compromise on any of it," Wu said. "They have said this proposal itself is one of the most reasonable that they have seen and they have acknowledged that we've taken steps to ensure it won't harm housing production and that we're really aiming to use a number of tools all together comprehensively.
"But they are paid to lobby for a constituency and to create the sense that we need unfettered access for the economy to do its thing," Wu continued. "Clearly that hasn't been working, and clearly the vast majority of landlords are already doing the right thing. This is just about protecting those residents … who do experience unnecessary and unaffordable extreme rent increases."
In a statement to Boston.com Tuesday afternoon, Greg Vasil, CEO of the GBREB, said his organization shares Wu's belief the city and state at-large are facing an unparalleled housing crisis.
But Vasil maintained Wu's plan is the wrong way to go about handling it.
"Rent control in any form is not the solution," Vasil said. "While this proposal may appear modest, both testimony delivered to the Boston City Council and trends across the country have highlighted how it is only a matter of time before supporters push for further rent restrictions, which would result in decreased maintenance on existing units and a drop in new housing production."
Instead, Vasil said officials should look to tame Boston's rental market by boosting housing production and rolling back bureaucracy, not adding to it.
"The city and state must focus on eliminating red tape and easing zoning rules to bolster the creation of new housing at all price points," Vasil said. "That will provide the surest path to increasing supply and decreasing costs for everyone."
Leading up to the council vote, the GBREB contacted Boston residents through text messages, direct mail, and digital videos, and was preparing phone banks, to funnel their input to Boston city councilors.
But whether state officials will be swayed by arguments against Boston's rent control request remains to be seen, especially as a recent poll found broad support for these kinds of policies statewide.
A survey of likely voters across Massachusetts conducted in February by polling firm Change Research found a large majority of respondents support Wu's proposal.
Sixty-five percent of likely 2024 voters support a ballot question to empower local leaders to make decisions on rent control in their communities, and an even higher percentage, 68%, either "strongly support" or "somewhat support" Wu's petition to cap increases at 10% or less.
Newsletter Signup
Stay up to date on all the latest news from Boston.com