Politics
Should Boston ban nips? City councilor calls for hearing on potentially outlawing mini bottles of alcohol.
Councilor Ricardo Arroyo wants to consider having Boston follow cities like Chelsea and Newton in prohibiting sales of the tiny bottles of booze.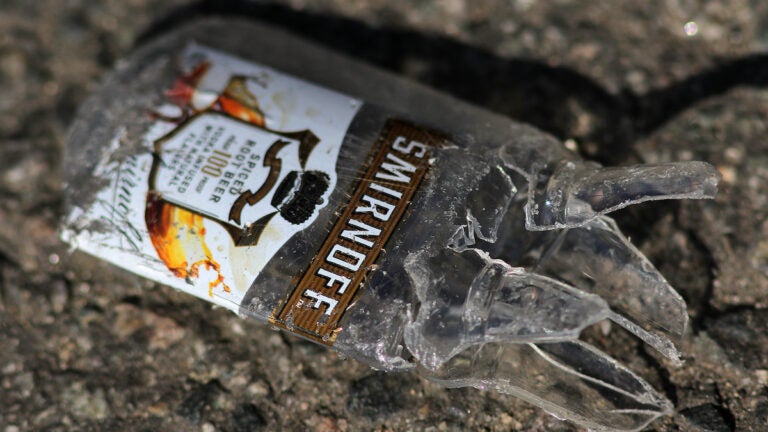 Citing potential benefits for public health and combatting litter, Boston City Councilor Ricardo Arroyo wants officials to weigh whether the city should follow Boston's regional neighbors and outlaw the sale of miniature alcohol bottles commonly known as "nips."
On Monday, Arroyo filed a hearing order to bring together the Boston Public Health Commission and Licensing Board to discuss how a ban could positively impact public health.
"The data is clear that in cities that have banned the sale of nips there is a significant and positive impact on public health," Arroyo said in a news release. "We should put the wellbeing of our communities first by banning the sale of nips in Boston as well."
Several communities in Massachusetts have already prohibited bottles of alcohol that are 100 milliliters or less, including nearby Newton and Chelsea and others around the commonwealth, such as Wareham, Mashpee, Nantucket, and Falmouth.
According to Arroyo, the Boston Licensing Board has the authority to prohibit the sale of nips or single containers of beer when granting a liquor store license.
"The City of Boston should take action in addressing the health-related inequities caused by alcohol abuse to ensure safer and healthier communities, while freeing up public health resources for non-alcohol related hospitalizations," he wrote.
Arroyo's hearing order cites statistics from a CommonWealth magazine report published in 2019 that says a year after Chelsea became the first municipality in the state to pass a ban, the city saw a drop in alcohol-related emergency calls.
The city's ambulance contractor, Cataldo Ambulance Service, recorded 742 alcohol-related ambulance responses in 2017, 556 in 2018 as the ban took hold, and 127 as of August 2019.
According to the hearing order, first responders in Chelsea responded to 1,000 calls for "alcohol-related problems" in 2018, with 238 people taken into police custody and 781 individuals being hospitalized.
"But by mid August 2019, that number dropped to 86 individuals," the order states.
Robert Mellion, executive director and general counsel for the Massachusetts Package Store Association, told the magazine at the time the initial decline was likely due to a training course the association administrated for package store owners in partnership with the City of Chelsea.
The initiative included the creation of a "do not sell list" to people who had a history of being taken into protective custody.
Mellion told Boston.com on Monday a ban on nips is "likely more of a political issue than it is a practical solution."
"If the purpose to banning, let's say 100 milliliters [and] down, is to prevent public drunkenness, then that's not going to do it. That's not going to address the issue," he said. " … That's just because, you know, a 200 milliliter or 250 milliliter bottle can be hidden just as well as a 100 milliliter bottle can [be] so all you're going to do is incentivize somebody … to just buy several sizes up."
The ban would instead drive sales to neighboring cities, he said. Store owners in communities such as East Boston and Everett saw sales increase the year after the Chelsea ban took hold, according to Mellion.
"At the same time, too, many stores in Boston don't sell below 100 milliliters anyway, because they have an understanding with the city and they just typically don't do it," he said. "I just don't know what that ban is going to do other than just be a ban, and that's going to be a burden for some store owners, particularly the smaller folks that actually rely upon those sales."
Arroyo's hearing order suggests the conversation is one worth having, not only for public health, but also for the litter the bottles create on Boston's streets.
Nip bottles are not biodegradable and cannot be recycled because of their size.
"In the Hyde Park neighborhood of Boston, residents in efforts of reducing litter collected 10,000 nips in less than two months highlighting the impact littering has on our communities," Arroyo wrote in his order.
According to Mellion, the Package Store Association has partnered in community clean-up events over the years and has actively tried to discourage littering, through providing and encouraging messaging in liquor stores.
The association has also, for three legislative sessions on Beacon Hill, pushed to expand the state's "bottle bill" — the law that provides for a 5-cent recycling deposit on select bottles and cans — to include nips or small bottles.
"I think that there's a lot of better ways to do this than to hurt small businesses that are just struggling," he said. "For a small corner store to lose the 50 milliliter product, that will be devastating to them because for them it's 20% of their sales. And in an industry where net income is roughly about 3%, that's going to wipe them out."
Arroyo's hearing order will be formally presented at Wednesday's council meeting and will then be assigned to a committee for scheduling.
Newsletter Signup
Stay up to date on all the latest news from Boston.com