Politics
What Mayor Wu said about the North End lawsuit at the St. Paddy's breakfast
Mayor Michelle Wu made a few jokes poking fun at the lawsuit filed by North End restaurant owners earlier this month.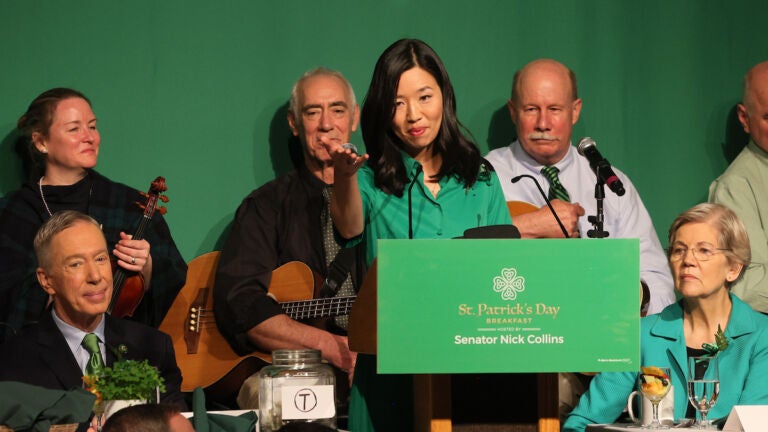 Some people check their email inbox first thing in the morning. Mayor Michelle Wu checks the court dockets to see who's suing her, she quipped Sunday.
That's one of the jokes Wu rattled off at Sunday's St. Patrick's Day Breakfast in South Boston, where the mayor joined in the annual tradition of the city's elected officials poking fun at the latest news — and each other — by taking playful aim at a few of her recent legal battles.
Among those matters in court: an amended lawsuit filed earlier this month from a group of North End restaurant owners claiming Wu's outdoor dining policy for the neighborhood intentionally discriminated against them because they are white and have Italian heritage.
Wu told the holiday breakfast attendees the North End has always had "a really special place in my heart."
"It's been the site of many firsts in my life, and I used to live there. I had my first date with my Italian-American husband there, we had our wedding rehearsal dinner there, celebrated the baptism of our firstborn son there, and recently I was served my first subpoena there," Wu joked.
"When they gave it to me, I said, 'What is this? I thought I ordered the veal Milanese,' and they said, 'You did, but instead, we're giving you the vaffanculo,'" she added, mentioning the Italian slang for "f— off."
Tensions first flared in the North End last year, when Wu levied a $7,500 fee for outdoor dining permits for restaurants solely in that neighborhood.
Wu said the charge was needed to address the unique impacts outdoor dining poses in the North End, where traffic and parking became headaches among the table-lined narrow side streets, among other issues, such as trash displacement and rodent problems.
After an outcry from restaurateurs, Wu went on to announce flexible parameters, including fees tailored to operating schedules, the ability to pay the sum in installments, and a hardship waiver process to account for factors restaurants face on a case-by-case basis.
A group of restaurant owners first filed a lawsuit against Wu in federal court in May, alleging the fees were unconstitutional. In October, however, a judge granted the city's motion to dismiss the case, agreeing the owners lacked legal standing in arguing their personal liberties were infringed.
Earlier this month, the cohort of owners — Jorge Mendoza-Iturralde, of Vinoteca di Monica; Carla Gomes, of Terramia Ristorante and Antico Forno; Jason and Kim Silvestri, of Rabia's Dolce Fumo; and Patrick Mendoza, of Monica's Trattoria — filed an amended complaint arguing instead Wu, the first woman and person of color to be elected mayor, intentionally discriminated against them because they are white, Italian men.
"The common identity of a North End restauranteur is white. Male and of Italian heritage [sic]," the latest complaint states. "The Plaintiffs had a right to be treated the same as other restaurants in the City who were granted outdoor dining and not singled out to pay fees … to have outdoor dining because of their sex or national origin/ethnicity as appears in this case."
As part of their complaint, the group cited a joke Wu made during last year's St. Patrick's Day Breakfast, soon after she had made it through her first major snowstorm in office and received some criticism for her mandate for all city employees to be vaccinated against COVID-19, including from the local firefighters union.
Wu laughed at the time that she had made it through both "trial by snow, trial by fire … fighters union."
"I'm getting used to dealing with problems that are expensive, disruptive, and white," she said. "I'm talking about snowflakes, snowflakes, snowstorms … snowflakes."
On Sunday, Wu quipped how comments from women who speak at the breakfast are often taken out of context.
"I look forward to the breakfast every year," she said. "For the men, it's their annual opportunity to tell a few bad jokes that no one will remember. For the women, it's our chance to tell a few bad jokes that will get taken totally out of context and played on Tucker Carlson."
In her five-minute-long remarks, Wu also applauded the abundance of Democrats in the room, many of them women now, after Gov. Maura Healey, the former attorney general, and Lt. Gov. Kim Driscoll, the former mayor of Salem, were elected to succeed outgoing Republicans Gov. Charlie Baker and Lt. Gov. Karyn Polito last fall.
She also took a few shots at the embattled MBTA, which has dealt with everything from an Orange Line car bursting into flames last summer to the delayed commutes thanks to slow zones in the past month.
"I am already having a great time working with this new power duo, Gov. Maura Healey and Lt. Gov. Kim Driscoll," Wu said. "Although if you look closely, the lieutenant governor looks a little nervous today. In her town, the last time this many women got together to talk politics, they set them on fire.
"Here in Boston, don't worry: We only set train cars on fire," she added.
Watch Mayor Wu's full remarks:
Newsletter Signup
Stay up to date on all the latest news from Boston.com