Politics
Here's why Boston could ban the sale of guinea pigs
The number of guinea pigs surrendered to the MSPCA or found astray has surged in recent years.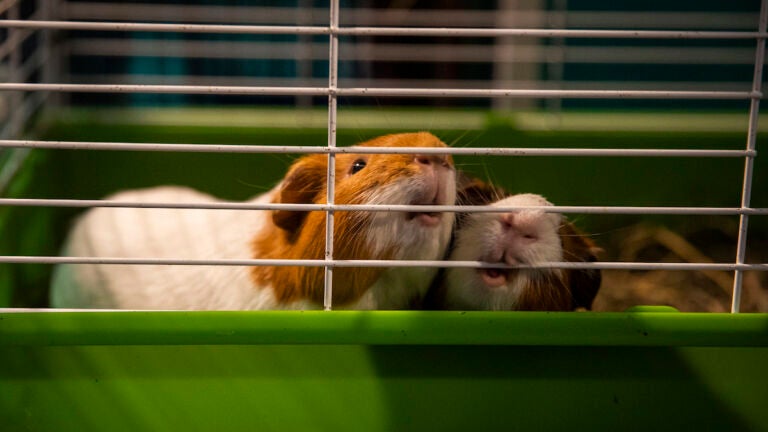 Amid a noticeable uptick in the number of guinea pigs surrendered to Boston's animal shelters, or even left astray, a proposed ordinance before the City Council could, if approved, ban the sale of the rodents in the city's pet shops.
Boston City Councilor Liz Breadon filed the proposal Wednesday, citing a 37 percent increase in guinea pigs surrendered to the Massachusetts Society for the Prevention of Cruelty to Animals at its Jamaica Plain adoption center since March 2020.
The MSPCA, she said, determined the majority of those animals — over 60 percent — were originally purchased in pet stores.
"Guinea pigs remain in their shelters nearly twice as long as cats and dogs, and the average length of stay at the MSPCA for a guinea pig in 2022 was 29 days compared to just 13 days for cats," Breadon told her council colleagues. "As a result, cages at the MSPCA and other local shelters are consistently full, making it challenging to readily accept additional guinea pigs throughout the year."
Furthermore, data compiled by 311, the city's constituent service center, shows the number of stray guinea pigs has also grown over the past three years, according to Breadon.
Reports of apparently homeless guinea pigs wandering about have come from "all across the city," including in Allston, Fenway, Dorchester, Roxbury, Mattapan, and Mission Hill, she said.
Breadon's proposal is an amendment to an ordinance passed in 2016. Championed by former Councilor Matt O'Malley, the "puppy mill bill" made Boston the first community in the state to ban the sale of dogs, cats, and rabbits from commercial breeders.
Under the law, stores can work with shelters or other organizations to help customers adopt animals. Customers can also directly purchase animals from breeders.
The MSPCA was a driving force behind that legislation and also approached Breadon about the now pending amendment, according to MSPCA Director of Advocacy Kara Holmquist.
"We thought that particularly because our shelter here is in Boston and the Boston City Council had been previously supportive of this idea and understood the problems, that now we can really point to the reasons why we would want to add guinea pigs to Boston's measure," Holmquist told Boston.com Thursday.
As the number of small animals — including rabbits, birds, and hamsters, too — available for adoption has surged, animal advocates have theorized the rise was brought on by the earliest days of the COVID-19 pandemic, when people sought companionship in lockdown and opted for a pet to fill the void.
But as society reopened, those pet owners may have no longer had the ability — or desire — to care for them, leaving them to the adoption system to handle.
"Generally they're less expensive, and I think people think they're easier to care for," Holmquist said. "[But] they take more time and energy than people might initially think …
"I think some people may place less value on the smaller animals," Holmquist added. "You know, they feel and they suffer, and need our protection just as much as … the ones that sit on the sofa next to us."
A typical lifespan for guinea pigs is five to seven years.
They are also particularly social animals: According to the Humane Society of the United States, guinea pigs "do best with the companionship of another pig," and providing adequate care and attention to a solitary pig "is a tall order."
Still, Holmquist said the MSPCA saw an influx in the number of guinea pigs entering its facilities even before the pandemic.
"We've seen … a 54 percent increase in the past 10 years," she said.
Boston is not alone in considering a potential sales ban on the rodents.
More communities around Massachusetts have adopted laws setting limits on the sales of different animals since 2016 — as many as 14 cities and towns, according to Holmquist, who noted a law passed in Attleboro in October included a ban on selling guinea pigs.
Cambridge also has a law on the books. In 2017, officials voted to pass what was then considered to be the most wide-reaching law of its kind in the United States, opting to ban the sale of many kinds of commercially-bred animals, cats and dogs, yes, but also amphibians, birds, reptiles, arachnids, hamsters, and gerbils.
Last year, the New York City Council considered a law similar to the one now before its Boston counterpart, citing a rise in shelter stays for guinea pigs in the five boroughs, although the council did not take any action on the measure.
"New York was unable to take action before the end of the year," Breadon said Wednesday. "I'm confident that Boston will again lead the way on this issue."
Newsletter Signup
Stay up to date on all the latest news from Boston.com