Politics
Dem senators from 4 states — including RI, Conn. — ask NOAA to address whale deaths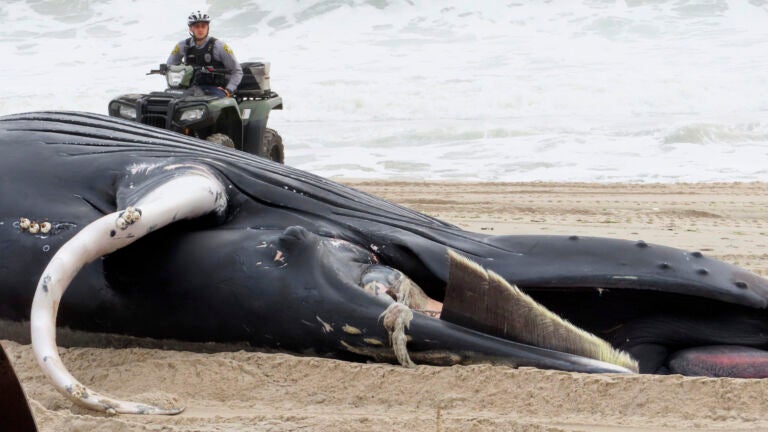 ATLANTIC CITY, N.J. (AP) — Democratic U.S. Senators from four states want federal environmental officials to address a spate of whale deaths on both coasts, urging "transparency and timeliness" in releasing information about whale deaths and their causes.
The call late Tuesday by New Jersey Sens. Robert Menendez and Cory Booker; Connecticut Sen. Richard Blumenthal, Oregon Sen. Jeff Merkley, and Rhode Island Sen. Sheldon Whitehouse for action by the National Oceanic and Atmospheric Administration marked the first large-scale request for action by Democratic federal lawmakers on an issue that has rapidly become politicized.
Thus far, mostly Republican lawmakers have called for a pause or an outright halt to offshore wind farm preparation work, which they blame for the deaths of whales along the U.S. East Coast since December.
But in their letter to a NOAA administrator, the Democratic senators conspicuously did not blame — or even mention — offshore wind as a potential cause of the deaths. Numerous federal agencies have said there is no evidence linking it to whale deaths, many of which were determined to have been caused by ship strikes or entanglement with fishing gear.
In a statement to The Associated Press on Wednesday, Booker said he wants the agency to protect whales and communicate quickly about any deaths.
"To protect these animals, we must follow the facts and address the known, documented causes of death," he said. "We know that NOAA's preliminary findings for many of the whales washing up along the Atlantic coast this year have shown evidence of a vessel strike."
The senators voiced particular concern about two deaths of endangered North Atlantic right whales, although most of the whale deaths involved the more plentiful humpback species.
"Without action, the (North Atlantic right whale) will likely go extinct," they wrote. "If we do not act, other whale species may face the same fate."
Lauren Gaches, a NOAA spokesperson, said that as of Wednesday, 30 whale deaths have been recorded on the Atlantic Coast since Dec. 1. They were 21 humpback whales; three sperm whales; three minke whales; two North Atlantic right whales and one sei whale.
The senators also expressed concern about the deaths of gray whales on the West Coast, where 298 of the animals have washed ashore since 2019. Some showed signs of emaciation, but NOAA said more research is needed.
NOAA has declared "unusual mortality events" involving whales on both coasts, including one on the East Coast dating back to 2016.
Gaches said the agency will work directly with Congress to address any concerns it may have about the issue and the agency's response to it.
The senators asked NOAA to detail how it plans to address and prevent whale deaths; outline the agency's procedures for notifying the public when a whale deaths is discovered and when the results of necropsy examinations are ready; and list any challenges the agency faces in determining the causes of whale deaths, and whether specific actions by Congress or the administration might help.
They noted that since 2008, NOAA has implemented vessel speed regulations to reduce the number of whale deaths caused by boat strikes, and that updated rules regarding the issue are due by June.
On March 16, four Republican Congressmen held a hearing in Wildwood, New Jersey to call for a pause on all offshore wind projects.
Rep. Christopher Smith of New Jersey called for a pause on such work until the U.S. Government Accountability Office can investigate the "sufficiency of the environmental review processes for offshore wind projects." He was joined by fellow New Jersey Republican Jeff Van Drew, Andy Harris, of Maryland; and Scott Perry, of Pennsylvania in promising additional hearings and demands for information, and claiming federal agencies have ignored expressions of concern by one of their own scientists about the effects of wind farms on whales.