Politics
Sen. Elizabeth Warren is 'all good' with Kamala Harris after suggested rift
The two Democrats are apparently on good terms after the vice president reportedly did not return Warren's calls following remarks the senator made on the party's 2024 ticket.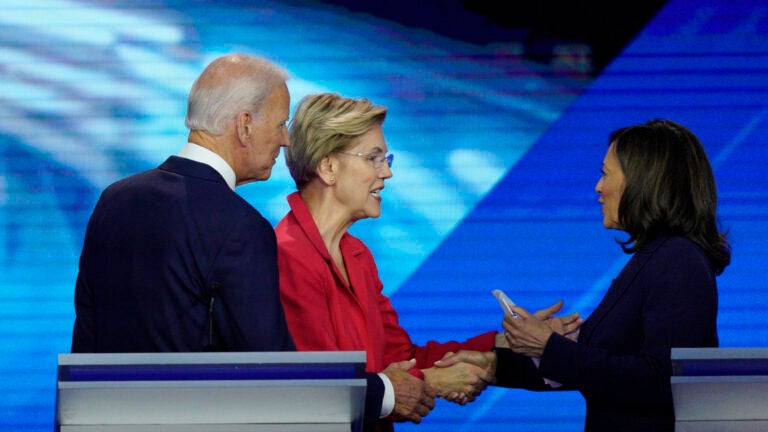 Sen. Elizabeth Warren is "all good" with Vice President Kamala Harris.
That's what the Massachusetts lawmaker said on "Boston Public Radio" on GBH News on Wednesday, clearing the air and confirming the relationship between two of the nation's top Democrats is a-OK after a CNN report earlier this month suggested it may be on the rocks.
"We had dinner together … a couple of weeks ago [with a] bipartisan group," Warren said. "All good."
Whether there was a rift between Warren and Harris, who have long held a working relationship back to the days when Warren was still a Harvard Law School professor, came into question after Warren apparently flubbed her response to a question about whether President Joe Biden should keep Harris on as his running mate in the 2024 election during an interview on GBH News in January.
"I really want to defer to what makes Biden comfortable on his team," Warren said during an appearance on the same program she was on Wednesday. "I've known Kamala for a long time. I like Kamala. I knew her back when she was attorney general and I was still teaching, and we worked on the housing crisis together. So we go way back. But they have to be a team, and my sense is, they are. I don't mean that by suggesting there are any problems. I think they are [a team]."
Warren quickly clarified the remarks in a statement to the NPR-affiliate afterward. She said she fully supported the ticket and "never intended to imply otherwise."
But according to a CNN report earlier this month, in the months since that interview, Warren reportedly called Harris twice to apologize, but her calls went unreturned.
Warren reiterated her support for Harris when asked Wednesday if she wanted to clarify her remarks live on air.
"I totally support Vice President Harris, and I think she is doing a terrific, terrific job," she said.
The senator then highlighted Harris's leadership on abortion issues, particularly since the U.S. Supreme Court overturned Roe v. Wade last year.
"She has been out there on the front lines really making the strong arguments for protection of access to abortion for all women," Warren said.
"Vice President Harris has been strong in this fight and it is a real honor to work with her, and I'm looking forward to fighting for the re-election of President Biden, Vice President Kamala Harris, and Sen. Elizabeth Warren," Warren said, referencing her bid for a third term, which she announced earlier this week. "We're all going to be on the ticket together."
Newsletter Signup
Stay up to date on all the latest news from Boston.com