Politics
Her Excellency? Even with a female Mass. governor, the state Constitution only refers to men. That could change.
Here's how lawmakers are considering making the commonwealth's Constitution more gender inclusive.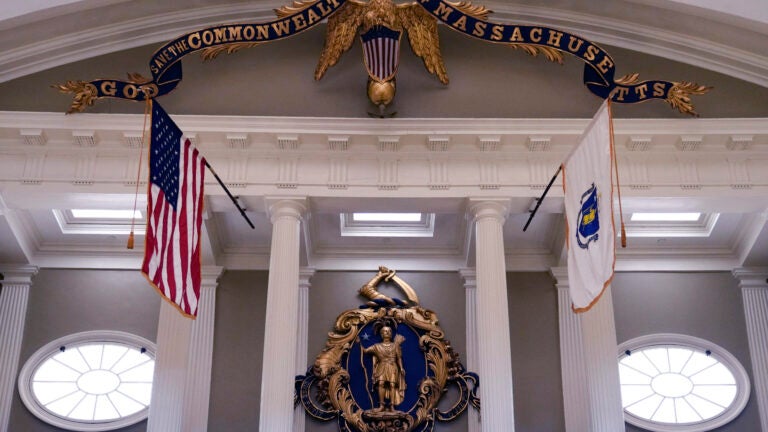 In public and around the Massachusetts State House, madame governor usually fits the bill.
That's the typical, perhaps even natural, title for Gov. Maura Healey, the first woman to be elected governor of the commonwealth — a change in speech quickly and easily made the moment she took the oath of office in January.
And Healey is only one woman in a historic all-female cohort executive team, which includes Lt. Gov. Kim Driscoll, Attorney General Andrea Campbell, and state Auditor Diana DiZoglio.
While voters backed change, some lawmakers say the time has arrived to reflect that change more formally — namely, updating the state Constitution, which currently only refers to elected officials with male pronouns.
"Clearly the Constitution's existing language had little impact on the recent electoral fortunes of women. But words matter," state Rep. Jenny Armini, of Marblehead, told the Judiciary Committee earlier this week as she presented two amendments that will, if passed, add female and gender-neutral pronouns to the state Constitution. "Language is a signal to the world. It's how we communicate our values, and it's a tool by which citizens learn who — and what — is important."
Armini's proposals would update the government document to include titles for elected leaders such as "Their Honor" and "Her Excellency" rather than just the standard "His Excellency." The amendment is among several now before the joint committee targeting different aspects of the Constitution's gendered language in various but similar ways.
According to the State House News Service, the committee has through April 26 to file reports on each and until May 10 to decide which, if any, it will put on the Constitutional Convention this legislative session.
For her part, Healey told reporters Tuesday she was not aware of the pending proposals, the News Service reports.
"I think people know how to refer to me, they refer to me in a lot of different ways," the governor said.
She also poked fun at the current language in the document, crafted in the 18th century, primarily by Founding Father and future President John Adams.
"I guess Abigail didn't have a hand in that," Healey said, making a clear reference to Abigail Adams.
As her husband considered the state's founding document and the rights of the people, Abigail Adams, in a letter, famously asked him to "remember the ladies and be more generous and favorable to them than your ancestors."
In one of the proposed amendments under consideration, state Sen. Will Brownsberger, of Belmont, offers replacing all "he" or "his" pronouns mentioned in the document with "he or she" and "his or her."
State Rep. Mindy Domb, of Amherst, meanwhile, has filed an amendment seeking to replace every instance of "he" in the Constitution and replacing it with "the person."
Domb said the document, as it stands, "does not allow young women, girls, or older women to see themselves in the Constitution."
Concurring with a point state Rep. Dawne Shand, of Newburyport, made in her remarks, Domb said she has heard her entire life that "he" as written in government papers refers to everyone.
"He is not an inclusive term. He is a gendered term," Domb said. "I grew up … hearing my whole life, 'Don't worry, 'He' includes you.' How does it include me if I wrote on a test … in first grade, 'Mindy Domb, he?' It would be wrong, and I'd be corrected."
Domb added her filing has "nothing to do with the way gender has been politicized in our country right now."
"There is no threat to changing the 'he' to 'the person,'" Domb said. "There's only an attempt to include 51% of the population in the Constitution."
Shand called Domb's approach an "elegant solution."
"It addresses not just the state's leaders, but all of us as citizens, and how our Constitution's language addresses each person," Shand said.
Armini's amendments would add gender-neutral language to the document. She said the proposals call on lawmakers to imagine a time in the "not too distant future when someone unencumbered by gender, or gender assigned at birth, sits in the corner office," she said.
"The burden of history weighs heavily here," Armini said. "How will future generations look upon us with all of our experience and knowledge? If we don't make this change will they surmise that we simply didn't care enough? Or that lingering sexism and bias prevented it?
"We have an opportunity to show our children that while Massachusetts honors its past, it prizes its present and its future more highly."
Newsletter Signup
Stay up to date on all the latest news from Boston.com