Crime
Trump indictment live updates: Latest news, developments
Trump, who's running for the White House again in 2024, called the decision by a Manhattan grand jury to indict him "political persecution and election interference at the highest level."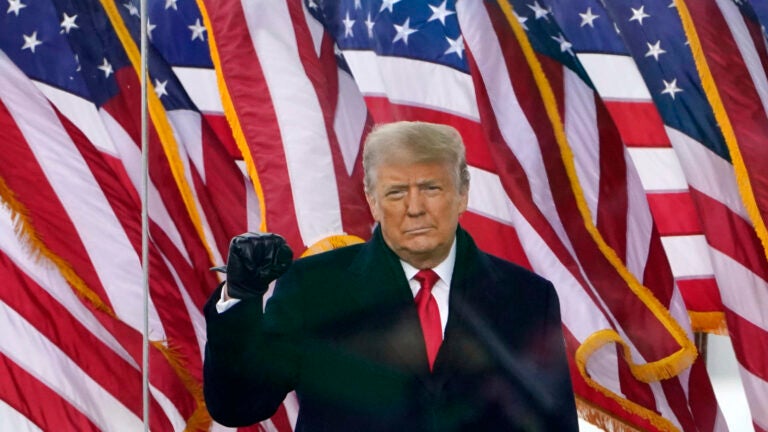 WASHINGTON (AP) — In the first criminal case against a former president, Donald Trump has been indicted on charges involving payments made during the 2016 campaign to silence claims of an extramarital sexual encounter.
Prosecutors in New York investigated money paid to porn actor Stormy Daniels and ex-Playboy model Karen McDougal to keep the women from going public with claims that they had sex with him.
Trump, who's running for the White House again in 2024, called the decision by a Manhattan grand jury to indict him "political persecution and election interference at the highest level."
Trump calls it a witch hunt
Minutes after the indictment was announced Thursday, Trump released a lengthy statement calling it the next step in a campaign from the left "to destroy the Make America Great Again movement."
"The Democrats have lied, cheated and stolen in their obsession with trying to 'Get Trump,' but now they've done the unthinkable — indicting a completely innocent person in an act of blatant Election Interference," Trump's statement said.
Trump accused Manhattan District Attorney Alvin Bragg of "doing Joe Biden's dirty work, ignoring the murders and burglaries and assaults he should be focused on."
Alina Habba, an attorney for Trump, said the former president is a victim "of a corrupt and distorted version of the American justice system and history. He will be vindicated."
Many Republicans line up behind Trump
Republicans from the former president's sons to GOP senators lashed out at the indictment.
Former Vice President Mike Pence called it "an outrage" in an interview on CNN. "It appears to millions of Americans to be nothing more than a political prosecution," Pence said.
House Speaker Kevin McCarthy vowed that "the House of Representatives will hold Alvin Bragg and his unprecedented abuse of power to account."
Ohio Rep. Jim Jordan, the conservative chairman of the House Judiciary Committee, sent a one-word reaction: "Outrageous."
One of Trump's most loyal supporters in Congress, Rep. Marjorie Taylor Greene of Georgia, said, without citing evidence, that Trump was innocent and "the only one standing in the way of these modern day tyrants."
Eric Trump, the former president's son, said: "This is third-world prosecutorial misconduct." In a text to The Associated Press, he called the indictment an opportunistic targeting of a political opponent in a campaign year.
"This is stuff that would make Mao, Stalin, Pol Pot — it would make them blush. It's so flagrant. It's so crazed," Donald Trump Jr. said in a live-stream video shortly after the news broke.
Sen. Lindsey Graham, a top Trump ally, said the indictment was "one of the most irresponsible decisions in American history by any prosecutor."
Arkansas Gov. Sarah Huckabee Sanders, who had served as Trump's press secretary at the White House, said Bragg should resign.
Democrats cite the rule of law
Democrats, meanwhile, said if Trump broke the law, he should face charges like any American. Rep. Adam Schiff, the California Democrat, said in a tweet: "The indictment of a former president is unprecedented. But so too is the unlawful conduct in which Trump has been engaged."
Schiff said: "A nation of laws must hold the rich and powerful accountable, even when they hold high office. Especially when they do. To do otherwise is not democracy."
Democratic New York Rep. Dan Goldman, who served as lead counsel in the first impeachment trial of Trump, said in a statement that "no person is above the law."
Sen. Richard Blumenthal of Connecticut, a former federal prosecutor, said the justice system has an obligation to pursue the facts and law wherever they lead. "Former President Trump will have the same rights as any criminal defendant, and the justice system will presume him innocent until proven guilty," he said.
South Carolina's Rep. Jim Clyburn, the assistant Democratic leader, cited words Thomas Paine wrote in "Common Sense" in 1776 that "in America the law is king."
Trump's potential campaign rivals weigh in
Florida Gov. Ron DeSantis, who's exploring running for the GOP nomination for president, said on Twitter that the indictment was based on politics.
"The weaponization of the legal system to advance a political agenda turns the rule of law on its head," he added. "It is un-American."
Asa Hutchinson, a potential 2024 Republican candidate and the former governor of Arkansas, called it "a dark day for America." Hutchinson said it is important that Trump be presumed innocent while the case plays out.
Gov. Glenn Youngkin, the Virginia Republican often mentioned as a possible presidential candidate, on Twitter called it "beyond belief" that Bragg had sought to indict Trump "for pure political gain."
Another possible rival to Trump, biotech investor Vivek Ramaswamy, said the indictment threatens to undermine public trust in the electoral and justice systems.
Mike Pompeo, who served in the Trump administration, sent a fundraising email to potential supporters noting the indictment.
Trump's lawyer vows fight
Trump attorney Joe Tacopina told Fox News that he had spoken with Trump, who he said is "ready to fight."
He said details about an arraignment on Tuesday were "not finalized."
Tacopina said he first learned of the indictment from The New York Times. He surmised that the number of counts could be tied to the number of checks written from the account in question.
Asked about a possible "perp walk" that would put the former president in front of cameras as he is booked, Tacopina declared: "This will backfire because we will win this case."
Will Trump be extradited?
A spokesperson for the district attorney's office said it wasn't immediately clear when Trump would be arraigned.
"This evening we contacted Mr. Trump's attorney to coordinate his surrender to the Manhattan D.A.'s Office for arraignment on a Supreme Court indictment, which remains under seal. Guidance will be provided when the arraignment date is selected," the statement said.
DeSantis said in his tweet that Florida will not assist in an extradition request for Trump.
If defendants are notified of an indictment or an impending arrest, they often arrange to turn themselves in. Answering criminal charges in New York means being fingerprinted and photographed, fielding basic questions such as name and date of birth, and getting arraigned. All told, defendants are typically detained for at least several hours.
But there is no playbook for booking an ex-president.
A former president isn't likely to be paraded in handcuffs across a sidewalk or through a crowded courthouse hallway, experts say.
Trump's ex-attorney testified in this case
Trump's former lawyer and fixer Michael Cohen served prison time after pleading guilty in 2018 to federal charges, including campaign finance violations, for arranging the payouts to Stormy Daniels and another woman, Karen McDougal, and for lying to Congress. Cohen became a key witness testifying before the Manhattan grand jury earlier this month.
Cohen said Thursday that he stands by his testimony and the evidence he provided.
"Today's indictment is not the end of this chapter but rather just the beginning. Now that the charges have been filed, it is better for the case to let the indictment speak for itself," Cohen said in a statement.
Cohen "made the brave decision to speak truth to power and accept the consequences," his lawyer Lanny J. Davis said in a statement, referring back to 2018. "And he has done so ever since. I am proud to have been his lawyer and his friend through this long journey on the path to justice and accountability."
Stormy Daniels pops bubbly
The porn star at the center of the case took to Twitter to thank her supporters.
"I have so many messages coming in that I can't respond … also don't want to spill my champagne," Stormy Daniels tweeted.
She didn't waste an opportunity to make some merchandise sales.
"#Teamstormy merch/autograph orders are pouring in, too! Thank you for that as well but allow a few extra days for shipment," she said.
Trump uses indictment to raise cash
Like Stormy Daniels, Trump didn't let the moment pass without trying to make some money off it.
Moments after media outlets began to report the indictment, Trump's campaign was out with a fundraising missive calling for donations ahead of a Friday deadline when first-quarter figures are made public. He said Democrats will be watching to see if the "witch hunt out of Manhattan weakened our movement."
Trump supporters get riled up online
News of the indictment lit up message boards, websites and social media platforms popular with Trump supporters. Some discounted it as fake, while others noted the indictment came just before the start of Holy Week and compared Trump to a persecuted Christ.
Scattered among the comments were calls for Trump supporters to rise up in protest.
Still others speculated that Trump's indictment would galvanize Republicans ahead of the 2024 election and serve as a precedent allowing for future prosecutions of Democrats.
Democrats urge peace
Senate Majority Leader Chuck Schumer made a public plea for peace, saying the former president is subject to the same laws as every American.
"He will be able to avail himself of the legal system and a jury, not politics, to determine his fate according to the facts and the law," Schumer said. "I encourage both Mr. Trump's critics and supporters to let the process proceed peacefully and according to the law."
Former House Speaker Nancy Pelosi encouraged the former president to be peaceful.
"No one is above the law, and everyone has the right to a trial to prove innocence. Hopefully, the former President will peacefully respect the system, which grants him that right," Pelosi said in a statement.
Rep. Dan Goldman of New York said elected officials on both sides should "make unequivocally clear that there is no room for political violence or interference."
Crowds form outside Trump's Florida country club
Hours after word of the indictment emerged, Trump supporters and opponents gathered outside his Mar-a-Lago estate.
Kathy Clark, a 75-year-old retired police officer from suburban Palm Beach County, stood along the road holding a "Trump Won" banner. She called Michael Cohen a liar and the indictment a farce.
"Look at Bill Clinton and his girls in the White House. I don't care about Trump's personal life — that's between him, his wife and God," Clark said.
Across the street, Victoria Doyle, a Palm Beach County lawyer, stood alone holding a sign saying "He Lost."
"I'm celebrating our justice system, holding somebody accountable for his crimes," Doyle said. "This man has used and abused our system for years and continuously lied to people, manipulated people, hired countless lawyers to intimidate people."
Extra News Alerts
Get breaking updates as they happen.