Politics
How Mass. elected officials are reacting to Trump's indictment
"The jig is up."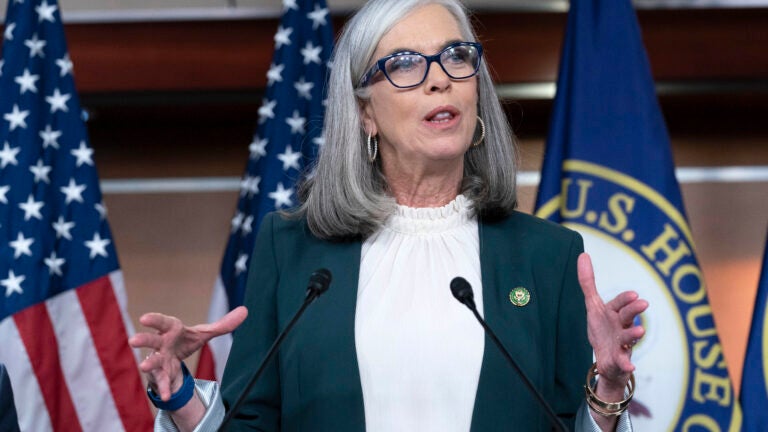 Members of the Massachusetts congressional delegation are responding to the news of former president Donald Trump being indicted by a Manhattan grand jury.
It is the first time a former U.S. president is facing a criminal charge.
Rep. Katherine Clark, the Democratic Whip of U.S. House of Representatives whose district stretches from Melrose to Framingham, said the principle that no one is above the law is "fundamental to the strength and survival of democracy."
"We must allow the judicial process to continue unimpeded and free from any form of political interference or intimidation," she said. "This is not a time for partisanship, but for all Americans to act peacefully and put their faith in the justice system."
On Friday, a rally is set to take place on the steps of the Massachusetts State House where participants are expected to express their support for the "rule of law and allowing the justice system to follow the facts." The 12 p.m. event is aimed at sending the message that "Trump is not above the law," according to organizers.
Below, see how Massachusetts elected officials are reacting to the historic criminal indictment.
Rep. Katherine Clark, Democratic Whip of U.S. House of Representatives
Rep. Jim McGovern
"Despite Trump's absurd rhetoric, his indictment has nothing to do with politics. After examining the evidence, hearing from witnesses, and looking at the law, a grand jury decided he likely committed a crime. How could anyone be surprised? His campaign manager, deputy campaign manager, chief strategist, national security advisor, personal lawyer, and accountant are all convicted felons. Like a mob boss, he surrounded himself with a cult of criminals who took the fall for him — and now the jig is up.

"Fraudulently using campaign contributions as hush money to cover up an affair is illegal. So illegal that Trump's own lawyer went to jail for handling the payments. Trump deserves his day in court, just like everybody else — but instead he's been calling for his supporters to protest against the rule of law itself. His behavior is sick. In America, no person is above the law. Equal justice matters more than blind loyalty to a twice-impeached disgraced ex-president who led an insurrection after he couldn't lie or cheat his way out of losing."
Rep. Ayanna Pressley
Rep. Lori Trahan
Newsletter Signup
Stay up to date on all the latest news from Boston.com