Politics
Despite indictment, Massachusetts Republicans remain loyal to Trump, poll finds
New polling data shows that likely Republican primary voters are 42% more likely to vote for Trump due to his indictment, with only 12% less likely to vote for the former president.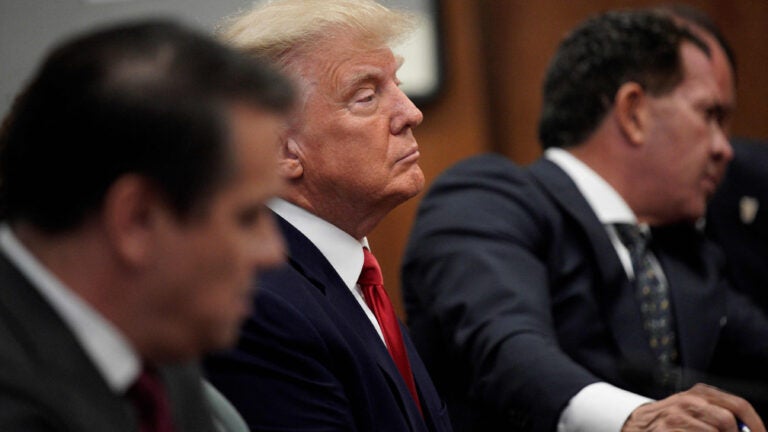 Despite the 34 felony charges of business fraud levied against Donald Trump on Tuesday, Massachusetts Republicans are sticking with the former president and feel he is under political attack.
New polling data from Opinion Diagnostics shows that likely Republican primary voters in the Bay State are 42% more likely to vote for Trump in the wake of his indictment, with only 12% less likely to vote for the former president. Forty-six percent of the 475 respondents said the indictment has no effect on how they will vote in the Republican primary, which takes place in 11 months on March 5, 2024.
According to Brian Wynne, president of Opinion Diagnostics, the indictment, which most Republicans see as a political ploy, has only helped Trump, allowing him to increase fundraising efforts and publicity. And while its impact on the general election is unclear, the charges have given Trump a boost in the upcoming Republican primary.
Most Massachusetts GOP voters see the indictment as a politically motivated attack on the former president, according to the poll, with 78% stating the charges were unjustified. And Massachusetts Republican leaders have echoed this message.
"The arraignment today of the former President appears to be based on contrived legal arguments and discredits the notion of judicial integrity and impartiality. The case was declined by both the Department of Justice and the Federal Elections Commission yet incredibly was taken up by the Manhattan DA," Amy Carnevale, chair of the MassGOP said in a tweet.
"The prosecution and today's arraignment appear to be little more than a way for this DA who campaigned on prosecuting the former president to advance his own career," she added.
Due to the indictment's unpopularity among the Republican base, Trump's potential competition, such as Florida Gov. Ron DeSantis, has also united against the charges.
Nationally, the majority of voters, 56%, feel the charges are fair, and six in 10 likely voters do not want to see another Trump presidency, a NPR/PBS NewsHour/Marist College poll found. But 80% of Republicans in response to that poll stated that the accusations against Trump are a akin to a "witch hunt."
Trump remains atop Massachusetts voters' list of potential Republican candidates, at 45% when compared to four other GOP hopefuls, including DeSantis, former South Carolina governor Niki Haley, and former vice president Mike Pence.

And while this support pales in comparison to Trump's 87% vote tally during the 2020 primary, it does mirror the then-candidate's 2016 campaign, where he received 49% of the vote.
Tell us: How will Trump's indictment affect his campaign?
Newsletter Signup
Stay up to date on all the latest news from Boston.com