Politics
Gov. Maura Healey announces executive order, mifepristone stockpile to ensure access to medication abortion
Healey said the University of Massachusetts purchased about 15,000 doses of mifepristone at her request last week, before dueling court rulings put the abortion drug in limbo.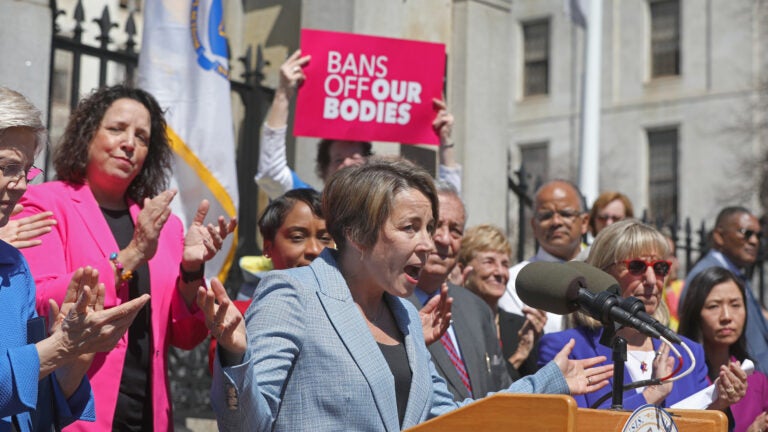 As dueling court rulings leave the future of mifepristone in limbo, Gov. Maura Healey announced Monday that Massachusetts is stockpiling about a year's worth of the abortion drug to preserve the state's supply.
Flanked by reproductive rights advocates and fellow lawmakers, Healey stood on the steps of the State House to deliver a message: "Abortion will remain safe, legal, and accessible here in Massachusetts."
She outlined several steps her administration has taken to protect access to mifepristone, including an executive order confirming that medication abortion remains protected under state law.
The announcement came just days after a federal judge in Texas halted U.S. Food and Drug Administration approval of mifepristone. First approved in 2000, the drug is one of two used in medical abortions through the first 10 weeks of pregnancy. Mifepristone can also be used to manage miscarriages or later-term pregnancies where the fetus has died, and to treat patients who have Cushing syndrome and produce too much of the hormone cortisol.
A federal judge in Washington state issued a conflicting ruling ordering the FDA to keep mifepristone available in several states that have sued to protect access to the drug. Meanwhile, the Texas judge stayed his own order for a week to give the FDA time to ask an appeals court to intervene, The New York Times reported.
Speaking Monday, Healey described mifepristone as the "gold standard" in medication abortions and said banning the drug nationwide could have "devastating" consequences.
"This political intervention into basic medical care hurts women at what can be a difficult and heartbreaking time, putting those experiencing pregnancy loss through greater discomfort, greater pain, and in some cases threatening their lives," she said. "It harms patients, undermines medical expertise, and takes away freedom. It's an attempt to punish, to shame, to marginalize women."
She added: "The good news here today, in Massachusetts, is that we are not going to tolerate this."
Before last week's ruling, Healey said the University of Massachusetts purchased approximately 15,000 doses at her request — sufficient, she said, to meet Massachusetts's needs for "well over a year."
Healey said she expects those doses will arrive this week. Her administration is also dedicating $1 million to help providers contracted with the state Department of Public Health purchase doses.
Local, state, and federal lawmakers who spoke Monday echoed Healey's remarks, doubling down on protections for abortion care. Attorney General Andrea Campbell said she will use her office to maintain access to reproductive health care in Massachusetts.
"Massachusetts continues and always will be a beacon of hope," she said. "We are blessed to live in this state; it's incumbent upon us to take the responsibility and to fight for others who are not as blessed."
Boston Mayor Michelle Wu noted the many Massachusetts leaders who have worked to ensure the Bay State "will always be at the frontlines of safety and health."
"To the residents of Massachusetts and of Boston, we've got your back. You are safe; you are protected, and we will always fight for you," Wu said. "To the residents of other states across the country: You can vote — we encourage and will fight alongside you — but you can also move to Massachusetts."
@bostondotcom As dueling court rulings leave the future of mifepristone in limbo, Gov. Maura Healey announced Monday that Massachusetts is stockpiling about a year's worth of the abortion drug to preserve the state's supply. Flanked by reproductive rights advocates and fellow lawmakers, Healey stood on the steps of the Massachusetts State House to deliver a message: "Abortion will remain safe, legal, and accessible here in Massachusetts." The announcement came just days after a federal judge in Texas halted U.S. Food and Drug Administration approval of mifepristone. Read the full Boston.com story at the link in our bio. #massachusetts #maurahealey #abortion #mifepristone #healthcare #mapoli ♬ original sound – Boston.com
Newsletter Signup
Stay up to date on all the latest news from Boston.com