Politics
Gov. Healey: Justice Clarence Thomas 'should go'
The Massachusetts governor called the Supreme Court associate justice's latest controversies "embarrassing."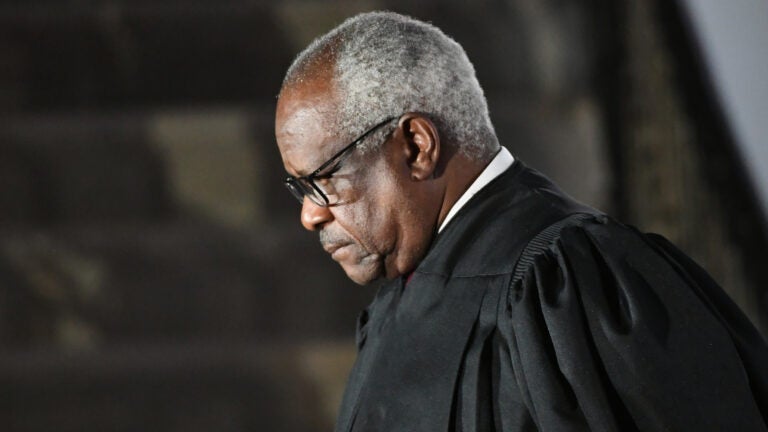 Gov. Maura Healey on Friday said she believes U.S. Supreme Court Associate Justice Clarence Thomas "should go" amid the wave of controversy recently reignited around the embattled justice.
The remarks from Massachusetts's top Democrat come after a pair of ProPublica reports over the past week revealed Thomas, the conservative justice, was treated to luxury vacations for decades by billionaire Republican donor Harlan Crow and that Crow bought property from Thomas but Thomas never disclosed the deal.
Last year, Thomas also attracted ire after he refused to recuse himself from a case with the White House's Jan. 6, 2021, records that went before the court, even as texts revealed his wife actively encouraged former President Donald Trump's chief of staff to fight to overturn the 2020 election results.
Healey, on GBH's "Boston Public Radio," joined the chorus of Democratic lawmakers who have condemned Thomas in recent days, calling the matters "embarrassing for the United States Supreme Court."
"It's ridiculous," said Healey, the state's former attorney general. "I mean, it's the height of hypocrisy. You're supposed to be administering the law … making people play by the rules and follow the law from the highest court in the land, and it seems time after time [he's] violating the most basic rules and norms and ethical obligations, or at least ethical obligations that would naturally extend to the rest of us in public office. It's just embarrassing."
What exactly should happen next or what Thomas should do now has been up for debate, particuarly because the Supreme Court, unlike the other branches of government, lacks a formal ethics code.
Healey initially skirted questions from co-host Jim Braude about whether she thinks Thomas should resign, but ultimately said he "should go."
"You would hope that one, you know, when faced with those things would think long and hard about it," Healey said. "Part of the problem here, Jim, is that they haven't had rules, right? … It's interesting. [Justices] enforce the rules, but they play by an entirely different set of rules from everyone else, including other federal judges and state court judges around the country. To me, that's absolutely wrong. There needs to be reform there.
"And you know, I would like to see Justice Thomas go for any number of reasons, but certainly the inability to follow basic rules and norms, it's just outrageous," Healey added. "He should go."
Last week, Thomas said he was not required to disclose the trips he and his wife took that were paid for by Crow. In a statement, he said he was advised by colleagues that "this sort of personal hospitality from close personal friends, who did not have business before the Court, was not reportable."
According to ProPublica, Thomas did not respond to "detailed questions" for the outlet's subsequent report on his real estate transactions with Crow published Thursday.
Newsletter Signup
Stay up to date on all the latest news from Boston.com