Politics
Boston District 3 City Councilor Frank Baker says he won't run for reelection
Two candidates have emerged to run for Baker's old seat.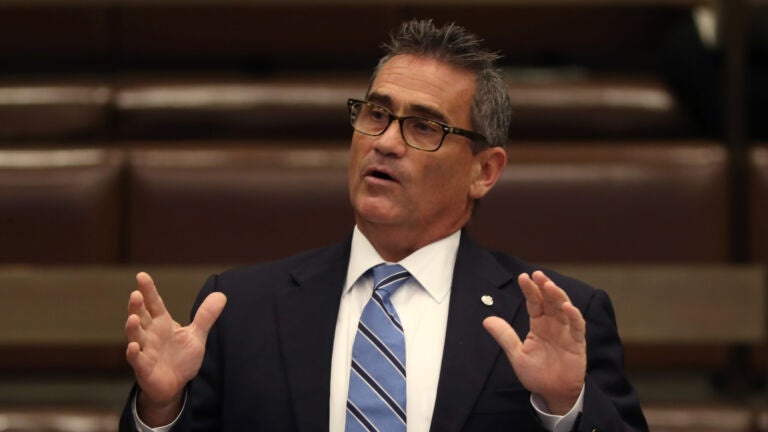 After 12 years on Boston City Council, District 3 Councilor Frank Baker, a rare conservative voice within the legislative body, says he's decided not to run for reelection.
"Serving as a Boston City Councilor and representing District Three for six terms has been one of the greatest honors of my life," he wrote in a statement Thursday. "This decision did not come lightly. After lengthy deliberation, I am confident and certain this is my time to depart the Council and serve in a different capacity."
Baker, 56, is a lifelong Dorchester resident who currently owns a home on Savin Hill that he shares with his wife and children. He graduated from Don Bosco Technical High School in 1986 where he studied printing and worked for the city's printing department from 1987 to 2010.
Baker's time on Boston City Council
Baker was elected to the council in 2011. Before the latest city council redistricting, his district included most of Dorchester and some of South Boston and the South End.
Recently, The Boston Globe reported, Baker has been funding legal efforts to overturn the new Boston City Council districts in federal court. The lawsuit names Boston Mayor Michelle Wu and the city council among its defendants.
The new districts split up white neighborhoods in Dorchester and South Boston which have historically been centers of political power, the Globe reported. But Baker insists that his opposition stems from the fact that it carves up tight-knit communities in his district built around Catholic parishes — one of which he grew up in.
"The privilege and responsibility of serving as a city councilor requires my round-the-clock dedication. I cannot fulfill my obligation in any other way than 100% committed to the duty of this role," he wrote in a statement. "For an assortment of reasons, now is the right time for me to move on to the next chapter in my life, with my family."
Baker has often been a minority voice on Boston City Council as progressives have become the overwhelming majority. The Globe reported that he has opposed rent control, regulating the short-term rental industry, a tax on luxury real estate deals, and a fare-free MBTA.
But Baker is also a registered democrat who is well-known for putting a strong focus on constituent services. He is a friend of former Boston Mayor Marty Walsh, who supported him during his first campaign for city council.
"I am exceptionally grateful, as well as proud to have actively engaged in the hard and humble work that comes with being an elected official," he wrote. "I will continue to be an active and dedicated member of this community, where my decades of community relationships, planning, development, and facilitation will serve to benefit."
Who will replace Baker?
So far, two candidates have emerged as contenders for the District 3 City Council seat.
One is Joel Richards, a Dorchester public school teacher, pastor, first-generation Jamaican-American, and community advocate. In a statement Thursday, Richards said that as a councilor he would fight to lower housing costs, improve schools, and protect small businesses.
"I applaud Councilor Baker on his dedicated service to our city and wish him and his family well," Richards wrote.
The other is Jennifer Johnson, a Dorchester progressive democrat and small business owner who is president of Meetinghouse Hill Civic Association. She said previously that if elected, she would work to make living in Boston more affordable and increase access to quality public schools and city services.
Newsletter Signup
Stay up to date on all the latest news from Boston.com