Politics
'Absolutely unacceptable': Maura Healey calls out condition of stations but says T is 'safe'
"I want people to know that not only are we going to get to where there's no concern about what's happening on the rails, but that you're safe walking into a station, for God's sakes."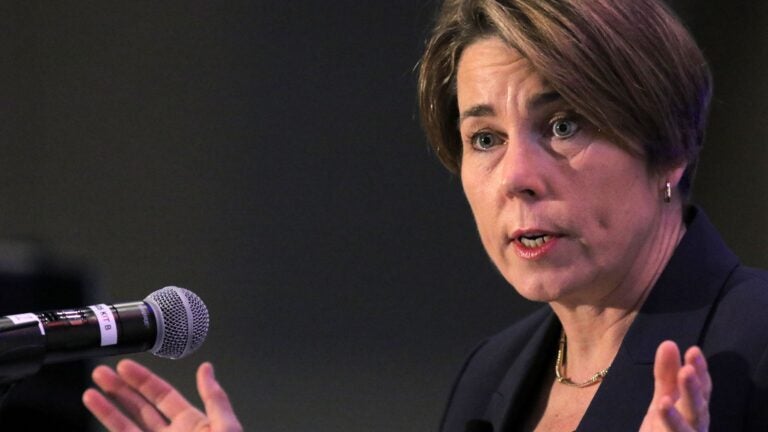 Gov. Maura Healey said Sunday that she believes the MBTA "is safe," but she blasted the condition of the transit agency's stations and pledged that work is being done to address rider concerns.
Healey was asked what her administration is doing to fix "the mess" of the T during an appearance on WCVB's "On the Record." The interview followed a week that saw a woman being injured on a platform inside Harvard Station when a utility box fell on her. Last month, at the same station, an aluminum ceiling panel fell, coming within inches of striking a commuter.
Those aren't the only incidents causing safety concerns for riders.
Over the last year, the MBTA has been called out by the Federal Transit Administration for major safety issues and faced renewed criticism and scrutiny following several incidents, including a man being dragged to death by a Red Line train and a fire on an Orange Line train.
Healey said the day the utility box fell, both she and new MBTA general manager Phil Eng visited the Harvard station.
"This is a problem that is long in the making; I cannot fix it overnight," the governor told WCVB. "But I have appointed a general manager who, for the first time in many years, has transportation experience. I've appointed, for the first time ever, a transportation safety chief to oversee operations. I've turned over the [MBTA's] board, headed now by a new chair and Tom Glynn. We are making positive changes."
Healey said she has questions about "how it is that we have stations that are in this state of disrepair to begin with."
"It's absolutely unacceptable," she said.
The governor said that after the ceiling panel fell at Harvard, a survey was done of other tiles, but a full inspection of the station was not performed.
Full inspections are now being conducted at every station, "top to bottom," Healey said.
"I want people to know that not only are we going to get to where there's no concern about what's happening on the rails, but that you're safe walking into a station, for God's sakes," she said. "Anytime I see something like that, it's terribly upsetting, and I understand it's very upsetting to the public. I want the public to know that this is a top priority for me, that the team and I take this very seriously, and as you have seen already in four months, we are making moves to change things and change the course. It will take some time."
Healey said she has charged "the entire team" to tell her what is needed to ensure that the public "believes and understands that this T is safe and it's reliable."
Asked if she thinks the T is safe "right now," the governor responded in the affirmative.
"I do think the T is safe, and, in fact, there are people who will tell you that they have good experiences on the T," she said.
Healey said she's focused on greater transparency with the public about what is being done to fix the T, as well as addressing the transit agency's workforce shortage.
There are hundreds of vacancies, which she said is "unacceptable."
"If you want people out there to do the repairs, to make sure that the T is operating in safe condition, we need people for driving and operation," she said. "We need more bodies back on the job."
Watch Healey's full interview below:
Sorry. This form is no longer available.
Newsletter Signup
Stay up to date on all the latest news from Boston.com