Politics
Pressley, other liberal lawmakers urge White House to prepare backup plan on student debt
With the Supreme Court poised to nix President Biden's debt cancelation policy, some lawmakers, including Rep. Ayanna Pressley, are pushing for a backup plan.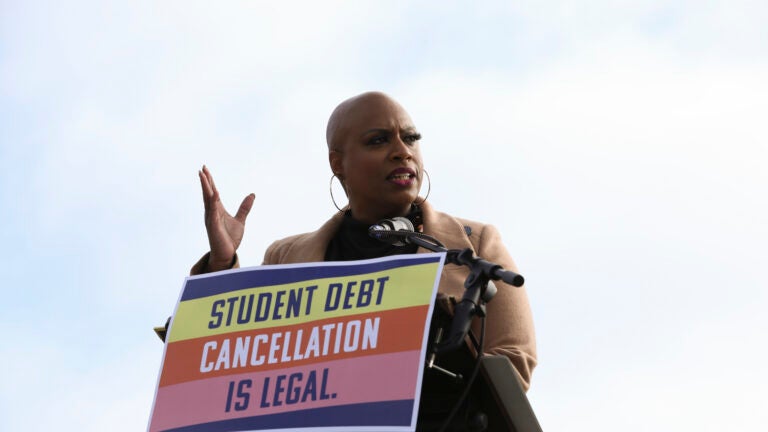 WASHINGTON – A handful of liberal lawmakers are urging the Biden administration to prepare an alternative plan to cancel student debt, as the Supreme Court could soon strike down the White House's program for forgiving the debts of tens of millions of American borrowers.
Rep. Ro Khanna (D-Calif.) confirmed to The Washington Post that he has told Biden administration officials, including Education Secretary Miguel Cardona, to press forward with a new plan to cancel student debt should the court invalidate Biden's existing plan. A ruling is expected imminently. The court's conservative majority seemed skeptical of the debt forgiveness plan in oral arguments this year.
Reps. Ayanna Pressley (D-Mass.) and Alexandria Ocasio-Cortez (D-N.Y.) have privately made similar remarks to administration officials, according to two people familiar with the matter who spoke on the condition of anonymity to describe private conversations. Thomas Gokey, co-founder of Debt Collective, which supports student debt relief, said several other Democratic members of Congress are also pushing the White House to prepare a backup plan but said they do not yet want to be public about the matter.
Biden's plan to cancel up to $20,000 in debt per borrower sparked a political firestorm when it was announced last August, with Republicans saying it would help affluent college graduates who don't need the assistance. Democratic lawmakers have defended it as essential for people saddled with large amounts of student debt – and also argued that it is important for bringing young voters to the polls to support Biden in the 2024 presidential election.
But legal challenges to the policy have now put it in jeopardy. Lower courts have put Biden's program on hold, and the Supreme Court does not appear likely to side with the administration. On top of that, the new law to suspend the debt ceiling prevents Biden from extending an existing moratorium on student loan payments. Although the administration had said it was going to restart payments anyway, that provision appears to mean officials must start collecting federal student loan payments and interest from millions of Americans even if the Supreme Court tosses out the broader forgiveness plan.
Khanna said the administration must avoid restarting payments this year, either by finding another way to move forward with the student debt plan or by finding another way to extend the moratorium despite the debt ceiling agreement. Khanna raised the matter in a private meeting with Cardona at a recent meeting of the Congressional Progressive Caucus, along with other liberal lawmakers.
"It would be political malpractice to have students repay student loans under Biden when Trump provided the relief. This is not rocket science," Khanna said. "The White House must figure out how to make sure there is an extension on the moratorium."
Student debt activists have focused on a 1965 law as the basis for canceling the debt, rather than the 2003 law that Biden cited when he announced the program last year.
"There are members of Congress who are pressuring them behind closed doors on this," Gokey said. "People realize the Supreme Court does not have the final word here – Biden has additional legal authority, and members of Congress are telling them he needs to have a plan to win."
Such efforts are viewed as a long shot within the administration. White House officials chose the 2003 law instead of the 1965 law as the legal foundation for the program because they believed it gave them better chances in front of the Supreme Court.
Opponents of canceling student debt say that if the court rules against the program, the White House should not try again to implement a policy that they believe largely benefits upper-income Americans who do not need the assistance. The nonpartisan Congressional Budget Office has estimated Biden's plan would cost roughly $400 billion.
"The left's push for blanket student debt cancellation has always been legally and economically dubious," said Ben Ritz, director of the Center for Funding America's Future at the Progressive Policy Institute. "Instead of doubling down on this misguided policy, the administration should pivot to pursuing real cost controls and expanding access to good jobs that don't require pricey degrees."
Spokespeople for Sens. Elizabeth Warren (D-Mass.) and Bernie Sanders (I-Vt.) – two outspoken advocates for student debt relief – declined to comment on if they are urging the White House to prepare a backup plan. Ocasio-Cortez also declined to comment.
The White House said in a statement that it still expects to prevail in court and pointed to the president's recent veto of House Republicans' attempt to overturn Biden's student debt cancellation program.
"We remain confident in our legal authority to provide relief under the HEROES Act," said Abdullah Hasan, a White House spokesman. "No president has fought harder for student debt relief than President Biden."
Borrowers who hope to see their debts canceled are also eager for the White House to look for a backup plan.
"If there is another path, of course Biden should explore it," said Keijana George, 19, a rising junior studying international affairs at the University of Georgia. "Part of the job – one of the things he campaigned on – was student debt relief. And if he can't accomplish that, then is he really doing the job he promised to do?"
Biden's plan would clear most of the $15,000 in federal student loan debt George has amassed to date. But with two more years of college and an interest in law school, she may need to borrow more. Still, George welcomes the chance to alleviate some of the burden of her debt. Despite attending a public university with in-state tuition and being a recipient of Georgia's HOPE scholarship, she finds it frustrating that she still needs loans.
"There should be more money for grants, less time spent repaying loans and debt cancellation," George said. "There are enough people and resources out there to tackle all of these problems at the same time. We can't give up the fight now."
Mark Grimaldi, 40, hopes the Biden administration's legal arguments are sound enough to sway the justices, and if not, he prays there is a backup plan. Weeks after Biden announced the debt relief program in August, Grimaldi consolidated his privately held federal student loans into the Direct Loan program to become eligible. The move increased his balance from $10,600 to $13,200, but as a former Pell Grant recipient, he qualified to have the entire amount canceled.
"I can't imagine [the administration] would just give up when there are so many Americans advocating for this relief," said Grimaldi, a radio producer in Buffalo who acquired debt for a bachelor's degree at Syracuse University. "If they did, it would feel like they're leaving us behind."