Politics
Unanswered in indictment's details on Trump's hoarding of documents: Why?
The charging document offers some possible hints but does not establish that the former president had a goal beyond simply possessing the material.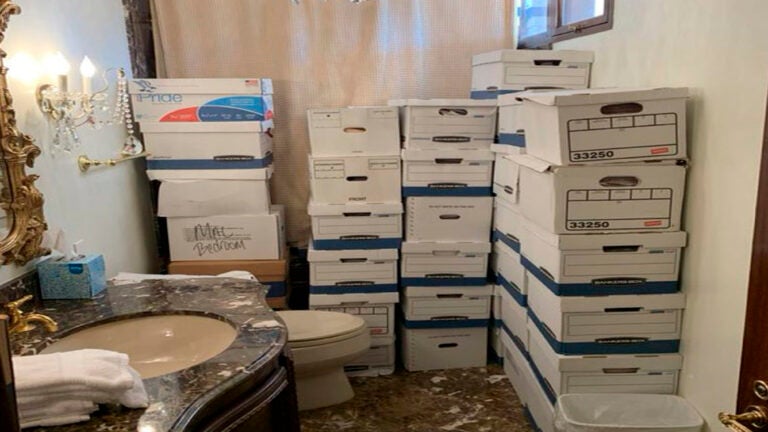 For all the detailed evidence laid out in the 38-count indictment accusing former President Donald Trump of holding onto hundreds of classified documents and then obstructing the government's efforts to retrieve them, one mystery remains: Why did he take them and fight so hard to keep them?
Trump's motive for having thousands of presidential records — including more than 300 classified documents — at Mar-a-Lago, his combination residence and members-only club in Palm Beach, Florida, was not addressed directly in the 49-page indictment filed Thursday in Miami. The charging document did not establish that Trump had a broader goal beyond simply possessing the material.
Although finding a motive could certainly be useful for prosecutors should Trump end up at trial, it may not be necessary in proving the legal elements of the case against him. Nonetheless, why Trump held onto an extensive collection of highly confidential documents and then, prosecutors say, schemed to avoid returning them remains an unanswered question — even after nearly 15 months of investigation by the Justice Department.
The indictment did offer some hints.
It described how Trump, who often focuses on payback against perceived enemies, brandished a classified "plan of attack" against Iran at a meeting in July 2021 at Bedminster, his golf club in New Jersey, as a way to rebut what he perceived to be criticism from Gen. Mark Milley, the chair of the Joint Chiefs of Staff. In a recording of the meeting, Trump can be heard rustling paper and telling those around him that the document in question proved that he was right in his dispute with Milley.
"This totally wins my case, you know," he said.
In other instances in the indictment, an aide to Trump describes the materials he was carting around with him in the boxes as "his papers," something he did while he was president, suggesting he was not ready to let go of the perks of holding the highest office in the country.
In a similar fashion, the indictment depicts Trump as trying to stop a lawyer he hired to help him search Mar-a-Lago for any classified material still in his possession from actually going through the records he kept at the property.
"I don't want anybody looking through my boxes," Trump is quoted as saying, expressing a kind of personal ownership over the material. "I really don't."
His sense of personal ownership was so pervasive that his aides, in text messages included in the indictment, were plainly anxious about moving them too far away from him.
Several former aides and advisers to Trump have long made the argument that he simply kept the sensitive records because he saw them as "mine," and because he likes acquiring trophies that he can show off, whatever form those trophies may take.
When he was a businessman showing off as a playboy in New York, Trump tried to be seen with attractive women. He bought the Plaza Hotel and called it a "toy" for his wife at the time, Ivana.
He collected high-end trinkets to brandish for visitors to his 26th-floor office, like basketball star Shaquille O'Neal's giant sneaker, which lay with a pile of other items.
He treated the nation's secrets similarly while in office. Trump shared highly classified intelligence during an Oval Office meeting in 2017 with the Russian ambassador and foreign minister. He posted a classified photo on Twitter in 2019 of a failed Iranian rocket launch, telling senior aides who wanted to remove the classification markings that that was the "sexy part."
During their investigation of the case, prosecutors working for special counsel Jack Smith took steps that indicated they were hunting for a motive.
For instance, they subpoenaed information about business dealings that Trump's company, the Trump Organization, had with seven foreign countries from the time his presidency began in 2017, appearing to try to determine whether any of the documents could have been used to aid his ventures abroad. But there was no reference in the indictment to Trump using the documents for business deals.
Late last year, as public reports made clear that prosecutors believed Trump still had classified material in his possession, one of Trump's friends-turned-adversaries, former New Jersey Gov. Chris Christie, offered a simple explanation.
"I think it's much more likely they're a trophy that he walks around and says, 'Look, I've got this,' " Christie, who is campaigning for president against Trump in the Republican primary, told ABC News. "I've got this classified document or that, because remember something: He can't believe he's not president."
Christie went on, "He can't believe he still doesn't get these documents, and he needs to display to everybody down at Mar-a-Lago or up in Bedminster during the summer he still has some of those trappings."
He suggested it was why Trump had a reproduction of the Oval Office Resolute Desk put into his office at Mar-a-Lago.
"All the rest of those things are things that are assuaging, you know, his disappointment and his disbelief that he's not the president anymore," he said.
This article originally appeared in The New York Times.