Politics
No, Matt Damon did not agree to narrate a Trump fundraising video
The Cambridge native's voice from the movie "Air" can be heard on a new Trump video shared on Truth Social.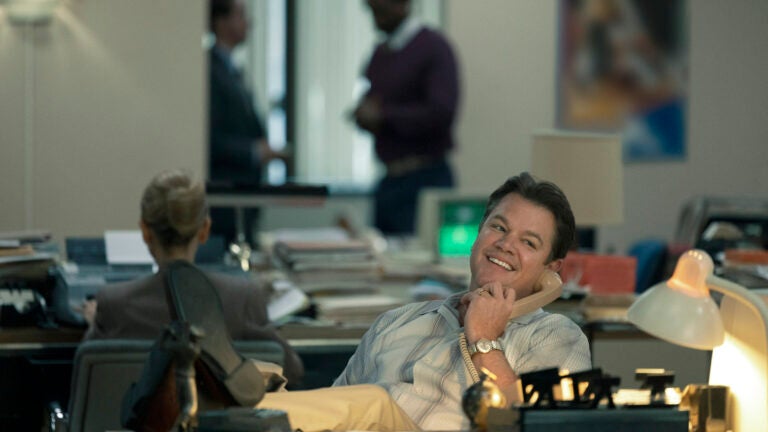 In case you were wondering whether acclaimed actor — and outspoken progressive — Matt Damon had some sort of massive change of heart and started supporting Donald Trump … He didn't.
The Cambridge native can be heard narrating a fundraising video that the twice-indicted former president and current presidential candidate posted on his Truth Social platform Saturday. But it turns out that Damon's narration, taken from his recent movie "Air" directed by fellow Cantabrigian Ben Affleck, was used without permission.
"We had no foreknowledge of, did not consent to and do not endorse or approve any footage or audio from 'Air' being repurposed by the Trump campaign as a political advertisement or for any other use," a spokesperson for Artists Equity told Variety, the outlet reported Sunday.
"Specifically in terms of any and all rights available to us under U.S. copyright and intellectual property law, we hereby, expressly give notice that in the case of any use of material from 'Air' by the Trump campaign where approval or consent is required, we do not grant such consent," the statement continued.
This is far from the first time a copyright holder has called out Trump or his campaign for unauthorized use of someone else's "intellectual property." Typically, though, it's musicians who have raised a red flag. So many have spoken up that a Wikipedia page called "Musicians who oppose Donald Trump's use of their music" now lists 27 major artists, including Adele, The Beatles, Bruce Springsteen, and Prince.
As of Monday morning the video remained posted on Truth Social.
A transcript of Damon's monologue from "Air" — talking about Michael Jordan, not Donald Trump — appears below:
"Money can buy you almost anything. It can't buy you immortality, that you have to earn.

"I'm gonna look you in the eyes, and I'm gonna tell you the future. It's an American story. And that's why Americans are gonna love it. People are going to build you up, God are they going to, because when you're great and new, we love you. Men will build you into something that doesn't even exist, you're going to change the f—ing world.

"But you know what, once they build you as high as they possibly can, they're gonna tear you back down. It's the most predictable pattern, we build you into something that doesn't exist. And that means you have to try to be that thing all day, every day. That's how it works. And we do it again. And again. And again.

"I'm gonna tell you the truth. You're gonna be attacked, betrayed, exposed, humiliated, and you'll survive that. A lot of people can climb that mountain. It's the way down that breaks them. Cause that's the moment when you're truly alone. And what will you do then? Can you summon the will to fight on through all the pain and rise again? That will be the defining question of your life. And I think you already know the answer.

"That's why we're all here. A shoe is just a shoe, until somebody steps into it — then it has meaning. The rest of us just want a chance to touch that greatness. We need you in these shoes. Not so you have meaning in your life, but so that we have meaning in ours. Everyone will be forgotten. As soon as our time here is up. Except for you. You're gonna be remembered forever, because some things are eternal. And your story is going to make us fight and never give up."
Newsletter Signup
Stay up to date on all the latest news from Boston.com