Politics
Here's what you need to know about the list of critics Mayor Wu sent to Boston police
The mayor says the list is a public safety tool for police to use, but conservative media outlets have raised concerns about free speech.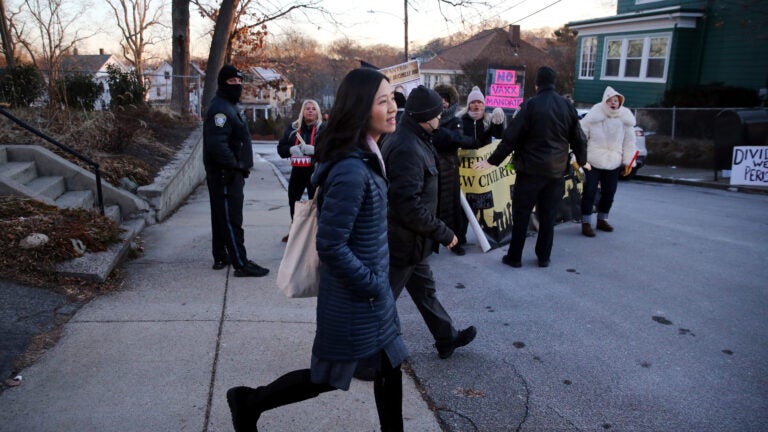 Last week, Boston Mayor Michelle Wu came under fire for sending a list of vocal critics who have allegedly threatened the mayor to the Boston Police Department. But while conservatives are raising concerns about free speech, the mayor's office says the list exists to help police keep the public safe.
Wu's office confirmed the existence of the list to The Boston Herald after a group of her opponents reportedly discovered it through a public records request. Her office says Boston police requested the list in response to repeated public safety threats by certain opponents.

According to the Herald, the list has 15 names, many of which were among the protesters who picketed in front of Wu's house in opposition to her COVID-19 policies for months last year.
Many conservative-leaning news outlets have criticized Wu for the list, raising concerns about free speech and weaponizing police for political benefit.
"…the unusual action raises questions about whether it crosses the line into using Nixonian tactics to suppress people's rights to protest and intimidate her critics," the Herald wrote.
But Wu's office says that the people on the list crossed a line from protected speech into behavior that threatens the safety of others.

"These are people with a long and documented series of violent behavior. Not just critics, or people who disagree with the mayor's policies," Wu's press secretary Ricardo Patron said in an interview with Boston.com.
Boston police did not respond to a request for comment Tuesday afternoon.
Wu's perspective on the list
Patron objected to calling the list a grouping of "critics," saying that it's an inaccurate portrayal.
"This is a list of people who, over the course of several months last year, harassed and physically intimidated the mayor and her family on a near daily basis at their home, at public events, at city events, at parades," he said. "I just don't think that calling them critics here fully encapsulates the degree of harassment and intimidation."
Patron said the list was made at the request of Boston police after an incident at the Dorchester Day parade last year.
"Many people on that list followed the mayor and her family the entire length of the parade, impeded the parade. Again, just harassing, physically intimidating," he said. "The parade organizers repeatedly asked them to allow the parade to continue, and they continued to do their thing."
As the Bunker Hill parade was the following week, Patron said, a Charlestown police captain asked for a list of people who had previously "been an issue."
"It's a public safety thing, not a politics thing," he said. "…The people on the list have assaulted police officers. They've assaulted other attendees at City Council meetings."
Who's on the list?
One person who Boston.com confirmed is on the list is Patrick Mendoza, a North End restaurant owner who is wanted for charges related to a recent shooting that stemmed from an ongoing dispute with a local man.
His brother Jorge, who was among the restaurant owners who sued Wu for last summer's North End outdoor dining fee, is also on the list.
Catherine Vitale, a Dorchester resident and candidate for Boston City Council, is also reportedly on the list. She was arrested last year for allegedly assaulting a police officer while trying to disrupt a City Hall press conference.
Vitale said Tuesday evening that she feels Wu and Boston police are the aggressors. She said police have been targeting her and other protesters as a result of the list.
"We've been peaceful," she said. "But her security detail is really rough with us, especially women."
Shawn Nelson, who is also a Dorchester resident and candidate for Boston City Council, is reported to be on the list. He was arrested twice last year for disrupting municipal events — once at a Mayor's coffee hour and once at a City Council meeting.
Shana Cottone, a former Boston police sergeant fired in March for letting her political opinions affect her professional duties, is reportedly on the list. An internal investigation revealed, among other things, that she allegedly failed to assign Wu a security detail and once followed her in a car.
Boston city councilors weigh in
Boston City Council President Ed Flynn defended Wu in a statement when asked to comment on the list.
"During her time as a City Councilor and now as Mayor, she is always respectful in her approach to interacting with residents, whether you agreed or disagreed with her. Furthermore, she is a decent and caring person who treats everyone with dignity. Any insinuation to the contrary is inaccurate and only divides our city," he wrote.
But Boston City Councilor-At-Large Erin Murphy expressed concern about the list to WCVB Tuesday.
"What does that mean? Is there more than one list? Do we know why people were put on and what happened once that list was made and given to the Boston police? Did things happen to them? Were they watched differently? Was their family watched differently? Those are questions that people are asking," Murphy said.
No other Boston city councilors responded to a request for comment Tuesday evening.
Wu's past handling of critics
Vitale and Cottone are also part of a group of protesters that regularly rallied outside Wu's home in the early hours of the morning last year. They started the protest in opposition to Wu's COVID-19 policies, but continued even after they were removed. They were seen protesting as recently as October 2022.
The protest prompted Wu to propose a city ordinance that limited protesting hours to 9 a.m. to 9 p.m., saying the ordinance was meant to protect her neighbors. Boston City Council passed the ordinance, and five protesters were later fined.
One protester was arrested for "willful violation" of the ordinance, but a judge later dismissed the case, saying that the ordinance only allows for fines.
Reporting by Annie Jonas was used in this article.
---
Sorry. This form is no longer available.
Newsletter Signup
Stay up to date on all the latest news from Boston.com