Politics
DeSantis fights to reset his stagnant campaign as Trump dominates the 2024 conversation
"The DeSantis campaign is recalibrating. It's clear it needs to," said Republican strategist Terry Sullivan.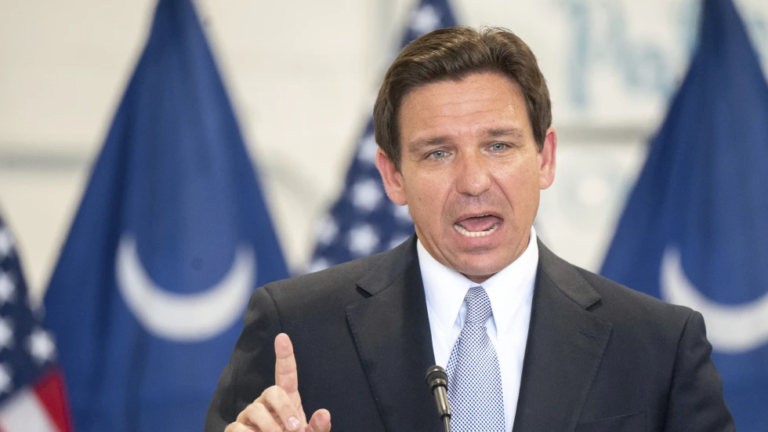 WEST COLUMBIA, S.C. (AP) — For Ron DeSantis, it was supposed to be an important opportunity to help reset his stagnant Republican presidential campaign. But yet again, the moment was overshadowed by Donald Trump.
The former president's new legal challenges dominated much of the day as DeSantis spoke at a brief press conference and sat for a highly anticipated interview designed to reassure anxious donors and primary voters alike that he's still well-positioned to defeat Trump. And again, DeSantis offered mixed messages when asked about Trump, training his most aggressive criticism at federal law enforcement officials instead of his chief Republican rival, who could soon be charged over his efforts to overturn the 2020 election.
"We look at institutions, unfortunately, like our own FBI and Department of Justice, and we've seen the politicization of those institutions. We've seen them be weaponized against Americans," DeSantis said. A few minutes later, he added a modest jab when pressed about Trump's role in the Jan. 6, 2021, insurrection at the U.S. Capitol: "He should have come out more forcefully, of course, but to try to criminalize that, that's a different issue entirely."
The muddled message comes as DeSantis faces new urgency to refocus his White House bid coming out of the most tumultuous weekend of his young campaign. Less than two months after entering the race, he's already cutting staff while facing new questions about his aggressive spending, his media strategy and his apparent willingness to brawl with any and all foes except for Trump, the one person he must defeat to claim the GOP's 2024 presidential nomination.
"The DeSantis campaign is recalibrating. It's clear it needs to," said Republican strategist Terry Sullivan, who managed Marco Rubio's 2016 presidential campaign. "But at the end of the day, they're still better positioned than any other challenger to Donald Trump, times 10."
DeSantis' team has quietly expressed confidence for months that voters would eventually tire of Trump's escalating legal troubles and personal baggage. But that same baggage, playing out in the U.S. legal system just as the GOP primary intensifies, is leaving precious little oxygen for his rivals to break through. And Trump's standing with Republican primary voters seems to be growing stronger with every new legal challenge.
Still, DeSantis' team has raised a stunning $150 million for his presidential ambitions so far. The vast majority, $130 million, has gone to a super PAC run by allies who cannot legally coordinate with the campaign.
The DeSantis campaign itself raised more than $20 million in the first six weeks he was in the race, though federal filings released over the weekend revealed that he and his team had burned through more than $8 million in a spending spree that included more than 100 paid staffers, a large security detail and luxury travel.
DeSantis' team acknowledged over the weekend that he was cutting "less than 10" staffers to help reduce costs. On Tuesday, a spokesperson declined to answer specific questions about other expenditures or future spending plans.
DeSantis' team may have begun to take modest steps to cut costs elsewhere.
There was a reduced security presence Monday and Tuesday as DeSantis made multiple stops in South Carolina. It was a notable shift from previous DeSantis appearances across the country that featured an unusually large private security detail — in addition to the Florida law enforcement officials usually at his side.
Most presidential candidates have small, private security details, if any, at this stage of the campaign. Trump, a former president, is the exception. DeSantis' campaign spent at least $76,000 on his own security for the last quarter, according to his Federal Election Commission filing.
He spent far more on luxury travel.
Already, DeSantis' campaign has spent over $686,000 in expenses marked "travel," much of which appears to be connected to private jet flights. The Florida governor, who has long preferred to fly private, paid out $179,000 to companies that specifically charter planes, according to an Associated Press analysis of his latest filing with the FEC. Under that same expense category, there is an additional $483,000 expenditure to a company called N2024D LLC, a business created in late May and controlled by the founders of a political compliance firm – a cutout that satisfies federal rules for campaign finance disclosure but masks the ultimate recipient of the money.
The Republican presidential contender is also facing questions about his large payroll.
DeSantis has so far paid out more than $1 million in salaries, benefits and payroll taxes for more than 100 workers, records show. A spokesperson did not respond when asked if the campaign was planning to cut any more staff beyond the "less than 10" already announced.
Meanwhile, DeSantis is shifting his press strategy away from his long-standing practice of ignoring mainstream media. He sat down with CNN's Jake Tapper on Tuesday afternoon for a formal interview, his first with a non-conservative media outlet since joining the 2024 contest.
In the interview, DeSantis brushed off questions about the direction of his campaign and polls that suggest Trump is way ahead.
"The reality is, this is a state-by-state process," DeSantis said. "We're focused on building an organization. You've got to get people to come out in the middle of January in Iowa to caucus for you."
Indeed, as part of its reset, the campaign is especially focused on Iowa.
Some on DeSantis' team privately believe that he must win the opening contest of the 2024 presidential primary season on Jan. 15 to have any chance of stopping Trump from becoming the party's nominee for a third consecutive election.
To that end, the pro-DeSantis Never Back Down super PAC is spending more than $1 million on a new ad campaign that began running Tuesday in Iowa that features a computer-generated Trump voice criticizing the state's popular Republican governor. While Trump has been critical of Gov. Kim Reynolds recently on social media, the DeSantis super PAC used artificial intelligence to create the fake Trump voice.
Trump campaign senior adviser Chris LaCivita called the ad "a desperate attempt … to deceive the American public because they know DeSanctimonious' campaign is on life support."
"After losing big donors and slashing their staff, they have now outsourced their work to AI just like they would like to outsource American jobs to China," he said.
While some donors are concerned about the direction of the DeSantis campaign, plenty of others are still backing him as the strongest Republican Trump alternative.
Bob Grand, a longtime GOP powerbroker in Indiana who organized a recent fundraiser for DeSantis, said it's still early.
"Everybody has to remember he started not that long ago. We haven't even had the first debate yet," said Grand, managing partner of the law firm Barnes and Thornburg. "He's got the former president out there really hammering away on him. That's, I think, as good of an indicator there is, that he's a strong challenger."
Associated Press writer Tom Beaumont in Des Moines, Iowa, contributed to this report.