Politics
RFK Jr. will testify at a House hearing over online censorship as the GOP elevates Biden's rival
The panel is investigating Republicans' claim that conservatives are being unfairly targeted by Big Tech.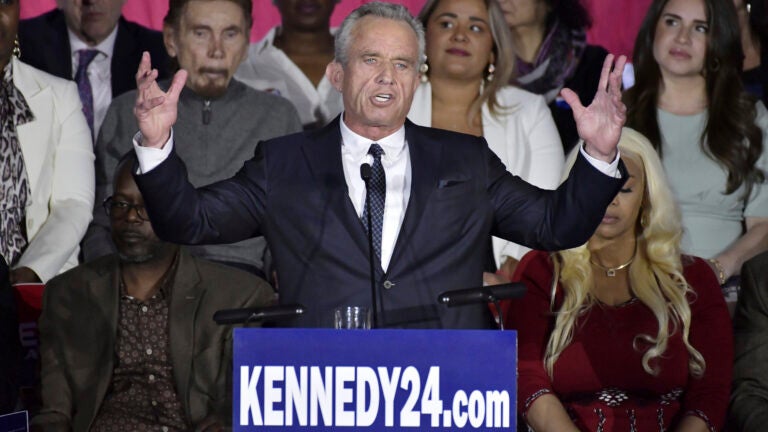 WASHINGTON (AP) — House Republicans will be delving into claims of government censorship of online speech at a public hearing, asking Robert F. Kennedy Jr. to testify despite requests from outside groups to disinvite the Democratic presidential candidate after his recent antisemitic remarks.
The Republican-led Select Subcommittee on the Weaponization of the Federal Government is set to convene Thursday. Republicans claim conservatives are being unfairly targeted by technology companies that routinely work with the government to try to stem the spread of disinformation online.
In announcing the hearing, the panel led by Rep. Jim Jordan, R-Ohio, said it "will examine the federal government's role in censoring Americans." The panel said it will probe "Big Tech's collusion with out-of-control government agencies to silence speech."
The Big Tech companies have adamantly denied the GOP assertions and say they enforce their rules impartially for everyone regardless of ideology or political affiliation. And researchers have not found widespread evidence that social media companies are biased against conservative news, posts or materials.
The hearing comes after a federal judge recently sought to halt the Biden administration from working with the social media companies to monitor misinformation and other online postings. An appellate court temporarily paused the order.
Republicans are eager to elevate Kennedy, heir to the famous American political family, who in April announced his 2024 campaign for president. The son of Bobby Kennedy and nephew of John F. Kennedy is mounting a long-shot Democratic primary challenge to President Joe Biden. He is set to testify alongside two other witnesses.
A watchdog group asked the panel's chairman, Jordan, to drop the invitation to Kennedy after the Democratic presidential candidate falsely suggested COVID-19 could have been "ethnically targeted" to spare Ashkenazi Jews and Chinese people.
In the filmed remarks first published by The New York Post, Kennedy said "there is an argument" that COVID-19 "is ethnically targeted" and that it "attacks certain races disproportionately."
After the video was made public, Kennedy posted on Twitter that his words were twisted and denied ever suggesting that COVID-19 was deliberately engineered to spare Jewish people. He called for the Post's article to be retracted.
But Kennedy has a history of comparing vaccines — widely credited with saving millions of lives — with the genocide of the Holocaust during Nazi Germany, comments for which he has sometimes apologized.
An organization that Kennedy founded, Children's Health Defense, currently has a lawsuit pending against a number of news organizations, among them The Associated Press, accusing them of violating antitrust laws by taking action to identify misinformation, including about COVID-19 and COVID-19 vaccines.
Jordan said that while he disagreed with Kennedy's remarks, he was not about to drop him from the panel. Speaker Kevin McCarthy took a similar view, saying he did not want to censor Kennedy.
The panel wants to probe the way the federal government works with technology companies to flag postings that contain false information or downright lies. Hanging over the debate is part of federal communications law, Section 230, which shields technology companies like Twitter and Facebook from liability over what's said on their platforms.
Lawmakers on the panel are also expected to receive testimony from Emma-Jo Morris, journalist at Breitbart News, who has reported extensively on Biden's son, Hunter Biden; and D. John Sauer, a former Solicitor General in Missouri who is now a special Assistant Attorney General at the Louisiana Department of Justice involved in the lawsuit against the Biden administration.
Ahead of the hearing, Morris tweeted part of her opening remarks in which she described an "elaborate censorship conspiracy" that she claimed sought to halt her reporting of Hunter Biden.
The U.S. has been hesitant to regulate the social media giants, even as outside groups warn of the rise of hate speech and misinformation that can be erosive to civil society.