Politics
Budget compromise deals a blow to online lottery, but pending bills leave the door open
The push is still on to bring the Massachusetts Lottery online, even after the state's fiscal 2024 budget compromise left an iLottery proposal on the table.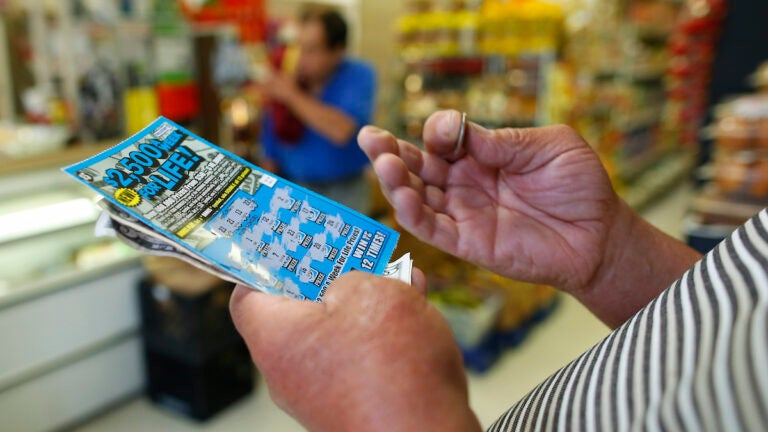 Online lottery proponents were dealt a blow earlier this week when Massachusetts lawmakers shelved a proposal to include an "iLottery" system in the state's fiscal 2024 budget.
But with online lottery bills still pending in the House and Senate, the push to expand the state's gambling offerings isn't over yet.
Sen. Paul R. Feeney, the lawmaker behind Senate bill S.170, told Boston.com in an email interview that he's looking forward to working with the Joint Committee on Consumer Protection and Professional Licensure to hopefully advance his bill. State Rep. Daniel Cahill, who sponsored the House's version, H.255, did not respond to an interview request.
The legislation has been referred to the joint committee, which held a public hearing on it in April. Feeney said the bill still has an opportunity to be passed into law this session and "remains a priority of mine."
However, he added, "the real work involves building a consensus and level of comfort among my colleagues and I will continue to have those discussions in the meantime."
Mixed reactions to online lottery
Gov. Maura Healey and Treasurer Deborah Goldberg have backed the shift online, and state Lottery Interim Executive Director Mark Bracken has spoken about the importance of bringing the Lottery into the 21st century amid legalized sports betting. Advocates have cited potential revenue gains, which could benefit all 351 Massachusetts cities and towns in the form of unrestricted local aid.
However, online lottery proposals have also faced pushback from retailer trade groups, which have expressed worry about potential impacts to brick-and-mortar stores. Speaking in May, Attorney General Andrea Campbell also raised concerns about addictive tendencies in online gambling.
Still, Feeney remains optimistic about his bill's chances.
"I sincerely believe the discussions regarding online lottery in the budget have been healthy and productive in furthering the conversation on our bill and will ultimately result in building consensus and support," the Foxborough Democrat said.
He emphasized the importance of taking the time to hear and address concerns as part of that process.
"The goal is to get this right and pass legislation that modernizes the lottery, builds for future success, and enhances revenue that is vital to our cities and towns, while also preserving the partnership that existing retail agents and small businesses have had for decades with the lottery," Feeney said.
What's next?
Even as they left online lottery sales on the table during the FY2024 budget compromise, some state lawmakers have said they're open to future discussions.
Senate Ways and Means Chair Michael Rodrigues, for example, told Politico's Massachusetts Playbook Monday that he's open to revisiting online lottery sales.
"There were very strong opinions within my caucus on iLottery. Some of my colleagues absolutely support it and some of my colleagues absolutely oppose it," Rodrigues told Playbook. "We need to have a full debate in the Senate and see exactly how much revenue we're going to generate and we need to see the impact it's going to have on convenience stores."
While the House gave the online lottery the green light in its proposed budget earlier this spring, the Senate has been noticeably more reluctant.
Asked about his colleagues' skepticism, Feeney said the Senate's approach "has been diligent and deliberate in ensuring that consumer safeguards are in place and that retailers are listened to before we take the next step."
He added: "I've been a supporter and advocate of this for a while now, but I understand and respect that others have concerns and believe their input will lead to a better product."
Newsletter Signup
Stay up to date on all the latest news from Boston.com